There are reasons some flavor combinations have never been brought to market. Nonetheless,  Miami-based Friends Fun Wine — the makers of the 6% ABV "Fun Wine in a Can," with products like Stawberry Moscato and Red Sangria — is introducing the world to coffee wine.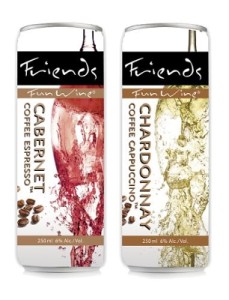 The company, which markets its canned wines as lifestyle products for bikini-clad poolside types, says its redundantly named new Cabernet Coffee Espresso and Chardonnay Coffee Cappuccino are "easy-to-drink" combinations of the world's most popular day drink with the world's most popular night drink.
(related: Product Buzz: Cannabis Coffee is Coming)
The cabernet espresso is described as having a "rich flavor of fresh cabernet grapes, espresso coffee and a hint of chocolate," while the chardonnay cappuccino is described as a blend "sweet, refreshing Chardonnay grapes with vanilla cappuccino coffee and smooth hints of chocolate."
"We are proud to be the first-to-market with our Fun Wine In A Can, and look forward to introducing the new coffee varieties to our Fun-Loving Fans," Friends Fun Wine CEO Joe Peleg said in a product announcement.
Unfortunately, being first is not in and of itself commendable. Remember when Frito Lay was the first to give us "Wow" potato chips, fried in lower-fat Olestra and causing widespread anal leakage? At least they were first!
Nick Brown
Nick Brown is the editor of Daily Coffee News by Roast Magazine.