All signs are pointing to another dramatic spike in coffee prices this month as uncertainty surrounding Brazil's current crop continues. According to the latest numbers from the International Coffee Organization, commodity coffee prices on the whole shot up in the last two weeks of July, forecasting an upward trend for August.
The ICO's composite indicator price — an overall benchmark for green coffee prices covering all major growing regions and types based on trade in New York and London — for July was $1.52 USD per pound. While the price was up just 0.4 percent from June's composite indicator, it ended July at $1.68, up 23 cents per pound from the middle of the month, including an 8.7-cent jump on the night of July 31.
(related: A Look Ahead to the ICO's 4th Annual Financing Forum in London)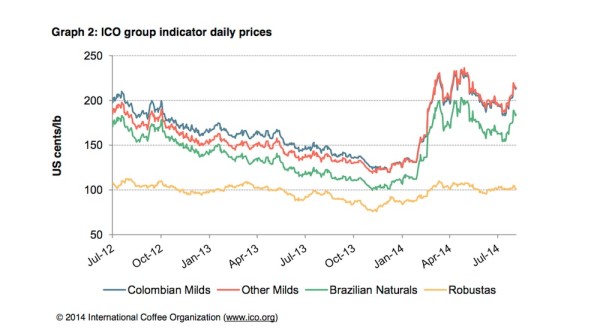 The ICO says bad news from Brazil is primarily responsible for the jump:
Several external sources have issued lower production estimates in the last month, spurring the market higher. The damage from the drought at the beginning of the year is expected to cause a global supply deficit in crop year 2014/15, with production in Brazil officially estimated to decrease by 9.3% to 44.57 million bags, its lowest level in three years.
On the whole, arabica priced increased at a higher rate than robusta prices during the late July surge, and price volatility among all coffee types was demonstrably greater in July than in June, when coffee prices dropped to their lowest levels in five months. The ICO says current price volatility is still lower than it was earlier in the year when speculation regarding Brazil's crop first began to affect the market.
(related: A Brief History of Global Coffee Production As We Know It (1963-2013))
Total exports in June were approximately 9.2 million bags, on pace with June 2013 levels, while exports for the year are down 3.5 percent from last year at this time. Total production has been boosted by arabica production in Colombia, which has already reached 10 million bags this year. Meanwhile, countries still recovering from leaf rust have leveled off the global output. Says the ICO, "Exports are down by 20.3 percent in Costa Rica, 49.1 percent in El Salvador, 13.9 percent in Guatemala, 7.6 percent in Honduras, 28.3 percent in Mexico and 11.5 percent in Nicaragua.
Here is the full ICO monthly report: (English, Spanish, French, Portuguese)
Nick Brown
Nick Brown is the editor of Daily Coffee News by Roast Magazine. Feedback and story ideas are welcome at publisher (at) dailycoffeenews.com, or see the "About Us" page for contact information.