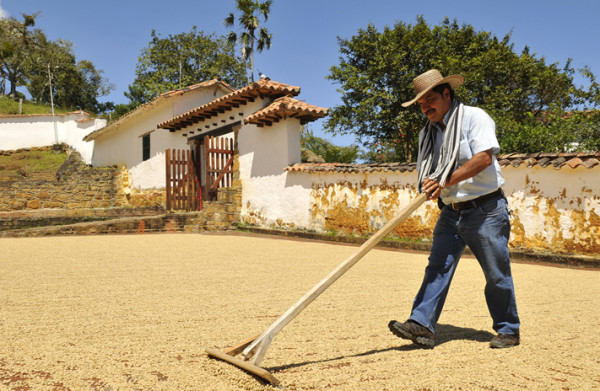 Nespresso yesterday announced plans to invest 500 million Swiss francs ($554 million USD) in sustainability initiatives over the next six years.
Nespresso owner Nestle stopped reporting the brand's sales figures in 2011, but it is widely regarded as Europe's biggest capsule system brand, and this is certainly one of the largest corporate investments in in-house environmental and social programs the coffee world has ever seen.
(related: Thin Months Revisited: Food Scarcity in Green Mountain's Supply Chain from 2007 to 2013)
The plan, called The Positive Cup, will see investments in reducing the environmental impact from Nespresso's own manufacturing operations, as well as long-term investments in farm-level operations and farmer welfare programs throughout the company's supply chain.
"Today, we set our ambition of providing the highest quality and most sustainable portioned coffee worldwide," Jean-Marc Duvoisin, CEO of Nestlé Nespresso, said in yesterday's announcement. "The development of even more innovative programs with our partners further demonstrates our commitment to creating shared value and generating positive impacts for all stakeholders across the entire value chain."
A large part of Nespresso's investment is going toward a sustainable development fund, which will be use to work toward numerous six-year sourcing and social welfare goals. By 2020, the company hopes to source 100 percent of its Grand Cru coffees from its existing in-house AAA Sustainable Quality program, which the company developed in coordination with the Rainforest Alliance in 2003. By comparison, 84 percent of Nespresso's coffee in 2013 fell under the AAA program, which has grown to affect some 62,000 farmers representing 290,000 hectares of coffee plantations in Ethiopia, India Brazil, Colombia, Costa Rica, Guatemala, Nicaragua and Mexico. Nespresso says the program pays farmers some 30 to 40 percent above market value, while providing operational and certification support.
(related: Pod Giant Nestle Nespresso Turns to College Students for Sustainability Advice)
At least $15 million from the fund will go toward production operations in Africa, including investments in Kenya, Ethiopia and South Sudan, where the company says it hopes to "revive high-quality coffee production."
Closer to home, Nespresso is planning several initiatives to reduce the company's environmental impact, including increasing aluminum capsule recycling rates by expanding collection capacity in at least seven Western and Northern European countries. The company says it also plans to comply with the Aluminum Steward Initiative standard being led by the International Union for Conservation of Nature.
Finally, Nespresso plans to plant 10 million trees in its AAA coffee growing regions, part of what the company is calling a "100% Carbon Insetting" effort. Carbon insetting is much like carbon offsetting, except with tangible benefits within the investing company's own value chain — in this case, trees on coffee plantations.
Nick Brown
Nick Brown is the editor of Daily Coffee News by Roast Magazine.