By all accounts, there is a fair amount of genuine terror associated with one's first purchase of a production roaster.
In the case of Brian Dwiggins, who is now roasting under the name Borealis Coffee Roasters in Pawtucket, R.I., by way of Colorado and his original home Alaska, that roaster is a Probat model purchased in 2014 from Coffeetec. Dwiggins had settled on the model after roasting classes at Coffee Lab International in Waterbury, Vt.
"I had literally searched every state and major city on Craigslist on a weekly basis for two years without any luck," Dwiggins recently told Daily Coffee News. "It showed up on Coffeetec's website and I called for more info. Jay (at Coffeetec) basically told me that he wanted to sell it to me but it was silly if I didn't have a place to put it. It was time to go all in or forget about it."
Dwiggins did go all in, and the place is the Historic Lorraine Mills Arts Collaborative, a 35,000-square-foot complex composed of workshops and production spaces for all manners of craftspeople and artists in Pawtucket.
We recently contacted Dwiggins to discuss the Borealis concept, roasting coffee in Rhode Island, and balancing roasting with a full-time career in film lighting throughout New England.
How long were you home roasting before you pulled the trigger on the Probat?
I started on a Behmor that I bought myself for my 30th birthday, so January 2010. My original logo and business cards actually say "Est. 2010," because I was casually selling a bag here and there before I officially started the business. It started as a hobby to balance out my month or two off between film jobs. The more I roasted, the more I fell in love with the whole process.
Can we assume the Borealis name is a nod to your Anchorage roots?
Yes, I still consider myself an Alaskan even though next year will mark the point where I've officially lived half of my life outside of Alaska. Every time my wife and I go back there, I get that desire to move back. I miss the mountains, the undying sense of adventure, and the slower pace. It's dark and cold a lot of the year, so coffee is naturally a big deal up there. I grew up drinking local, really great coffee because the chains couldn't justify a store in such a small market.
How would you explain your adult-lifelong gravitation toward coffee, and specifically to roasting?
Alaska has a pretty strong coffee culture, so I didn't realize I was drinking good coffee until I got to college and saw that most people drank run-of-the-mill diner coffee or worse. It had never occurred to me that there was such variety in coffee quality. I would make a point to seek out the "good" coffee shops and began paying attention to country of origin, and little things beyond the light/medium/dark labels. After moving to New England, I found most people drank either fast food or Starbucks, so it was a chore in Providence or Boston to find good coffee. I reacted by home roasting, which I immediately fell in love with. I love how different a coffee can be from roast to roast. As I learned more about processing methods, roasting theory, and the coffee supply chain I was overwhelmed with information.
Where are you focusing the business?
I'm doing an ok business through my website and have a fair bit of sales to film crews. I'm working 65 to 70 hours a week on set, roasting on Saturday, then doing a farmer's market on Sunday. I've started making some valuable connections that could have some great potential.
I've handed out samples to a few select cafes, but Angelina's in Bristol, R.I., is the only cafe that sells Borealis right now. They offer Borealis on a weekly rotation with Blue Bottle, Tandem, New Harvest, and occasionally George Howell. I'm thrilled to be on the wall listed with some roasters I really respect. I'm hoping that within a year I can truly commit and set up a cafe element at the roastery, too. Stepping back from film and hiring someone is really my next step, but it's a huge leap of faith.
How would you characterize your approach to sourcing?
Initially, I wanted to offer a little of everything but I'm trying to get away from my home roaster mentality of buying a bag of everything "just to have it." Now that I've learned my market a little, I'm able to purchase with more business sense and less impulse. I've tried to keep a diverse range of profiles, while keeping close to the coffees I prefer to drink. I wanted a fruity African, a big-bodied Sumatran, a chocolaty Colombian, and a range of nice Centrals so that I could appeal to a pretty wide audience without loading up on a bunch of coffees.
How has your approach to each roast evolved since the Behmor days?
Looking back to my first batch, I realize how terrified I was firing up the machine the first time. My approach has changed even in the last couple months as I've had some time off between movies. I slowly build momentum towards first crack so that I can push through to the end without having to worry about stalling or going too long after first crack begins. I keep a hand-written log with one minute intervals on temp, and a separate column for gas adjustments, airflow adjustments, first crack, etc. I've learned how the roaster will react to the winter weather conditions, how to anticipate or control my current roasts' curves, and really focused more on trusting my instincts more than the numbers. I think the results have become a lot sweeter and better developed, just by focusing on the sensory side. I'm allowing myself to screw up occasionally, too, which is liberating.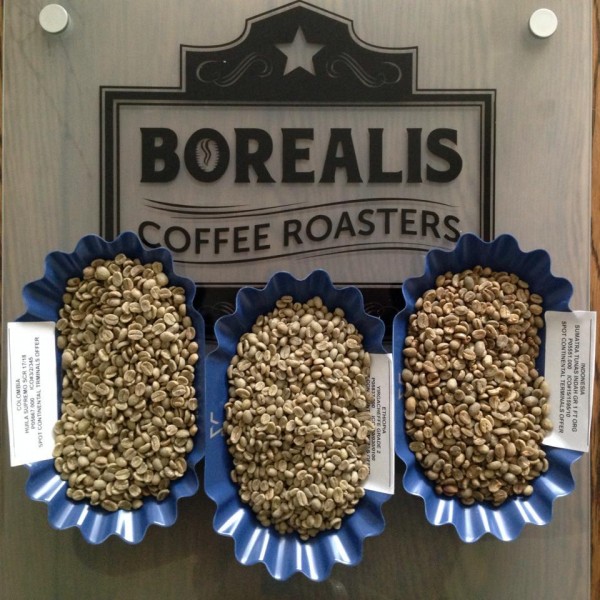 How do you hope to grow the business?
I love the grassroots approach: farmers markets, local art shows, special events, maybe a concert here and there. I've had a great response already and the New England farmers market season hasn't even begun yet. The most important step, though, is something I've repeated quite a bit: I have to quit my real job; I don't see it getting to its full potential while my time is divided. I knew that when I started, either film or coffee would win out, I just didn't think it would come so quickly. Once I do that, I'll really be able to pursue some more wholesale clients, try to get into some retail markets, and open the roastery at least a few days a week.
What's the scene like in Pawtucket? How do you envision Borealis fitting in?
Rent is pretty inexpensive and it's close to Providence, so it's a great place for small business. New Harvest Coffee Roasters is about a mile down the road from me and they were a great help to me when I started thinking about opening. They offer public cuppings every Friday, so when I wasn't working, I 'd go there and they taught me a lot. They host the Mid-Atlantic/Northeast Coffee Conference (MANE) every fall and have continued to be a great resource. I talked with Rik Kleinfeldt (the owner), and he said he doesn't see me as competition, but as an ally to go head to head against the big chains. I think a lot of people still feel intimidated by "coffee elitists," so they are more comfortable sticking to their fast food drive-throughs. I love giving someone a sample and having them say ,"I didn't even have to add cream or sugar." I'd like to do more of that sort of education and push people toward a better product that's local.
Nick Brown
Nick Brown is the editor of Daily Coffee News by Roast Magazine.