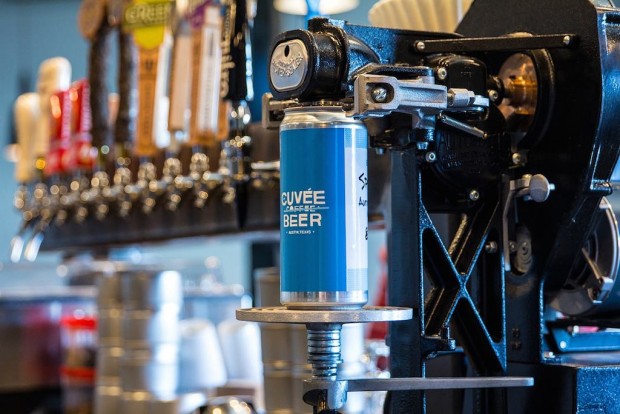 Austin, Texas-based roaster Cuvee Coffee is in the middle of a fairly ridiculous legal kerfuffle that could have widespread implications in the beer industry.
The Texas Alcoholic Beverage Commission has given the company a 30-day notice to remove its "crowler" machine, a device that seals 32-ounce cans for to-go sales of beer or any other liquid that might be drinkable (can + growler = crowler). Crowlers are an invention of Oskar Blues Brewing, the can-centric craft brewing company based in Colorado that also happens to have its own coffee roasting offshoot.
The TABC visited Cuvee's stunning flagship retail location — where rotating beers are on tap — last week, following a complaint stemming from a regular monthly event in which Cuvee invites guest beermakers in for crowler-focused tastings. The complaint alleged that the brewery had paid for some marketing of the event in the form of printed fliers.
During their visit, TABC representatives told Cuvee founder Mike McKim that the crowler machine had to go. McKim told Daily Coffee News by phone that the reasons why seemed as empty as a recycling bin can.
"It's just kind of ridiculous. What's the difference between clamping a lid on, screwing a lid on, sealing a lid on, or crimping a lid on," said McKim, who according to the TABC is free to fill growlers from Cuvee's taps, yet prohibited from filling crowlers. "It was maddening. It was like going around in circles. I finally I got to the point that no matter how valid my argument was, or how ridiculous their argument sounded, it didn't matter."
Further muddying the waters in Cuvee's case is the fact that the TABC has no formal definition for a growler, instead referring to any packaged alcohol vessel as a container. This defies rules created by federal agencies that define growlers not by physical composition or lid type, but by when they were filled and on what type of premises.
McKim said he plans to fight the decision, one that could affect the likes of local large grocers Whole Foods and Central Market, both of whom are currently selling crowlers out of their bar areas, let alone any other crowler seller in Austin and beyond. Said McKim, "I'm getting a lot of phone calls behind the scenes."
McKim said Cuvee sells about 40 crowlers per week, representing a small drop in Cuvee's revenue bucket, but that the absurdity of the situation is compelling him to stand up to the TABC.
"It's really nonsensical," he said. "That's my biggest problem."
Nick Brown
Nick Brown is the editor of Daily Coffee News by Roast Magazine.