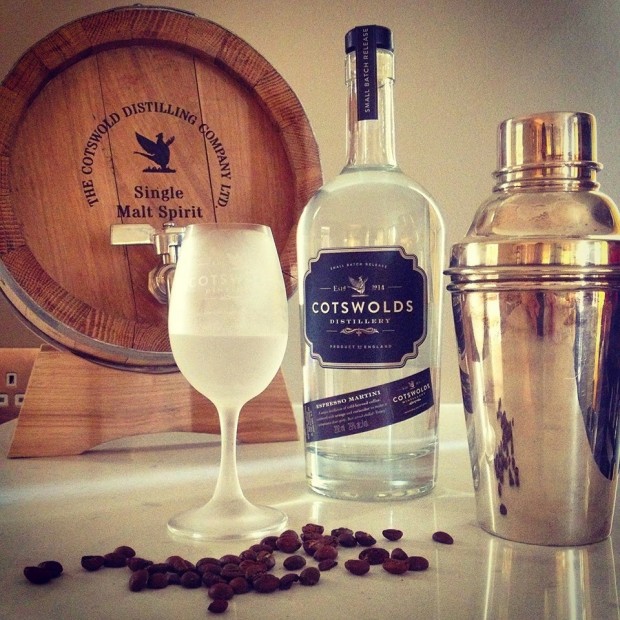 It's been hopped. It's been popped. It's been massaged by sound waves. And now, in what has got to be one of the more odd refinements in the current RTD cold-brew craze, a complex cold-water extraction of coffee has been distilled and spirited into a roughly 60-proof bottled "espresso" martini product.
"A few months ago we had a visit from Alex, the head distiller at the Cotswolds Distillery," reads a recent entry on the blog of UK micro-roaster Monsoon Estates. "We had a bit of a tasting session, at the end of which he opted for a blend of some bold Asian coffees to take away and play with. He actually brewed and distilled the coffee, and with the addition of a few magic ingredients has created the most wonderful Espresso Martini."
According to an article this week by The Drinks Report editor Felicity Murray, Cotswolds head distiller Alex Davies tasted nearly a dozen different coffees before deciding on a blend of two: A dark-roasted Malabar and a light-roasted Enorga.
The coffee is steeped in cold water for 24 hours, filtered and then distilled in the same wheat alcohol used in Cotswold's gin. That potion is then blended with a separately distilled coriander-spiced citrus concoction, and then diluted to 29% ABV using purified water and a small amount of sugar. The resulting beverage is a completely colorless, ready-to-drink cocktail that need only be poured into a chilled glass, straight or on the rocks.
In U.S. cocktail terms, the espresso martini is something of a second wave drink, hugely popular in the 1980s into the '90s. But it remains a canonized cocktail classic in Australia and the U.K., where it was invented in 1983 in London's Brasserie Soho by Dick Bradsell. Bradsell might take umbrage at the RTD nature of Cotswolds' interpretation, as his original recipe calls for a single shot of freshly pulled, quality espresso.
Established in 2014 in the rural Warwickshire region, the Cotswolds Distillery celebrates its first anniversary this month as London's closest active distillery outside the city.
The nearby Monsoon Estates Coffee Company is roughly four years old, and in that short time has picked up multiple double-gold-star recognitions by the Guild of Fine Food's annual Great Taste Awards. The small coffee company roasts for wholesale and online retail on a Probat installed in a converted barn just a few miles outside Stratford upon Avon.
Howard Bryman
Howard Bryman is the associate editor of Daily Coffee News by Roast Magazine. He is based in Portland, Oregon.