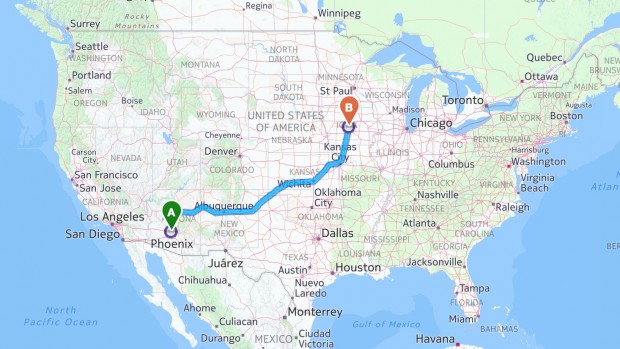 In any business, even in the best of times, circumstances may change and demand that things head in a new direction. For coffee roasters, with so much real estate, equipment, and personnel involved, should it be necessary for a proprietor to relocate, that usually means selling the business or shuttering it and moving on, but either way, it's not usually in the cards to take the show on the road. Yet that's exactly what Nadav Mer has endeavored to do with his company Morning Bell Coffee Roasters, after learning that his wife Dara Wald was offered a plum tenure-track position about 1,400 miles to the northeast.
"We moved to Iowa because my wife is an academic," Mer told Daily Coffee News. "And I'm what's called a trailing spouse, meaning I suck it up and try to support my wife in her work. I'm lucky enough to try to move what I'm doing around."
Mer has not yet found an appropriate commercial space in Ames, though he's sure the currently active search will yield fruit sooner rather than later. In the meantime he has actually managed to maintain many — but by no means all — of his former accounts in Phoenix. "We lost quite a bit," Mer admitted. "We definitely lost a couple customers, but definitely kept customers, as well." Those that stuck with Morning Bell include not only individuals but also a few wholesale accounts and a farmers market service stand. Said Mer, "There were definitely some weeks there, where there was no coffee available. But we're making it happen."
Operations in Phoenix hadn't grown too unwieldy to make moving impossible. Morning Bell served French Press, Chemex and Aeropress for four hours a day in Phoenix's ThirdSpace shopping and retail complex in the Grand Avenue arts district, and at the Phoenix Public Market every Saturday, where another start-up, Desert Owl Coffee, has since picked up Morning Bell's slack. Business was steadily growing, though. "We didn't know if Phoenix was going to be permanent or temporary, but it was a decision to act as if it was permanent, and that ended up being the right decision for us," said Mer. "Temporary doesn't feel right for me. We wanted to dive right in and embrace our new city with all our hearts."
Prior to setting up shop in Phoenix, Mer had for about a year and a half operated a slightly larger roastery in Gainsville, Fla., called Tree City Coffee Roasters, also primarily a retail and wholesale business.
Tree City started with a 2-kilo Ambex roasting machine and grew into a 10-kilo machine, which constituted a large enough enterprise both too big to easily move as well as small and successful enough to attract buyers when it came time to relocate to Chandler, Ariz., where his wife would take a new job doing post-doctoral research at Arizona State University. Tree City was subsequently rebranded by its new owners as Flagship Coffee, and Mer scaled back down to another 2-kilo Ambex for starting up Morning Bell.
Relocating the Ambex and other equipment from Arizona to Iowa wasn't exactly easy, but it also wasn't the nightmare one might expect, thanks to the relatively small size of the 2-kilo machine. "It definitely had its moments, but it wasn't too bad," said Mer. "It was less of a headache than could be imagined, but I had to have it crated." After the costly and inconvenient packaging of the machine, it was still small enough to be moved along with his family's household goods.
As far as suppliers and contacts are concerned, the relocation actually opened more doors than it closed. "When we were set up in Gainesville, we used to buy from a lot of suppliers on the east coast, and when we were in Phoenix we bought from sellers on the west coast," said Mer. "Now that we're in the Midwest, I can get supplies from either coast, in addition to importers that are located here." Mer plans to explore these new sourcing options while maintaining a long-running direct trade relationship with a grower in Nicaragua he's been working with since the Gainesville days, and whose farm he visited with his family earlier in 2015.
Morning Bell intends to go brick-and-mortar in Ames as soon as possible, pursuing local wholesale and retail sales as well and offering a full-service espresso and pourover bar. Nitro-tapped cold brew will be on offer, all made from coffee sourced through a mix of familiar and new green suppliers. "This I going to be the third time," said Mer of the café-opening process, adding, "Every time I open, I'm a little more adventurous. I think a little bit bigger."
That might seem almost ironic for a coffee entrepreneur that's gone from a city of 1.5 million people to a town of about 60,000, but with the experience, perspective and wisdom he's gained through his years in the industry, coupled with the highly competitive nature of the Phoenix market and the fact that the Ames market is significantly less so, it makes sense. Describing the Ames coffee scene, Mer said, "There's a couple other local roasters. One of them is Arcadia, they're a small café roaster and I really respect what they're doing in town."
"There's a coffee culture," said Mer, "and I'm going to fit in and find my niche. I really love the coffee business, and I manage to make my way wherever we are. This is just the next venue for me to do that."
Howard Bryman
Howard Bryman is the associate editor of Daily Coffee News by Roast Magazine. He is based in Portland, Oregon.