With Portland Coffee Fest and HOST Milan events both having occurred over this past weekend, a major surge of product launches and roll-outs ensued, including several exciting developments from the grinder industry titan Mahlkönig. The Hamburg-based company announced the global launch of their much-anticipated Peak and Twin Peak grinders, the EK43 Barista model, and a new grind-by-weight add-on technology platform.
The new Peak grinder may look like an evolved K30, though its looks are but case deep. Within the familiar footprint and ergonomics, the Peak's burrs are completely unique, and a push-button digital grind adjustment interface allows for more convenient precision than a manual twist of the K30's extremely sensitive knobs. The Twin Peak's interface is a touchscreen. Both Peaks also boast color-shifting disco LED lights that shine down onto the grinds chutes — just for fun.
"We wanted the usability of the K30 with the extraction style of the EK43," Mahlkönig USA representative and competitive barista Kyle Ramage told Daily Coffee News. "It's actually a burr from our sister company Ditting. We took it, had it remolded, changed a few angles in there, did some new-style finishing processes on it, and it makes the best espresso I've ever had."
As far as the iconic EK43, it too has been modified with barista usability in mind. "We've been wanting to grind directly into a portafilter with the EK for quite a while," said Ramage. "Trying to get that stuff figured out, it's tough. At about 20 grams per second, it's pretty insanely fast. It's tough to catch all that coffee quick enough." At HOST Milan, Mahlkonig displayed the EK43 Barista, which has a lower profile, smaller hopper and an optional portafilter fork and dosing funnel for directing grinds neatly into a filter basket.
The EK43 Barista also features both macro and micro adjustment knobs for alternating between espresso precision and other brew methods, as well as a groundbreaking variable RPM motor. This allows baristas to manipulate the rate of rotation of the burrs, which might produce differences in the cup for certain coffees and in certain brew methods.
The new grind-by-weight technology Mahlkönig is working on will be a feature added onto existing machines, allowing the machine to electronically sense a portafilter's proximity, start the grind automatically and stop when the desired dose of coffee has been ground. The Peak on display at HOST Milan had a functioning grind-by-weight add-on installed, although that feature was not built into the Peak on display at the Portland event.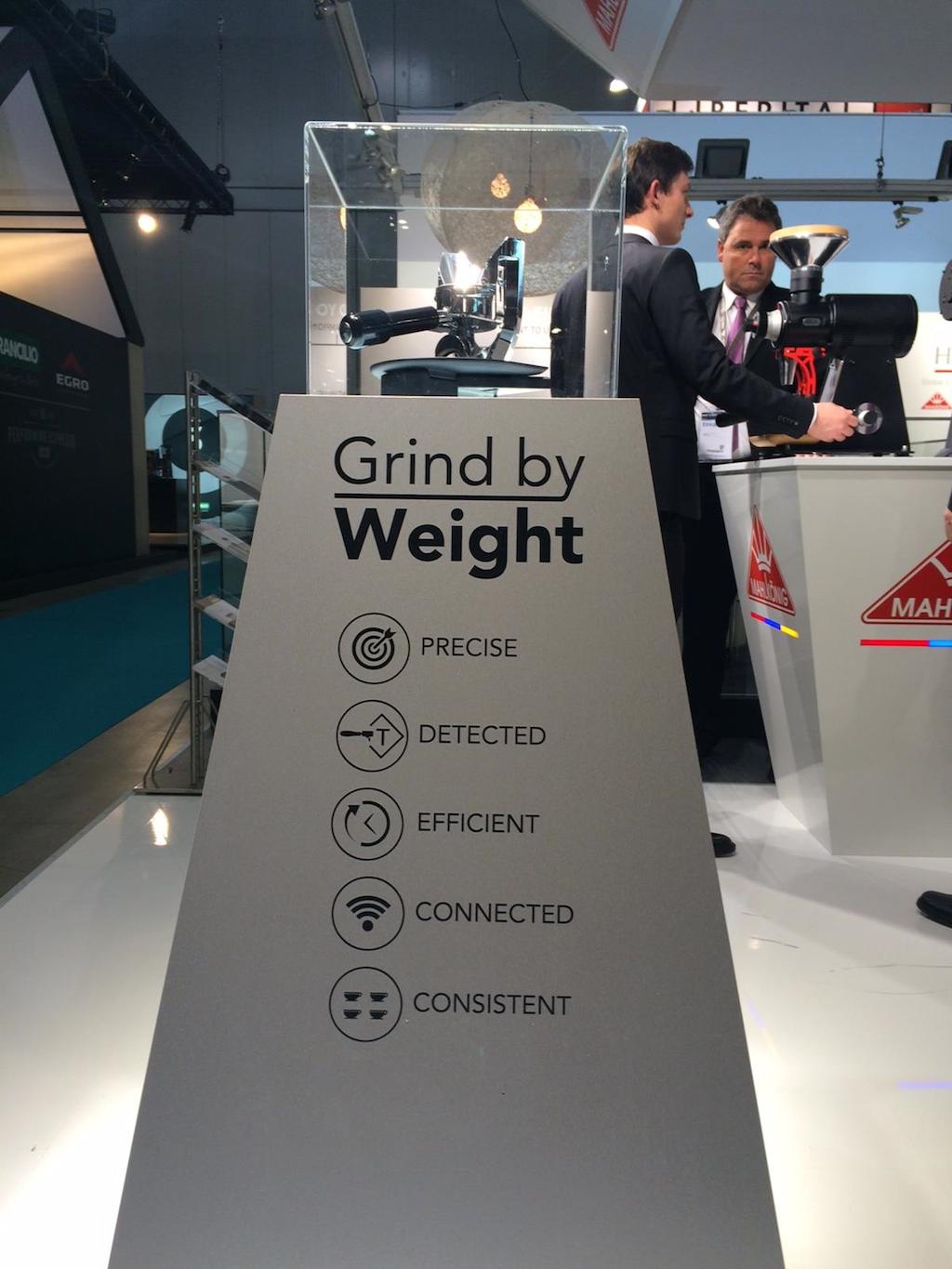 The basic Peak, without the weight-based component, will be ready to ship in the US in November. A prototype is currently in use at the Saint Frank coffee shop in San Francisco. The Peak that was used at the Portland Coffee Fest event is headed to G&B Coffee in Los Angeles.
Howard Bryman
Howard Bryman is the associate editor of Daily Coffee News by Roast Magazine. He is based in Portland, Oregon.