As most U.S. coffee drinkers grudgingly resume their ho-hum weekday work commutes following their holiday breaks, some in New York's Financial District are finding a welcome surprise at the dawn of 2016 in the form of Voyager Espresso.
A new shop helmed by Australian Aaron Barnard, Voyager is tucked into a formerly unused commercial space in the subway concourse below 110 William Street, with entry through the John Street entrance. In a nontraditional space for an independent café, Barnard said he worked with an architectural team to bring to life a somewhat surreal environment through hard materials and a palette of silvers, black and gold, in intentional contrast both to the white subway tiles nearby and to the reclaimed, exposed wood favored in many new café interiors.
Within the space, Voyager is maintaining an equally nontraditional multiroaster program, with plans to feature multiple coffees from a single roaster for approximately two months at a time. The shop quietly opened Dec. 14 — giving Barnard and staff time to test operations during the quiet holiday period — featuring two coffees from Portland's Heart Roasters.
While the shop keeps a Fetco batch brewer rolling for consistent filter brews, it also offers a simple espresso menu in front of a three-group Synesso Hydra machine that has been custom-paneled with a satin black finish to mesh with the shop's stark interior. Espresso drinks come in black or white (with milk), with slight upcharges for extra espresso shots or specialty milk types.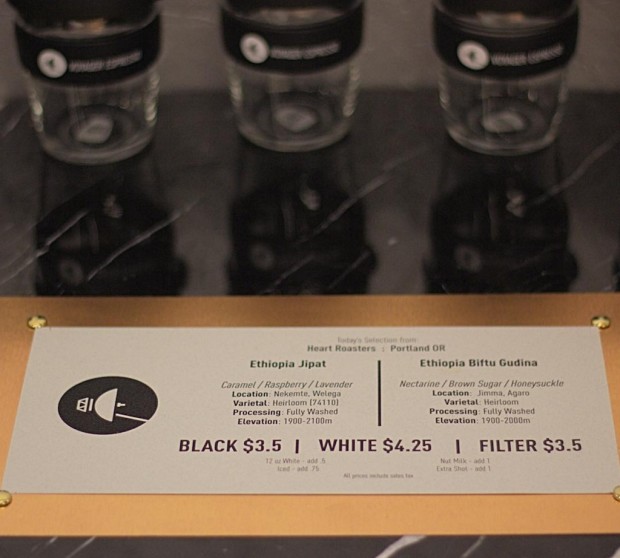 While the straightforwardness of the drink menu streamlines operations and simplifies grab-and-go options for commuters, Barnard said it's also designed to allow more curious consumers to engage more fully with the specific coffees on offer. "We feature two coffees at any time and they can be brewed any ways," said Barnard. "We're trying to show how two coffees can change through different processing methods, different altitudes, different varietals."
Barnard came to coffee after moving to New York from Melbourne two years ago to pursue a career in sound engineering, a field in which he sees many parallels. "Sound engineering and coffee are quite similar in the way the artistic side and the scientific side meet," he said. "I think that must be why I love coffee."
Nick Brown
Nick Brown is the editor of Daily Coffee News by Roast Magazine.