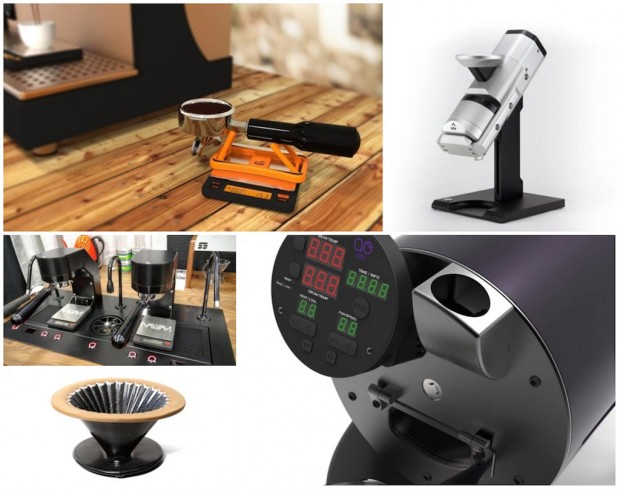 Technology in the coffee industry isn't just about what's fun and cool. Those things don't hurt for people predisposed to trying new things, although in a culinary field as timeworn and as bootstrapping as coffee, there will also always be a strong showing of manual traditionalists that tread slowly and reluctantly towards anything that wafts of bells and whistles.
In that regard, it helps to remember that new technology, at its best, exists in the name of quality, consistency, and convenience, all of which supports selling more coffee to more people for better prices. When it comes to coffee grown and transacted responsibly, the ripple effect of every new unseen sensor or ergonomic contour means progress for farmers, the environment and the industry overall.
Another thing that's interesting to note is that while new developments in coffee gear don't always outwardly appear to have much to do with the rapid evolution of electronics and computing, with every new leap in digital technology there come strides in the fields of engineering, mechanics and product design, which in turn foster progress in everything from Nuova Simonelli's latest high-tech marvel to the grip on the hammer you use to hang pictures on the wall in your cafe.
In 2015 we saw progress across the board — in grinders, brewers, espresso machines and roasters, for the home market as well as the pros. Parameter geeks, spec hounds and well-funded trend-hoppers alike have had plenty to mull over in the past twelve months. Here's a look back at what's new.
Grinders
The fledgling company Lyn Weber Workshops got the last word on grinding in 2015, revealing to the world an innovative and refined bit of kit at the end of November. Freshly engineered from the bottom up for the specific task of single-dosing in a café environment, the EG-1 seems like the bean-biter to watch for on discerning shop counters in 2016.
Another head-turning innovation came from the Sanremo camp at the HOST Milan event in the form of their Revolution grinder, which sports three hoppers each feeding into one grind chamber — a space-saver that also fosters on-the-fly blending. Meanwhile the longstanding grinder kingpin Mahlkonig pulled the curtain on their much-anticipated Peak grinder, packing novel electronics and flat, unimodal burrs into a K30 size and shape. And for the slightly older-fashioned Pergerite unimodalists out there, the EK43 Barista arrived to provide a shorter, more portafilter-friendly version of the EK43 bulk grinder that the lauded barista Matt Perger popularized for espresso.
Manual grinding devotees, be they luddites or travelers, were given the gift of Orphan Espresso's LIDO E grinder this year, which set a new standard for versatility, quality and consistency in a portable hand-grinder. The Handground Precision Coffee Grinder was notable mostly for its deft execution of the crowdfunding model, while the La Marzocco/Mazzer collaborative Lux D rounded out the prosumer sphere.
Manual Brewing
There were a good few eyebrow-raising entrants to the field of manual coffee brewing gadgets this year, most notably including the French press-Aeropress hybrid innovation called the American Press, and Fellow's debut product, the immersion-style Duo Coffee Steeper. Meanwhile the battle for pourover supremacy raged on in 2015, with at least five new brewers vying for coveted over-mug real estate. Time will tell which, if any, becomes the official cup-top dog as immersion drippers by Brew Global and Wilfa stack up against the high-end filter-dangling Iikone, Constellation Supply's earnest Little Dripper, or Long Beach Dripper's earthy Ximeno.
If those aren't hard enough to choose between, consider the kettle. Hario, Fellow, and Brew Global all came out with compelling goosenecks with thermometry and nice curves, although Fellow's Stagg kettle with the weighted handle for better balance in the pouring hand seems like a particularly well-considered feature. And for all your weighing needs and then some, the Acaia Lunar, Hario V60 Metal, and Brewista Smart Scale all made waves on the brewing metrology scene.
Home Espresso
The Linea Mini — a scaled-down version of La Marzocco's classic commercial workhorse with a few important distinctions under the hood — was clearly the biggest little headline-grabber of the year. Dalla Corte also waded back into prosumer waters with the snazzy-looking digital lever Mina. And on the far opposite end of the spectrum, from a one-man start-up in Texas came a fully manual and very portable pressure-profiling device called the Espresso Forge, at a tiny fraction of the price of any other machine capable of equivalent control and, presumably, cup quality.
Professional Espresso
We couldn't have seen more scales on drip trays this year than if we'd spent the whole time in Alice Cooper's home espresso kitchen. Nuova Simonelli's Victoria Arduino Gravimetric Black Eagle VA 388 was the official machine of the World Barista Championship this year, and it certainly made waves as it launched at the SCAA Event. Among other impressive specs, its marquee breakthrough is that, with scales built into the drip tray, it measures shot output based on the weight of the finished beverage instead of the volume of water through the group.
La Marzocco also rolled out a scaled-up machine with the Linea PB, which features Auto Brew Ratio intelligence. Weigh the dosed portafilter on its built-in drip tray scale, and the machine will then calculate and dispense exactly the right amount of water per the designated extraction ratio as it weighs the results in the cup on the drip tray. Upgrades planned for next year include a machine that actually drinks the espresso for you, too, and then may or may not leave a tip based on readings from a built-in socioeconomic GPS.
Later in the year, the big swoon at Coffee Fest in Portland, Ore. was the Mavam under-counter espresso machine. The Mavam is all about thermal stability, to the point of having no fewer than six PID readouts on its base unit monitoring different points along the unit's proprietary water delivery system.
Almost simultaneously at HOST Milan, Sanremo revved up the Café Racer, a sleek, motorcycle-inspired app-controlled workhorse of temperature consistency and individuated groups. Not to be outdone scale-wise, Sanremo also launched the Opera V2 at the same event, which updates their already high-tech Opera machine to include built-in custom Acaia scales that communicate with the machine's flow meters for extreme water delivery precision.
Roasting
Advances in commercial roasting equipment tend not to come in as broad leaps as in other departments. Logging, sharing and automation software is certainly advancing rapidly, though the evolutions in the control of airflow, drum speed, heat delivery and overall efficiency are generally incremental. Therefore the most notable development in the field came not from any of the big boys, but rather in the launch if the adorable 1-kilo-capacity Bullet Roaster by a start-up company called Aillio. The diminutive consumer-friendly bean-browner is purported to offer professional craft controls in an attractive, well-built package, tough enough for use as a commercial sample roaster. The product is still in the pre-order phase.
Other Nifty Contraptions
We can't let the year go without another nod of recognition to the Wheelys Cafe tricycle concept — a pedal-and-solar-powered cart with running water, built-in app-controlled burners and POS, manual espresso options, a towable greenhouse for growing an ornamental coffee plant, and more. It raised over $380,000 on IndieGoGo, and last we heard, the company was seeking to start its own farms in producing countries to supply their fleet of branded bikistas. The first Wheelys trike franchisee is currently seeking permitting to get rolling around Orlando, Fla.
Meanwhile, the Spinn Coffee centrifugal super-auto project also caught our eyes this year. Behmor introduced a "Connected" iteration of its popular Brazen brewer with app-based Wi-Fi monitoring and control upgrades. The Invergo automated home pourover machine seemed poised for delivery after a tumultuous development phase, but still has yet to cross the finish line.
But that's not all! Lyn Weber Workshop's variable steam tip is a clever accessory that streamlines the steam line. Ye olde KitchenAid unleashed not only the first automatic, electric siphon brewer to hit the market in decades, but also an insulated steel French Press with its own built-in digital scale and timer. The True Sight Portafilter with its incorporated rechargeable LED light for illuminating extractions is a brilliant little gadget, while honorable mention must be included for the rest of Brew Global's unprecedented tidal wave of new tools and accessories, which is poised to continue well into 2016.
Howard Bryman
Howard Bryman is the associate editor of Daily Coffee News by Roast Magazine. He is based in Portland, Oregon.