As pourover kettles evolved last year into higher-tech items of sleeker design, such as the Brewista Smart Brew Digital Kettle and the debonair Stagg Kettle, respectively, there was another company perfecting its spin on this ubiquitous tool, and in a decidedly more pared-down way. That's the Toronto-based company Monarch Methods, whose simple copper kettles are finding a following among baristas as well as home brewing aficionados.
Handmade out of strong, efficient copper, the Monarch kettle features a handle-free design that affords the pourer a greater degree of control and accuracy over water delivery during manual brews. Its all-copper build aims to store heat as effectively as possible, and its industrial cork insulation furthers that goal while protecting the pouring hand and providing a stable grip. The cork is removable for easy cleaning, and the kettles are sized precisely for baristas to fill and pour quickly without worrying about weighing or measuring water.
Monarch Methods' sole founder and designer Chris Chekan was working as Head of Innovation for Toronto's Pilot Coffee Roasters at the time the idea first came to him. "I was working on developing some of their brew parameters and doing some research into what was working for that," Chekan told Daily Coffee News. "I found out that I didn't have as much control as I wanted over some of those variables. So I set to work."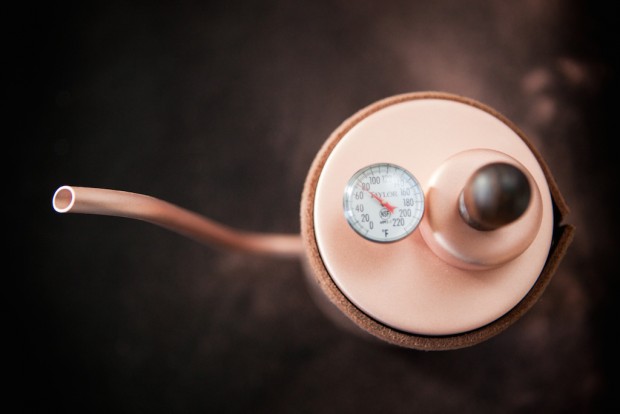 Chekan started tinkering with designs in the shop in his Toronto loft home, where he also works on saxophones and other instruments, given his background in music, which is what he studied at York University. His handiness with woodwinds translated smoothly into pourover kettle design as he came up with the handheld, handle-free kettle that not only looks lovely in its minimalist form, but also granted the easy and enhanced precision he needed to improve his manual brewing process.
Within a week of use at Pilot, someone asked where they could buy one. "I said, 'you can have this one, I'll just make another one.' I think that was my downfall right there," Chekan recalled with a chuckle.
Through word of mouth and the natural ripple effect of social media, demand rapidly snowballed. Within months, Chekan found himself at the crossroads of which craft to pursue full time: coffee brewing, or kettle-making. Lucky for pourover aficionados, in November of 2014 he parted ways with Pilot in order to focus full steam on building Monarch Methods.
In September 2015 the project moved into a larger workshop outside of Chekan's home, where it also scaled up by way of outsourcing the precision cutting of certain parts. The kettle-maker recognizes that while the handmade nature of his product is part of its appeal, so are the accuracy and precision of its form, fit and function, and that by farming out certain precision-cutting tasks, both the quality of the product the efficiency of its production have improved. Said Chekan, "I tend to lean towards quality over just about anything else."
Greater precision in manufacturing reinforces one of the kettles handiest features, which is the exactitude of its capacity. "You know you're getting a fixed amount of water when you fill the kettle, so it frees up a lot of your attention," said Chekan. Liberating baristas from the need to watch a scale while pouring or eyeball a line while filling provides greater opportunity for customer interaction and education about the coffees being prepared. Or in the case of competition, a smoother presentation in front of a panel of discerning judges.
Beyond the outsourced cuts, Chekan still assembles the kettles himself, and bends each gooseneck by hand with the same handheld bender he's used since the beginning. "If you looked at me from the elbow down, you'd get a much better impression of my overall health," joked Chekan. House-made molds are used for the casting of the concrete lid knobs, and the concrete, too, incorporates from a proprietary blend of polymers and additives for a smooth, hardy and attractive result.
"It's time-consuming," Chekan admitted. "What used to be batches of 10 to 12 at a time are now 100 to 150 at a time."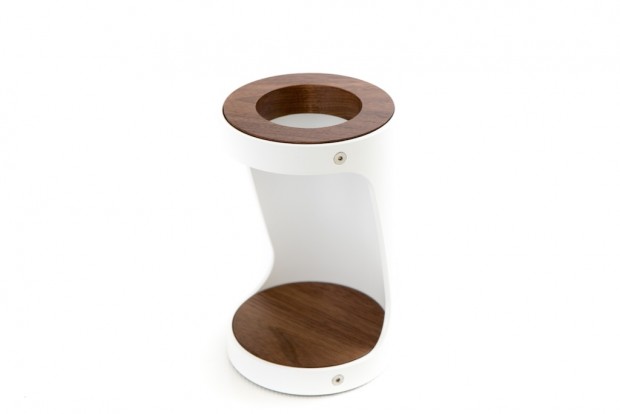 Recently the Monarch kettle insulation material shifted over from leather to industrial cork, which was an inevitable evolution in that not only was the leather likely to turn brittle after so many exposures to water, but Chekan's leather supplier simply disappeared. The cork, Chekan finds, is both more resilient and better at maintaining temperature than leather, neoprene or other materials tested, while also allowing for customization in appearance.
Aside from the marque kettles, the Monarch product line currently also includes a pourover stand. By the end of 2016, the kettle and stand will be joined by the final piece of the pourover puzzle — a brewer — although Chekan is keeping the details vague on that front for now. "It won't be your standard pourover brewer," said Chekan. "We've got a few tricks up our sleeve with that."
Howard Bryman
Howard Bryman is the associate editor of Daily Coffee News by Roast Magazine. He is based in Portland, Oregon.