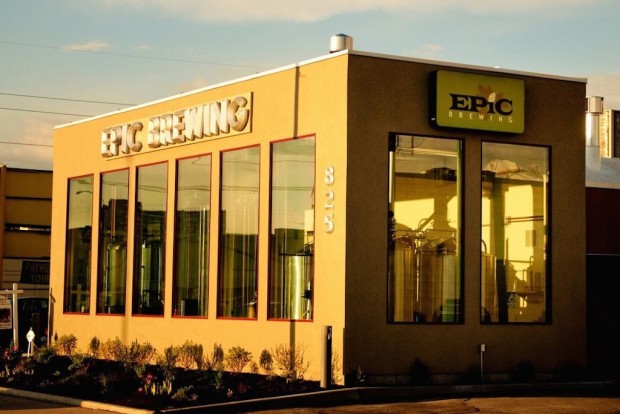 Salt Lake City and Denver-based Epic Brewing Company has just announced a coffee collaboration of epic proportions, working with 10 coffee roasters in 10 states for limited-release stouts brewed to showcase individual coffees roasted on the lighter end.
The 8 percent ABV beers will be made available in local markets where the coffee is roasted and sold, and the limited-release line will be called Son of a Baptist, which references Epic's seasonal barrel-aged coffee stout, Big Bad Baptist. Epic also variated for Son of a Baptist in its approach to sourcing coffee, deferring to the coffee world for starting points.
"Instead of sourcing a coffee that would play well in a beer we sought out creative and innovative roasters, then asked them which beans they're passionate about," the company said in a recent announcement.
Epic brewmaster Kevin Crompton said the beer is in part a more appropriate response to lighter-roasted coffees, as opposed to darker-roasted coffees that may offer more traditional complements to stouts.
"Son of a Baptist was built from the ground up to showcase coffee. By simplifying the malt bill and removing the complexity that barrel aging adds we were able to let the beans shine through," Crompton said. "Initially we were looking for coffees similar to those we've used in Big Bad Baptist but the recent trend toward lighter roasted beans with wonderful berry and tobacco notes inspired us to seek out artisanal coffee roasters."
Crompton said each Son of a Baptist release will differ widely depending on the characteristics of the coffee, while each release will be numbered and stamped and shipped to the roaster's home market where the beer and the coffee can be sampled side-by-side.
Here are the 10 roasters participating in the Son of a Baptist collaboration:
Stauf's Coffee Roasters – Columbus, Ohio
Novo Coffee – Denver
Rowster Coffee – Grand Rapids, Mich.
Red e Café – Portland, Or.
Cultivar Coffee – Dallas, Texas
Caffe Ibis – Logan, Utah
Conduit Coffee – Seattle, Wash.
EVP Coffee – Madison, Wisc.
Snake River Roasting Company – Jackson Hole, Wy.
Misha's Coffee – Alexandria, Va.
Nick Brown
Nick Brown is the editor of Daily Coffee News by Roast Magazine.