Oakland, Calif.-based RTD cold brew company Black Medicine has continued its steady expansion since moving into its upgraded roastery and beverage production facility late last year. They've put their Loring S15 Falcon roaster, tunnel pasteurizer, fully automatic bottling line and other high-volume gear to good use in keeping up with demand and ever-widening distribution for their offerings, a growth chart for which might be starting to look like a mushroom cloud.
"Our growth in number of stores has been 50 percent over the last three months, and 200 percent over the last 12 months," Black Medicine founder and CEO Chris Cooper told Daily Coffee News.
Numbers like those apparently helped when the company applied for a spot in the CircleUp marketplace, a curated online investors' resource that after a rigorous screening and auditing process only accepts about 5 percent of the companies that apply. Earlier this month, Black Medicine announced that in its fundraising round on CircleUp, the company came away with a boost of $1 million.
Cooper said that while a traditional, offline fundraising period typically takes 8-12 months to close, a CircleUp round usually takes about three months, adding, "Black Medicine closed in half that time."
To apply, Black Medicine had to provide considerable depths of information about its business, including financial details, leadership backgrounds and more. CircleUp's data-driven computer analysis of the company then made an evaluation based on what the platform describes as "an average of 92,000 data points, per company," while also considering myriad external factors such as product reviews, distribution, profit margins, competitive positioning and quite a few more. The process is thorough and the rewards, as evidenced by Black Medicine, are substantial, as long as things stay on track for the recipient.
"We are investing in some capital equipment to increase our production ability and to improve our packaging. We also need to finance inventory, especially packaging, because the minimum order quantities are pretty high," Cooper said, adding that funds will also go towards operating capital and PR, including more marketing and sponsorships from Black Medicine later this year.
The upcoming equipment investments are relatively minor, as Cooper explained that their current production facility, which is still new, was already an investment in the future.
"We believe that we can handle about 10 times the production that we are doing right now. It will require only a modest amount of additional capital equipment, and a modest increase in labor costs," said Cooper. "In other words, we have made a substantial investment to stay ahead of the demand, which is growing pretty fast."
Black Medicine launched in Oakland in early 2014 with 10 local accounts. Today it has a presence in more than 700 stores. The product remains distinct from the many slow-steeped cold brew products currently flooding the market in that it's made using a small-batch, hot brewing technique, in which highly concentrated ratios of coffee are brewed under nitrogen pressure before they are cooled and mixed with water or milk before bottling. The pressurized brewing process, according to the company, reduces exposure to oxygen and results in a more even extraction of desirable flavors.
The current 11-ounce bottled product line consists of flavors Iced Coffee, Iced Mocha and Iced Latte. The straight coffee flavor is also available in 1-gallon jugs of pure concentrate, and in 20-liter nitro coffee kegs.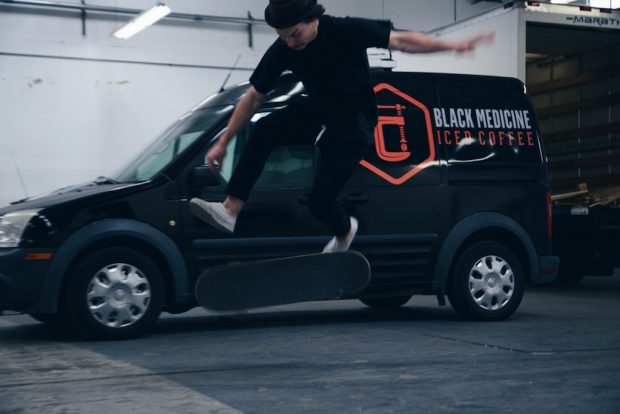 "We have some very important changes and new items coming out, but are not ready to announce them," Cooper said, adding that consumers can expect a new product to launch sometime in early September of this year.
Howard Bryman
Howard Bryman is the associate editor of Daily Coffee News by Roast Magazine. He is based in Portland, Oregon.