Since the Cleveland Hostel opened four years ago just west of Cleveland's downtown in the Ohio City neighborhood, guests have been increasingly greeted by a growing number of local roaster/retailers such as Rising Star Coffee Roasters, Phoenix Coffee and, more recently, Duck-Rabbit Coffee.
Now guests have an option even closer to their temporary home in the form of Passengers Cafe, a small multiroaster bar in the hostel's lobby that has been in soft-opening mode, with a grand opening celebration coming soon.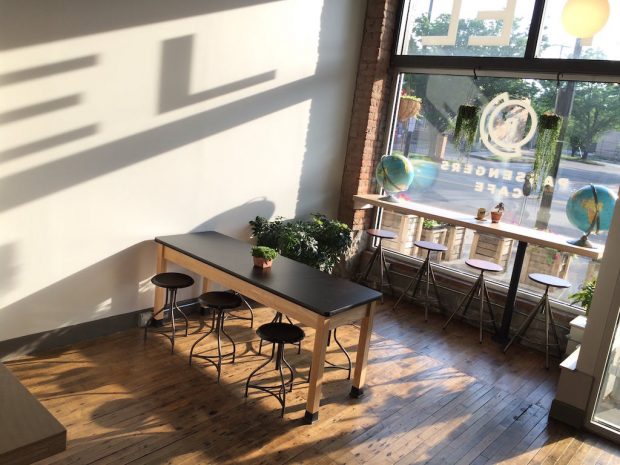 Passengers is the joint venture of hostel founder Mark Raymond, who'd always envisioned a retail component for the hostel lobby , and Trey Kirchoff, a Milwaukee native turned New York coffee professional who relocated to his wife's home city of Cleveland a year ago.
"We didn't even realize until we got here what a cool neighborhood this has become," Kirchoff recently told Daily Coffee News, adding that the meticulous roasting and brewing, and often phenomenal customer service, of the roasters listed above are part of that appeal.
Passengers Cafe — which plays on the travel theme in its name and also through adornments such as globes and maps throughout the approximately 600-square-foot space — offers a straightforward espresso drink menu with Nuova Simonelli Aurelia One and batch brews, along with a few fresh-baked items, including what Kirchoff described as "the most doughy, New Yorky bagels I could find," as made by Cleveland's Bialy's Bagels.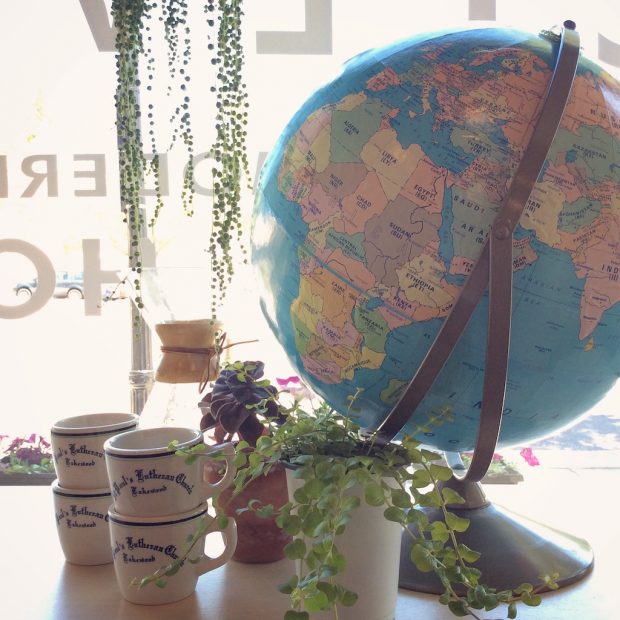 Initial coffees are coming from Gimme! Coffee, the Ithaca, N.Y.-based coffee roastery for whom Kirchoff previously managed multiple retail locations in New York City. The company, Roast Magazine's 2013 Roaster of the Year, also incidentally brokered the deal for Passengers's bar equipment after a New York wholesale client was forced to close a location.
After sampling coffees from roasters throughout the country, Kirchoff and the Passengers team are also serving offerings from Arkansas-based roaster Onyx Coffee Lab. "I reached out to like 20 or 30 different people and got some samples, and a lot of really amazing samples," Kirchoff said. "But I got some things from Onyx that really knocked my socks off."
To Kirchoff's knowledge, Passengers Cafe is the first multiroaster bar in the neighborhood, and although he noted the subtleties and nuanced flavors that can be brought forth through in manual pourover brewing, he and Raymond decided to stick with quick, readily available batch brews. He said the idea is to show people who have matured along with Cleveland's craft coffee scene that there are also great roasters throughout the rest of the country, and that really good coffee can be achieved in a drip machine, either at home or in the shop.
Café customers can take that coffee to go, or they can enjoy it at the hostel's outdoor patio or on its rooftop, which offers hostel and café guests alike a view of the downtown Cleveland skyline. For hostel-founder Raymond, the interaction between café guests and the hostel itself is a primary goal.
"A lot of people like that there's a hostel in the neighborhood. We tried to have some other events that appealed to the neighborhood, as well," Raymond told Daily Coffee News. "But this gives a chance for the locals to actually check the hostel out, and to enjoy it."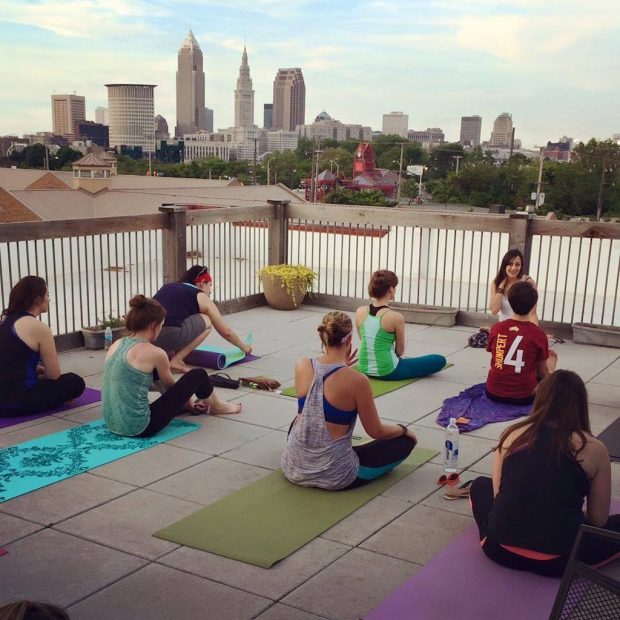 Nick Brown
Nick Brown is the editor of Daily Coffee News by Roast Magazine. Feedback and story ideas are welcome at publisher (at) dailycoffeenews.com, or see the "About Us" page for contact information.