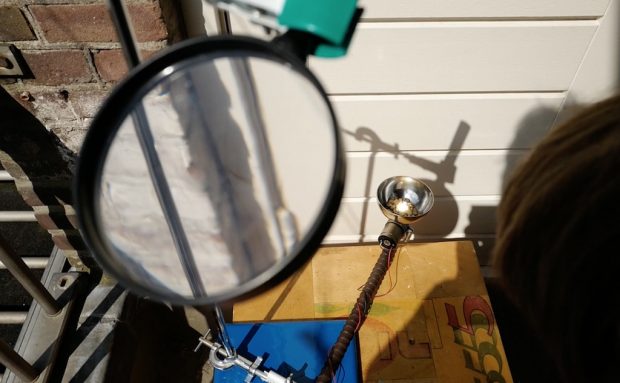 Sure, any old coffee roaster with a deep commitment to environmental sustainability, the ability and stamina to pursue grant money and other sources of funding, and a willingness to wrestle through miles of red tape can outfit their roastery with solar panels to power their operations.
But what about going straight to the source — harnessing direct sunlight to actually roast coffee?
Obsessive coffee tinkerers and Amsterdam-based friends of Daily Coffee News Frans Goddijn and Tije de Jong recently gave the latter a shot, attempting to roast coffee with only a magnifying glass, a metal bowl and a motorized shaking device. On his Kostverlorenvaart blog, Goddijn shares this delightful premise:
Tije wondered if it would be possible or even easy to roast with sunlight and a magnifying glass. As a boy he was successful at setting stuff on fire with his magnifying glass, so there might be enough solar energy to collect in a metal, reflective bowl catching the full blast of solar heat on a handful of coffee beans.
Unlike Goddijn and de Jong's previous experiments — including the FrankenMoka, the motorized HG One manual grinder, the espresso-steam-poached-egg, and the hand-built fluid-bed roaster — the solar roasting experiment was a dud, yielding just a few sorry wisps of smoke. But you never know until you try, right?
See for yourself:
Nick Brown
Nick Brown is the editor of Daily Coffee News by Roast Magazine. Feedback and story ideas are welcome at publisher (at) dailycoffeenews.com, or see the "About Us" page for contact information.