Longtime Dutch coffee (koffie) roastery Capriole has given its name to an ambitious new restaurant in The Hague, with coffee creatively incorporated into the ambience as well as the food and drink menus.
The interior plan is designed to promote and elevate coffee both figuratively and literally, as the company's production roastery is just off the bar in the middle of the restaurant, elevated from the rest of the house by a step.
Located in what had been an abandoned paint factory, it's a remarkable extension of the open kitchen concept. The café's creators said they wanted not only to create a strong visual presence for the coffee operation, but also to encourage interaction and inquiries with the company's master roaster Giancarlo Matarazzi, who can be found during breakfast, lunch and dinner hours manning the Giesen machine. Matarazzi is also leading guests through cuppings and other scheduled coffee education courses.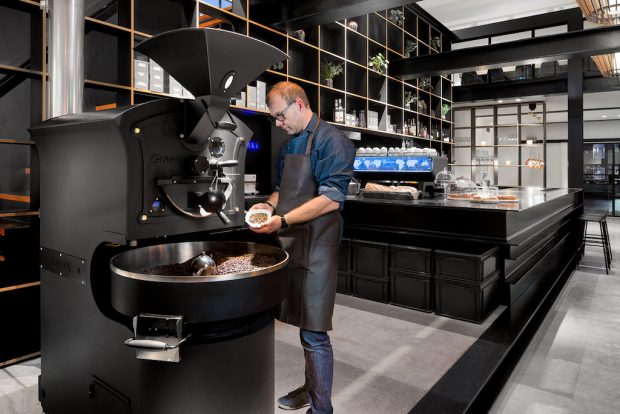 "People love to come to Capriole Café to be emerged in the whole world of coffee," Matarazzi said following the café's opening. "The concept has evolved better than we could have hoped. We are experiencing many diners not only here for a meal, but wanting to be involved in the coffee processes. We have many guests who are excited to tie in a coffee masterclass as part of their dining experience."
Matarazzi worked with Capriole Café founders Joyce and Pascal Ultee — whose father Peter Ultee started roasting coffee under the Capriole name in 1975 — to develop a revamped coffee program that includes rotating single-origins as well as blends.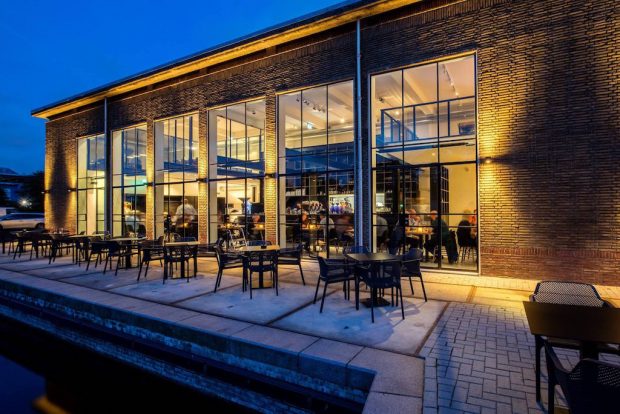 In every other respect, Capriole Café is a full-service café and restaurant, with a large bar, and full, creative breakfast, lunch and multi-course dinner menus. The restaurant team has also made a concerted effort to incorporate coffee as an ingredient into several of the café's dishes, while the bar offers specialties such as an Espresso Gin & Tonic and an Espresso with Pink Peppercorn.
Capriole Café is located at Fokkerkade 18, 2516 CC Den Haag, Netherlands.
Nick Brown
Nick Brown is the editor of Daily Coffee News by Roast Magazine. Feedback and story ideas are welcome at publisher (at) dailycoffeenews.com, or see the "About Us" page for contact information.