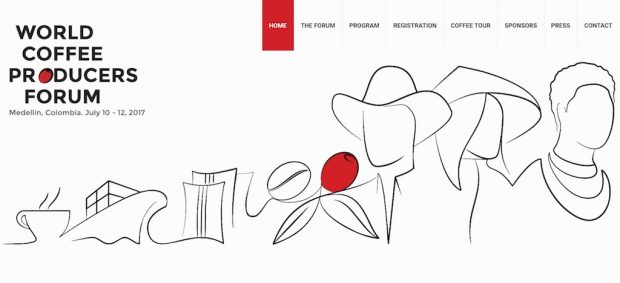 For the sustainability-minded set, one of the recurring sentiments following some of the world's largest coffee industry events, especially those in traditionally consuming parts of the world such as the United States and Europe, is that in order to facilitate meaningful change to make the industry more sustainable and equitable throughout the supply chain, more voices of coffee producers must be involved.
Today, Colombian coffee leaders have announced plans to bring together supply chain actors from no fewer than 40 producing countries as well as from the world's major consuming markets for the inaugural World Coffee Producers Forum, taking place July 10-12, 2017, in Medellín, Colombia.
Forum organizers announced the event today, reaching out to producers, exporters, importers, roasters, traders, certifying agencies and all other people invested in the health of the coffee industry to take part.
"The forum seeks to foster sustainability from seed to cup and identify strategies to achieve better distribution of value and responsibility among all actors of the coffee chain," organizers said in today's announcement of the inaugural event. "Some of the issues to be addressed include economic sustainability of producers, rural development, climate change adaptation, price volatility, generational change and co-responsibility in the value chain."
The preliminary agenda for the forum includes a welcome reception at the Intercontinental Hotel in Medellín on the opening day. Day two will include an opening ceremony with talks from Colombian President Juan Manuel Santos and Colombian Coffee Growers Federation (FNC) CEO Roberto Vélez, as well as remarks from coffee leaders from Africa, Asia, and other parts of Latin America. The opening ceremony will be followed by a keynote speech from renowned economist Jeffrey Sachs, who is arguably the world's foremost authority on sustainable development.
The remainder of the three-day program will include panel discussions and breakout salon sessions tackling a number of major issues facing the coffee industry at large, including those pertaining to productivity, labor, price volatility and climate change, with representatives of producers from throughout the world leading each.
Organizers say the forum is expected to attract producer representatives from virtually all of the world's major growing regions, including Colombia, Brazil, Panama, Peru, Bolivia, Ecuador, Mexico, Guatemala, Costa Rica, Honduras, El Salvador, Nicaragua, Ethiopia, Kenya, Tanzania, Uganda, Cameroon, Rwanda, Ivory Coast, Togo, Vietnam, Indonesia, India and China.
In addition to the educational program, there will also be tours of coffee farms in Antioquia, as well as tastings of coffees from producers throughout the world.
Early bird registration for $200 USD is currently underway, with the price jumping to $250 then $300 as the event draws nearer. See the forum's website for more.
Nick Brown
Nick Brown is the editor of Daily Coffee News by Roast Magazine.