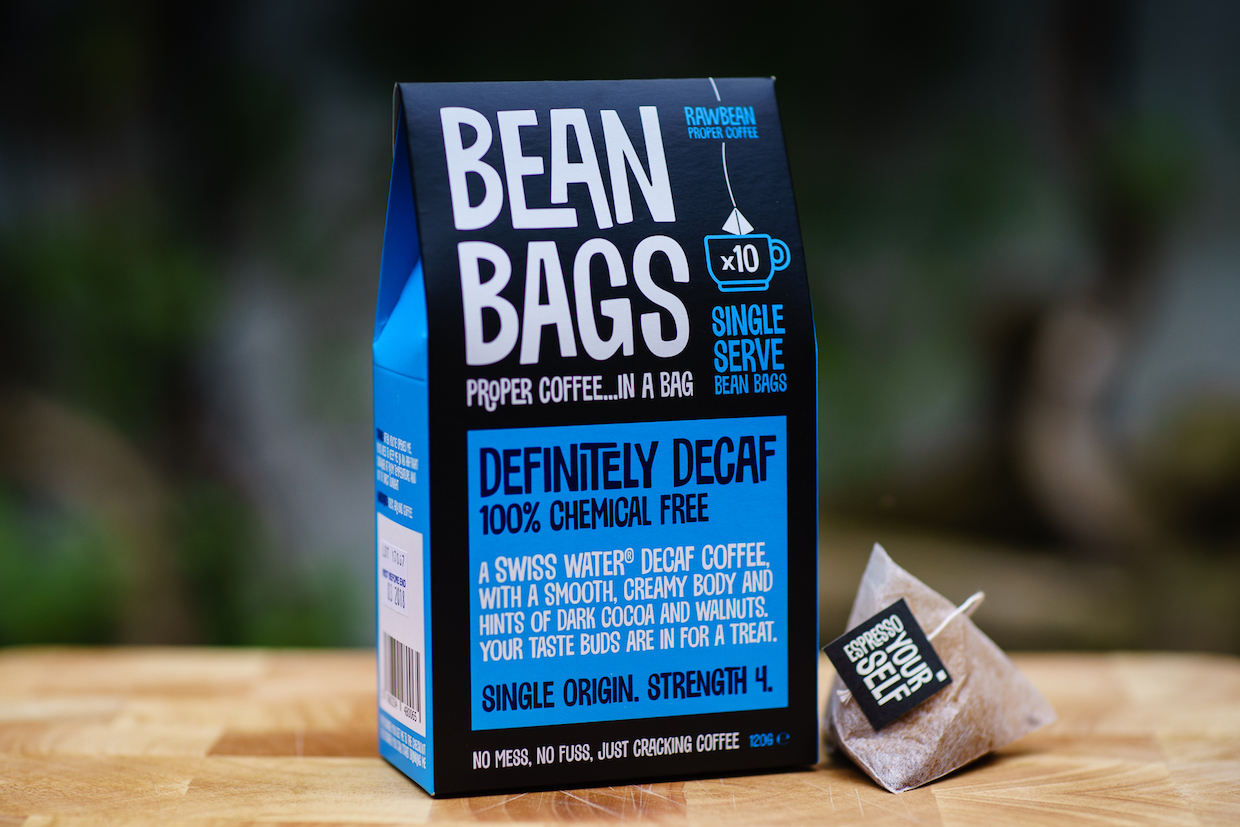 Coffee has slowly but surely been overtaking tea in the deeply tea-steeped United Kingdom. By some estimates, Britons already consume more coffee than tea outside the home, as coffee chains and independents proliferate, including those of the quality-forward ethos.
From 2010 to 2016, a nearly 20-percent decline in tea consumption was also observed in the UK. At this point, determining from afar whether any ceramic or paper hot-beverage cup contains tea or coffee is now anyone's guess.
One dead giveaway used to be a teabag. Obviously, conventional thinking would lead one to assume that if there's a string attached to a bag inside a cup, it's probably tea. But now, even that might be changing, as Winchester, U.K.-based Raw Bean Ltd has launched Bean Bags — pre-ground specialty coffee in a teabag.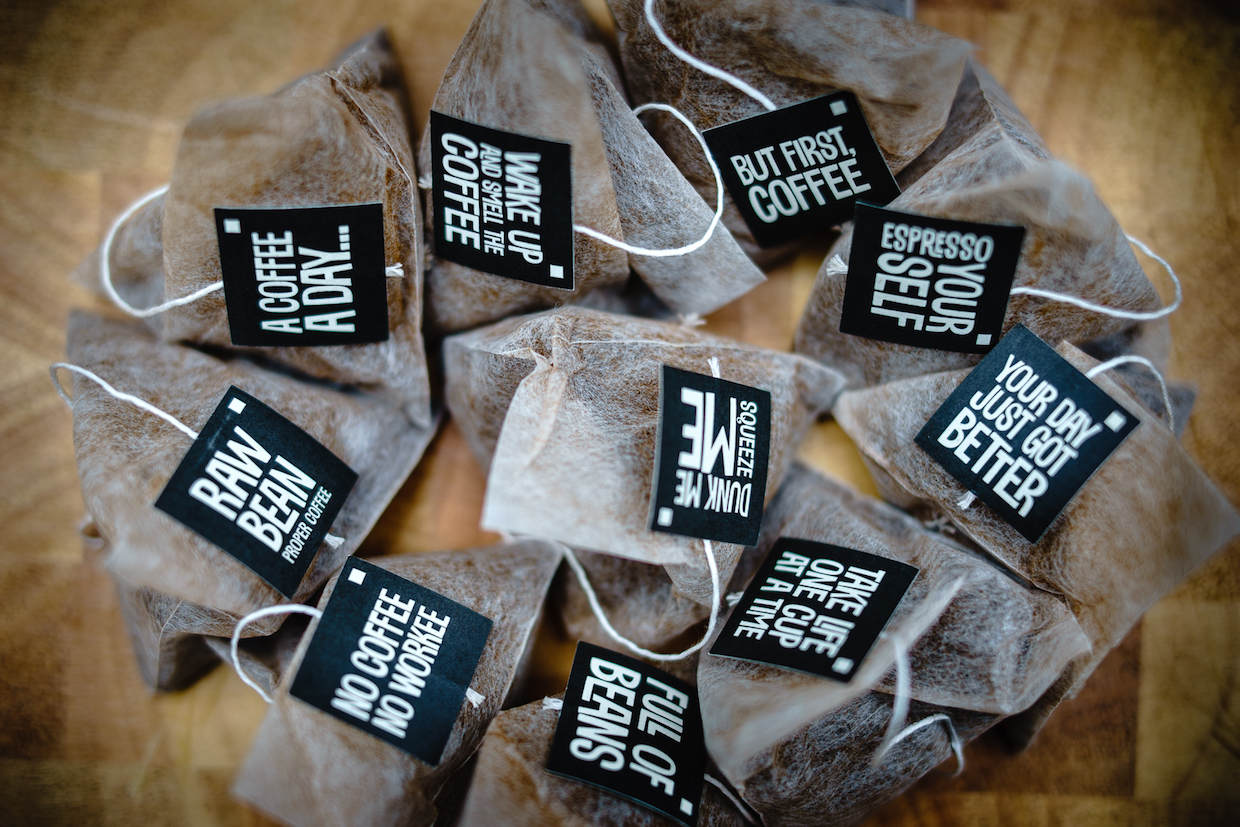 High-quality, high-convenience inroads have been laid recently in the form of pre-ground for individual manual brews, specialty-grade instant coffee, and grounds bagged for easy overnight cold brew. Yet what would seem like another no-brainer in terms of an on-the-go single-serve hot coffee solution has to this point been the domain only of the likes of Folgers and Maxwell House, which offer tiny packets containing small quantities of commodity-grade coffee blends of unknown origin.
Raw Bean's Bean Bags are larger, pyramid-shaped bags, each containing 12 grams of pre-ground specialty coffee of clearly designated origins, roasted only upon confirmation of an order placed by a retailer, in an effort to deliver as fresh a product as possible.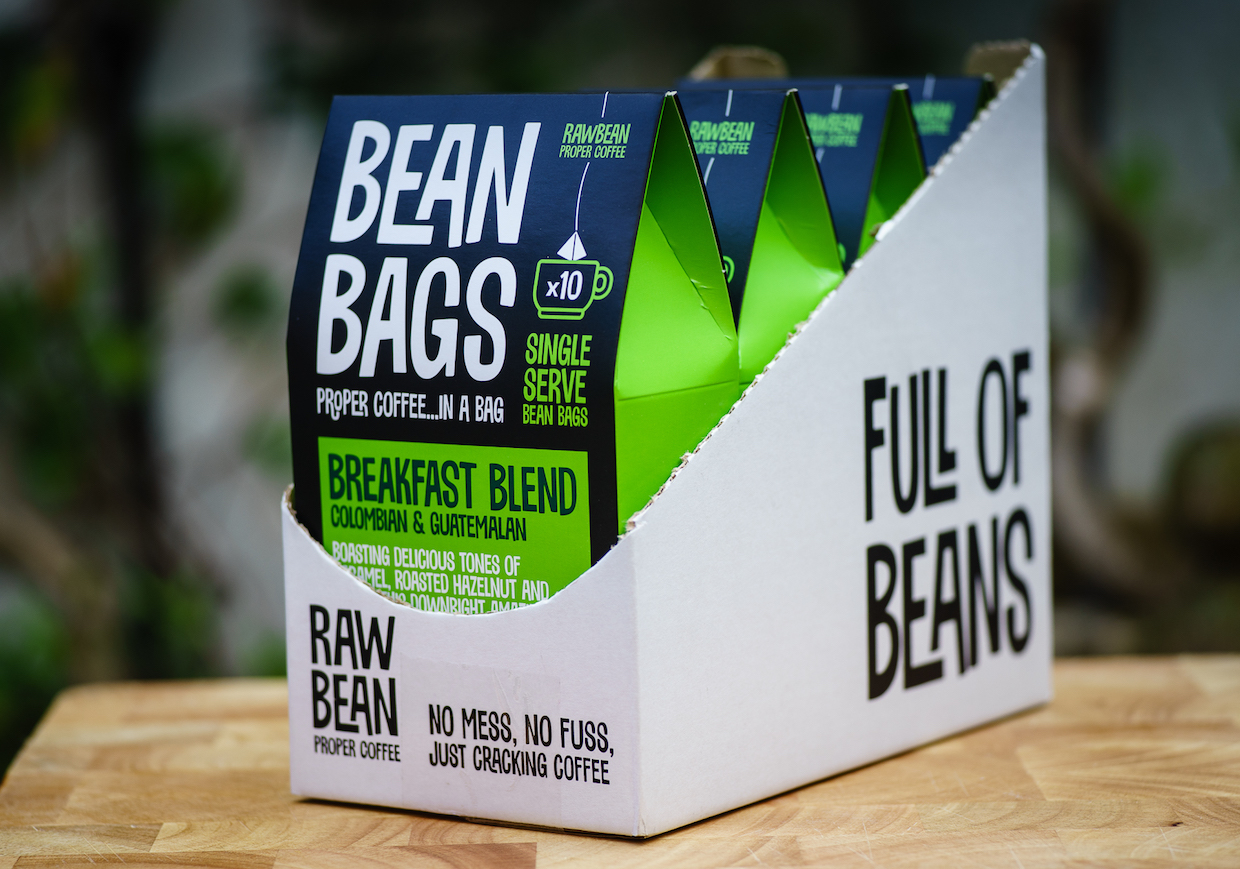 "The development of the pyramid coffee bag has allowed me to get the 12 grams of coffee into a bag and still leave it room for it to infuse," Raw Bean Founder Alex Cox told Daily Coffee News, confirming that each bag contains 100-percent arabica grounds, with no pre-brewed soluble component. "Our belief is that a customer buying a coffee bag would expect quality filter coffee, otherwise they might as well just buy instant."
Raw Bean recommends giving the bag a squeeze or two while brewing to ensure an even water-to-coffee interaction inside the bag. So far there are three products in the Bean Bag line: A single-origin El Salvador from Finca Santa Leticia; a Breakfast Blend of Colombian and Guatemalan coffees from Finca Sabinitas and El Carrizal, respectively; and a single-origin Definitely Decaf, also Colombian.
"As we develop the Bean Bag range, we will certainly experiment with different roast profiles and grind levels to accentuate different attributes of the coffee," said Cox, who personally tends to prefer a balanced medium roast, and has attended a variety of courses at the London School of Coffee to hone his craft and deepen his understanding.
Founded in 2012, Raw Bean has so far focused on grocery and online retail in Waitrose and Sainsbury stores throughout the UK, as well as online retail. The company roasts samples and develops profiles in-house on a Coffee Tech FZ-94 machine, which they also use for small-batch internet orders, while partnering with larger roasters for larger-scale production.
"We are currently restoring a Gothot from the 1950s, which we'd eventually like to install in a retail location," Cox reported, adding that he hopes Bean Bags also achieve international distribution, perhaps also to include in hospitality and catering markets such as hotels and offices, as a high-quality alternative to pods and k-cups.
"I believe the timing is right for Bean Bags," said Cox. "With the UK moving away from being a nation of tea drinkers towards an ever-growing coffee culture, nurtured further still by the constant propagation of coffee shop chains and quality independents, consumers are looking look for simpler, less messy ways to enjoy their favorite brew."
Howard Bryman
Howard Bryman is the associate editor of Daily Coffee News by Roast Magazine. He is based in Portland, Oregon.