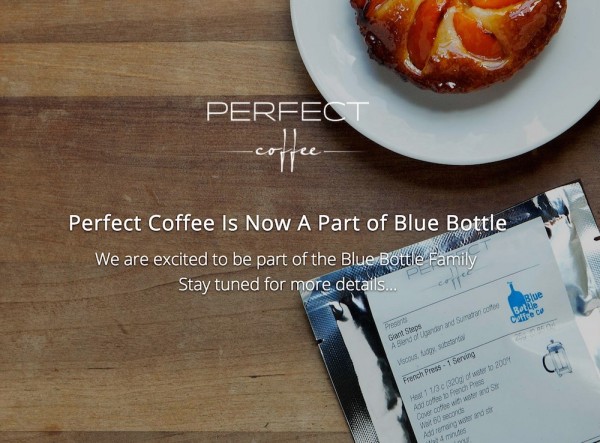 Blue Bottle Coffee will begin selling packaged, pre-ground coffee following the acquisition of Bay Area-based Perfect Coffee, founded by longtime tech executive Neil Day in 2013.
It is the latest acquisition and re-branding by Blue Bottle since two series of eight-figure investments — the Handsome Coffee Roasters and subscription service Tonx Coffee brands dissolved under the Blue Bottle umbrella — and the company says all five of the people involved with Perfect Coffee will join the Blue Bottle team.
The symbolic significance of Blue Bottle's name on packaged, pre-ground coffee cannot be ignored. The company and its founder, James Freeman, built the brand's fierce loyalty in the Bay Area  and beyond upon tenets of craftsmanship at every level of the brewing process. Grinding just before brewing is standard protocol in quality-focused brewing, and it is typically the first variable mentioned when coffee professionals give advice to home brewers.
"Creating opportunities for delicious and exceptionally fresh ground coffee (online, in retail stores, to our wholesale partners) was something we didn't think we'd be considering 12 years ago—or even two years ago, for that matter," Blue Bottle said in an announcement yesterday, when the deal was finalized.
Day reached out to Blue Bottle from Perfect's beginning, including Blue Bottle coffees in its packaging system. The company's subscription packages include small amounts of coffees with instructions for individual brew methods.
Perfect, and now Blue Bottle, claim that Day's patented technology allows for the "perfect replication of grind settings" and that their packaging process "guarantees that the ground coffee stays tight in its airtight packet for months." In yesterday's announcement, Blue Bottle relentlessly attempts to justify the quality of the pre-ground coffee.
Says Blue Bottle:
The problem of how to make ground coffee as delicious as it is accessible has plagued many a coffee company before us. Many have been persuaded by technologies that promise to preserve freshness, only to fall flat in the cup. We were pretty sure we'd heard this tune before.

But then we tried it. And tried it again. And again, and again, each time with more refinement and rigor. We staged blind tastings and "triangulations" (in which coffee samples are grouped in threes, with one outlier) against freshly ground samples of our blends and single origins. Each time, our own findings surprised us: Perfect Coffee was routinely performing as well as the freshly ground samples—and, much to our surprise, often surpassing them. It was, well, perfect.
Blue Bottle says it hopes to improve upon Perfect's packaging by creating an environmentally "sustainable product" by early 2016. In the meantime, the company is slowly working the Perfect team into the Blue Bottle fold.
Nick Brown
Nick Brown is the editor of Daily Coffee News by Roast Magazine.