A new multiroaster café company is setting up shop in Chicago with big plans to rapidly spread the model to other cities and states around the United States. This is Fairgrounds Coffee & Tea, whose inaugural 2,200-square-foot café recently opened in Chicago's Bucktown neighborhood.
Behind the bar will be three essential stations for preparing a variety of specialty coffee drinks, all by hand. Equipment includes a six-headed Modbar pourover station, a three-group La Marzocco Strada, and a row of eight taps dispensing various cold draft coffees and teas, with cold brew, kombucha, sparkling macha drinks and more. There will be no batch-brewed options. The first round of roasters on offer includes Chicago natives Dark Matter Coffee and Metropolis Coffee, alongside brands from farther afield including Stumptown Coffee Roasters of Portland, Ore., Verve Coffee Roasters of Santa Cruz, Calif., and Colectivo Coffee of Milwaukee.
By the end of the year, the company plans to have Fairgrounds shops open in popular areas of Los Angeles, Houston, New York, Minneapolis and Miami, with an eventual goal of two stores apiece. Another eight stores are also slated for 2018, in cities the company preferred not to reveal just yet.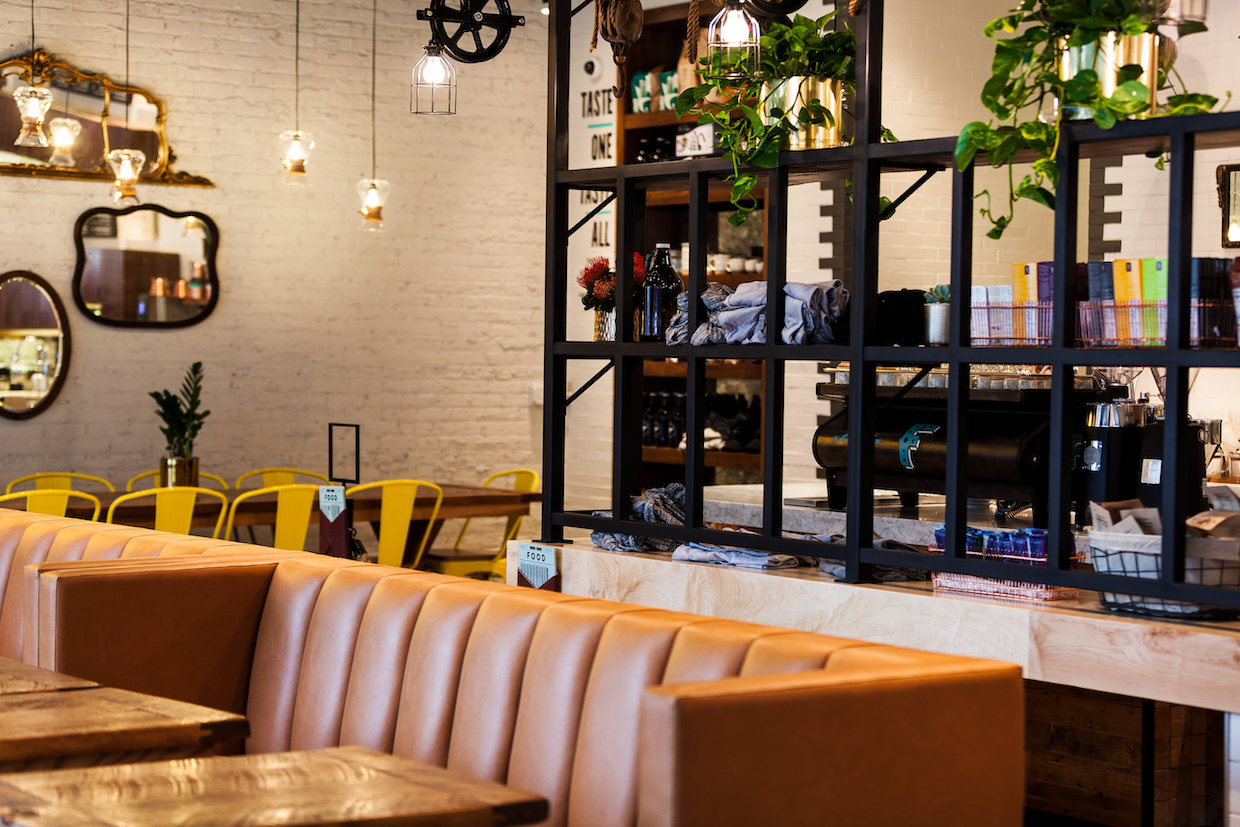 At the helm of this multi-roaster eruption is Michael Schultz, cofounder and CEO of Coffee & Tea Bar Holdings, a company that owns and operates its own hospitality arm that caters to corporate office cafes for the likes of Yelp and ConAgra. In just 18 months, it has grown to serve over 40 accounts in six different states, and provides for each a full-scale coffee bar experience, complete with high-quality coffee and skilled baristas that manually prepare drinks on the same caliber of equipment found in the sort of quality-focused cafes in the neighborhoods surrounding these offices, yet with the advantage of saving workers' time and money by offering them their fix right there, with minimal disruption to their day.
The Fairgrounds concept focuses more squarely on consumer choice. Schultz said that while he's seen plenty of one-off multiroaster cafes do well, he also sees opportunity in an absence of businesses taking that model to a nationwide scale to compete with larger chains on that level. "I hope that what we're doing is assisting in taking the industry to the next level," Schultz told Daily Coffee News.
"Starbucks is phenomenal, they've done a lot for our industry," Schultz continued. "But I think that people's palates have progressed. I think people are going to demand more. In being the pioneer of spurring consumer choice, I think that consumers, once they get a taste of that, they're going to demand it."
Larger Fairgrounds stores will be equipped with full kitchens turning out fresh pastries and breakfast options in the morning, switching to sandwiches, salads and light fare the rest of the day. Smaller shops will offer packaged grab-and-go bites. The corporate campus cafes rely heavily resources provided by vendor partner Tradecraft Outfitters, as will the Fairgrounds chain as its fans out across the U.S.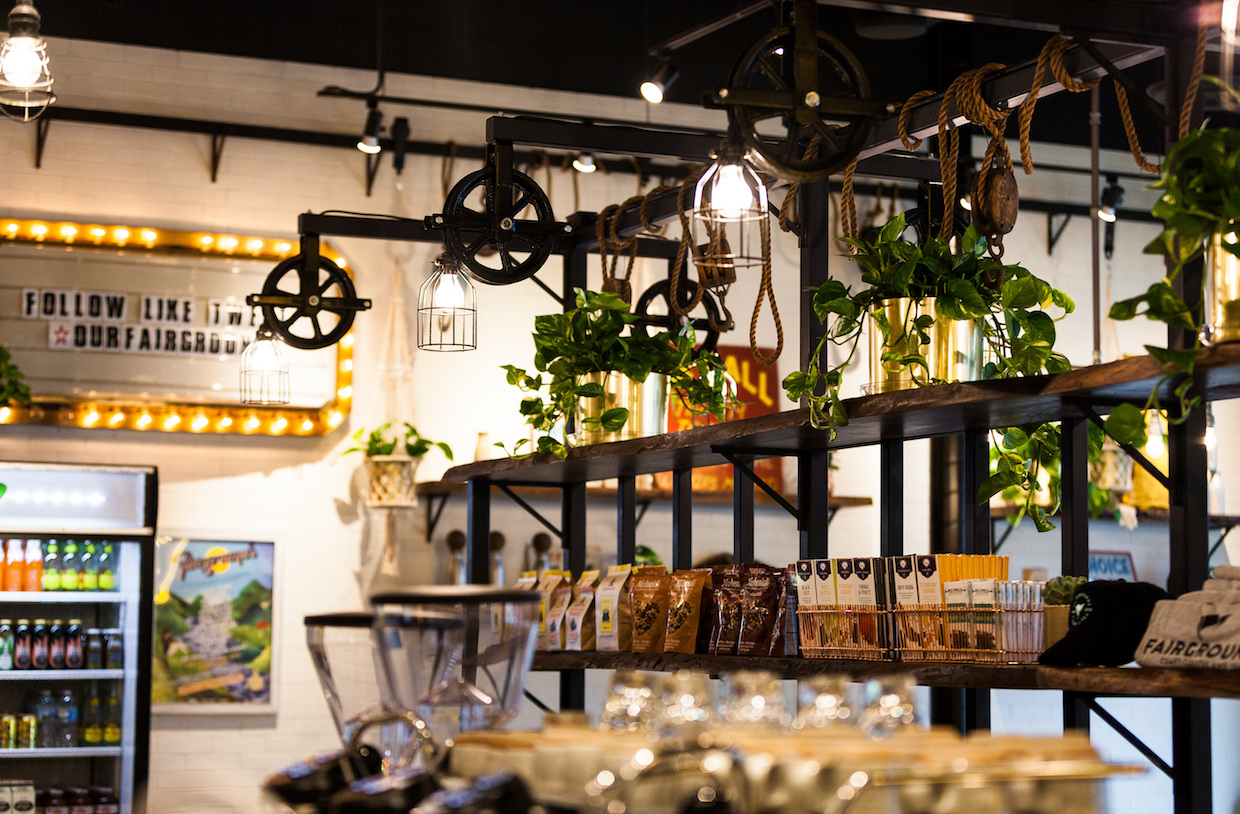 "Their wealth of knowledge is so unbelievable, we are so very lucky to have such great vendor partners," said Schultz. "We lean on them a lot, and they're phenomenal. I can't rave enough about them."
The sheer variety of offerings both in roasted coffees and in equipment sales and support, always on trend and with a depth of knowledge, are aspects of Tradecraft that are key to Schultz's vision for what Fairgrounds will offer: a variety of roasters, a variety of methods, and a steady progression that educates along the way.
"The brand, in and of itself, is really a celebration of discovery and diversity and choice," said Schultz, who said that while the equipment will be the same in most locations, it could change for newer gear as technology develops.
Roasters will rotate periodically as each location offers a few local brands alongside a few national options, with flights, tastings and other educational opportunities available. An interactive wall-mounted 15-inch screen at one end of every bar will provide information about each roaster as well as origins and coffee in general.
"I've found that in 'third wave' and 'next wave' coffee and specialty teas, oftentimes it's unapproachable and it can be intimidating. What we really want to do is introduce specialty coffee and tea to the masses," said Schultz. "To walk in and feel ignorant because you're not an expert in this — nobody enjoys that. We want more people to enjoy and celebrate specialty coffee and tea."
There will be no exclusive blends or single-origins, no private label offerings of co-branded Fairgrounds beans, just pure presentation of the craft of each roaster's goods. "People are literally devoting their lives and sometimes risking their lives to make sure their growing the perfect beans and picking them at the perfect time, and then you have these roasters who are these artists and they have this vision of how the public should experience their brand. The problem is, it's an unfinished product. All of that is controlled by the last folks touching is and producing it," said Schultz. "It's very important to us to do right by our roaster partners and make sure that we're protecting the integrity of their product."
Despite intending to open roughly 20 stores within the first few years, Schultz declined to describe the Fairgrounds five-year plan as anything more than an effort to widen the average consumer's awareness of specialty coffee and to honor the craftspeople involved by excelling at the final link of the chain.
"Our five-year plan is for people to have fun every day. Our five-year plan is for people to feel valued, and for our team members to feel vested and appreciated. The plan is to create a culture, and to create raving fans of our brand," said Schultz. "The way we look at things is very different. The objective of our brand is looking to really create something for our teammates. I want, when I'm gone, for people to come up to my three daughters and say something nice about their daddy, that I did something and created an opportunity that helped them."
Fairgrounds Coffee & Tea is now open at 1620 N. Milwaukee Ave. in Chicago. 
Howard Bryman
Howard Bryman is the associate editor of Daily Coffee News by Roast Magazine. He is based in Portland, Oregon.