It's not uncommon for coffee companies to cross an ocean to bring to new markets a taste of their home country, or for producers to either partner with entrepreneurs or set up a shop through family for vertically integrated coffee businesses that go beyond "direct trade."
A Ugandan coffee company called Endiro Coffee has elements from both these models, opening its first location outside Uganda, in Aurora, Ill., this past May.
Endiro Coffee operates five cafes in Uganda, each with a unique interior but all of similar size and crafty aesthetic, built into pre-existing spaces with a spirit of restoration and upcycling. All Endiros serve a substantial food menu to offset the fact that Ugandans don't drink very much coffee. The 2,600-square-foot shop in Aurora follows suit, with hearty breakfast and lunch menus that include a few distinctly Ugandan snacks such as cassava wedges and skewered meats, in a space that was formerly a pizza restaurant upstairs with martini lounge below.
The bar in the Aurora space sports Mahlkonig K30 Twin and various Baratza grinders along with a 3-group La Marzocco FB80 and a variety of manual brew options, including Hario Woodneck, Aeropress and French press.
"We also use old percolator pots for our house coffees," Cody Lorance, who co-owns Endiro with Uganda native Gloria Katusiime, told Daily Coffee News. "We actually really like the taste."
A Mahlkonig EK43 handles bulk grinding, while a 1920s-era Hobart 229 grinds for cold brew that the Aurora café steeps inside military-style jerry cans for consistency, as they do in Uganda. Said Lorance, "Other things are also consistent across all our locations, such as table service, an extensive lineup of smoothies and juices, and of course the primacy of Ugandan coffee."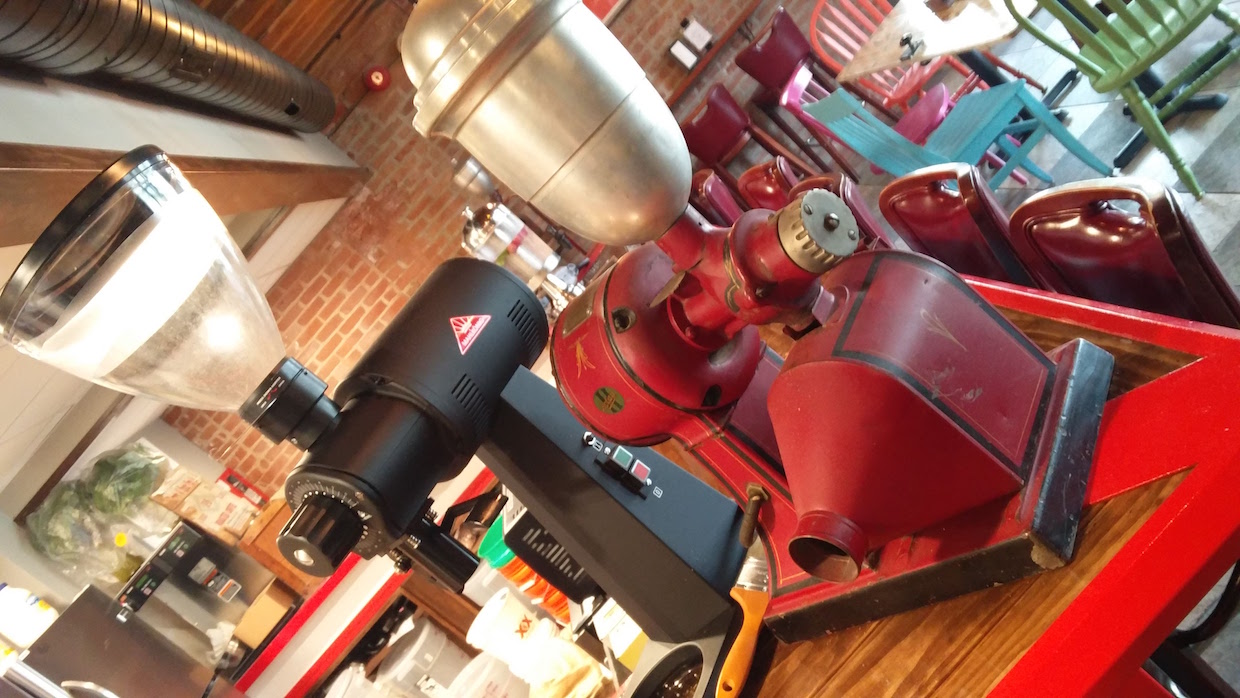 Endiro Certified Growers, a network of coffee growing cooperatives established by Endiro about three years, spans multiple villages in Eastern Uganda. "Our primary efforts are focused on ending child vulnerability through our own business operations," said Lorance, whose company paid about 8,000 Ugandan shillings (then roughly $2.50 USD according to Lorance) per kilo of parchment.
"Most of our farmers sold only cherries to middlemen prior to our involvement, and did so for $0.25 to $0.50 per kilo. They might get only one to two kilos of cherries out of each tree per year, and each farmer had very few trees."
Rather than seek third-party certifications for farms in the Endiro Certified Growers network, Lorance said the company took it upon itself to achieve and surpass those standards independently.
"We sent our most dependable barista in Uganda to classes on coffee growing and then began sending her into the farms to train farmers," Lorance said. "She would assemble farmers, 90 percent of whom were women, into groups of 50, and begin to train in basic techniques to improve their quality and quantity of coffee."
The company provided farmers with simple equipment such as plastic buckets for coffee fermentation at home, hand pulpers, and tarps for drying. They advised the farmers on how to arrange their plantations for shade and other factors that would promote cash and food crops for the family, and encouraged beekeeping in their villages as secondary income and for pollination benefits.
"In our first harvest in 2015-16, these farmers who had never produced a coffee scoring above the mid-70s produced nine tons of specialty grade coffee," Lorance said. "In the second harvest, the scores increased along with production, and we harvested 14 tons. We expect to pass 20 tons this year. What this means is that each farmer is selling more coffee at a price five to 10 times what they had been making previously. This is radically changing the situation in the village and resulting in fewer children who are forced to go into the cities to beg. Children are now getting money for school fees and books and are daring to think of a future that does not have to be dominated by poverty."
Endiro also partners with other organizations to combat child vulnerability not only in Uganda but elsewhere around the world, including locally in Illinois. "We don't want anyone to get to know us and begin to think of child vulnerability as a Ugandan or African problem," Lorance said. "It is a global problem."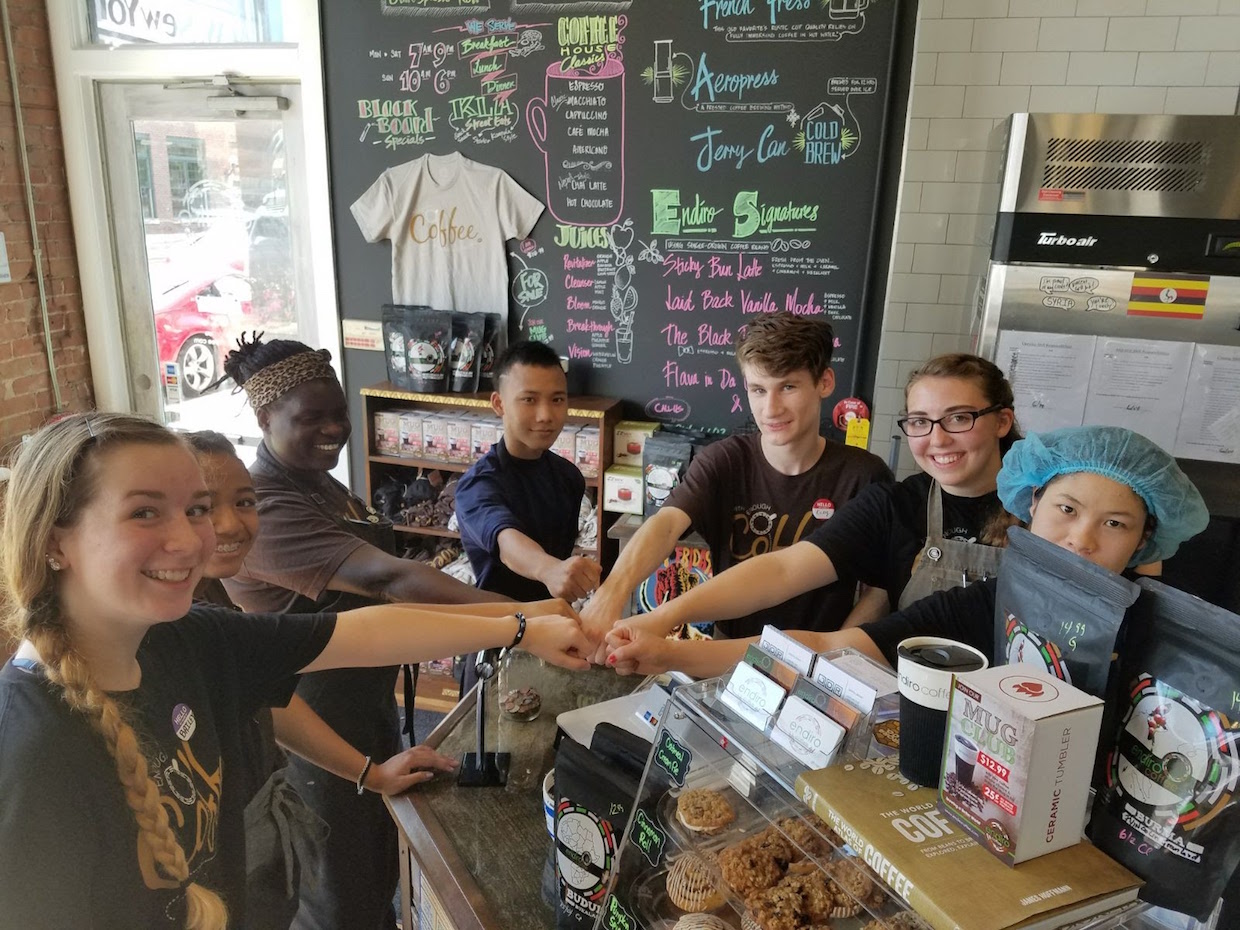 While Endiro's Ugandan coffees are the stars of the show, the company has also lately expanded into coffees from Myanmar (Burma) as well.
"In our Aurora shop, we have employees who have come to the U.S. as refugees from Burma and are connected with many other such families," Lorance said. "When news started coming out of Burmese coffee projects, we did our research and found that Atlas Coffee was involved in some projects that sounded a lot like what we were doing in Uganda. So we have been happy to get a few bags of coffee from Atlas and to introduce our customers to Burma in that way."
Currently coffee for the Aurora Endiro shop is roaster on site in a 15-kilo-capacity Ambex YM-15 roaster. "No bells or whistles just a solid machine that serves us well," said Lorance, who occasionally moves the machine for roasting outside on a riverfront patio. Lorance said the company hopes to relocate production into a permanent facility next month.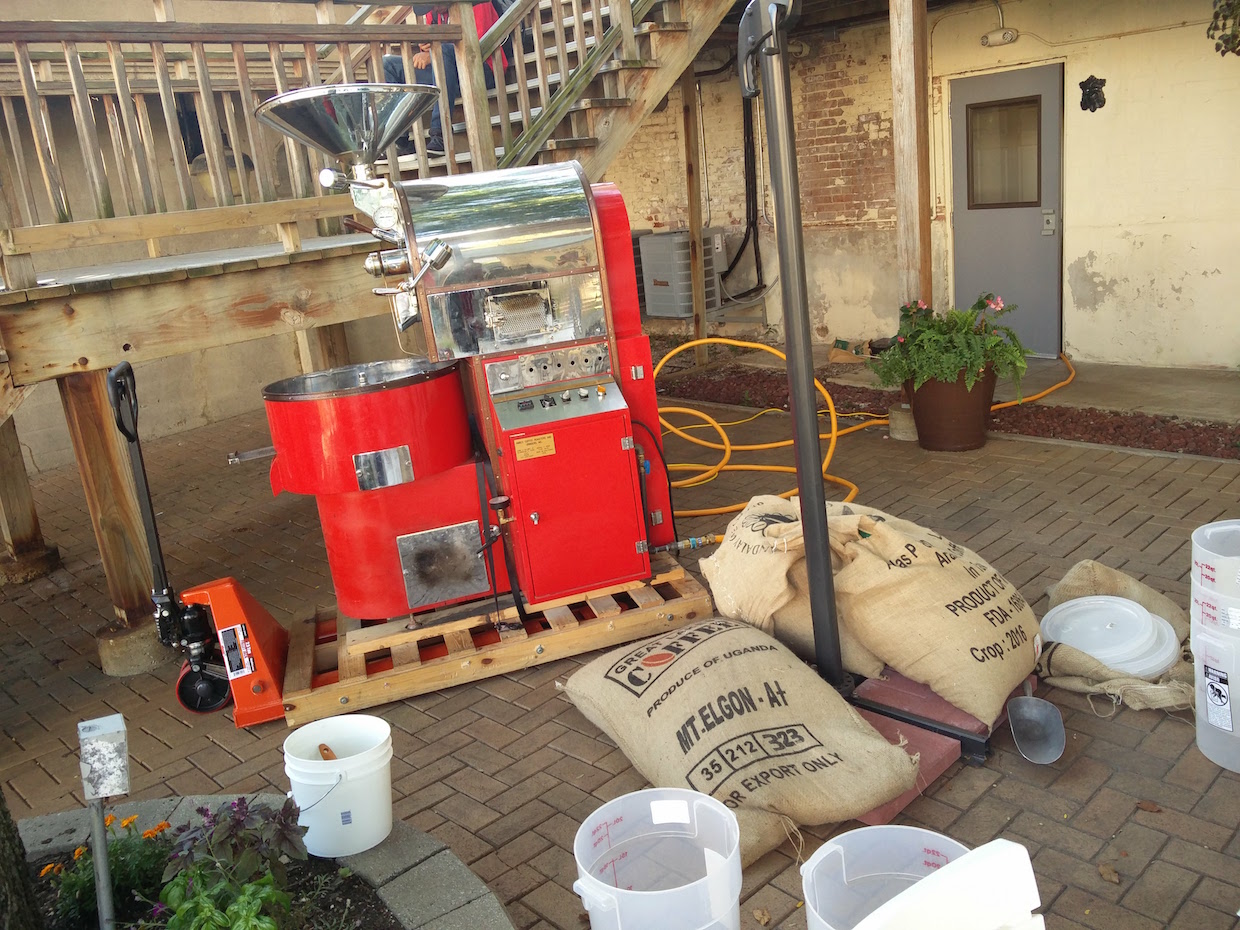 "Aurora is a great town — 200,000 people and a downtown with the bones of a real urban center," Lorance said. "We want to be a part of building brighter futures and enhancing whatever community we are a part of."
Endiro Coffee is now open at 29 W. New York Street in Aurora, Ill.
Howard Bryman
Howard Bryman is the associate editor of Daily Coffee News by Roast Magazine. He is based in Portland, Oregon.