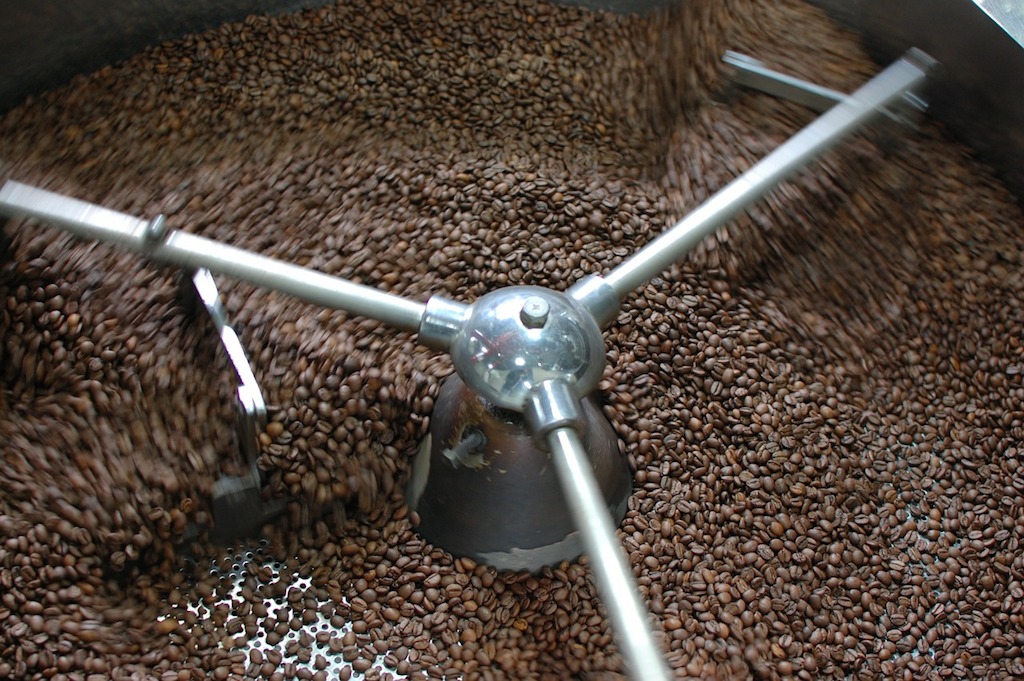 U.S. Centers for Disease Control and Prevention has released the most comprehensive report to date on chemical exposures and respiratory health in a coffee roastery environment.
Led by the CDC's National Institutes of Safety and Health (NIOSH), the report follows extensive testing over two separate multiple-day visits during production hours at the Just Coffee Cooperative, in Madison, Wis.
NIOSH researchers tested for a number of compounds associated with respiratory illness and disease, including the alpha-diketone diacetyl, while also conducting respiratory health surveys of JCC employees and evaluating the roastery's ventilation systems. The research followed a 2015 watchdog report published by the Milwaukee Journal Sentinel, while numerous roasters throughout the country have since opened their doors to NIOSH for similarly comprehensive testing.
Just Coffee Co-Founder Matt Earley told Daily Coffee News that he and other JCC members were generally relieved with the report's findings, while the company continues to improve its monitoring and preventive efforts in step with the CDC's recommendations.
Respiratory Symptoms
Testing at JCC's facility — which at the time of testing included Loring and Diedrich production roasters, green coffee storage, roasted coffee bins, and commercial grinding and packaging equipment, among other typical roastery items — resulted in what the CDC described as "statistically significant" reports of respiratory symptoms, though those symptoms are not necessarily associated with diacetyl exposure, nor are they necessarily work-related.
In JCC employees, the group reported a four-fold increase in reported lower-respiratory wheezing symptoms compared to similar U.S. demographic populations, while six of the 16 medical survey respondents had abnormal breathing tests. However, the report's authors noted the limited sample size, and that such symptoms are not necessarily related to exposure in the workplace.
"These lower respiratory symptoms and the lung function abnormalities we found are not specific to a particular respiratory problem or disease," the report reads. "They could be related to workplace exposures or to other factors. Indeed, some employees had respiratory diagnoses that preceded employment at this facility. Because of the small number of participants and the need to protect individuals' privacy, we cannot provide more detailed results that might shed light on possible work-relatedness, such as health measures by job title or task."
The most common symptoms reported  — including eye, nose, and sinus symptoms — were typically minor and involved the upper-respiratory tract, with employees reporting the symptoms were caused or aggravated by "green coffee dust, chaff, roasted coffee, ground coffee dust, or odors from the heat sealing machine," according to the report.
Taking the medical reports as a whole, the study's authors suggested a correlation, if not causality, between various respiratory symptoms and the workplace.
"Our findings of upper respiratory symptoms with a work-related pattern in many employees, four-fold excess of wheeze, and abnormalities on lung function testing in about a third of participants suggest a burden of respiratory problems in this workforce," the authors wrote. "The upper respiratory symptoms that improve away from work are likely related to workplace exposures."
Diacetyl
Much of the testing done at JCC was for the known toxic alpha-diketones diacetyl, 2,3-pentanedione, and 2,3-hexanedione. Diacetyl has been identified as the cause of the potentially fatal lung disease obliterative bronchiolitis in the past in coffee facilities using flavorings, and the 2015 Journal Sentinel piece brought it to the fore as a potential concern in coffee roasteries of all kinds.
NIOSH testing of diacetyl to this point has typically found the highest airspace concentrations in bulk coffee grinding, roasting and roasted coffee storage. The CDC for the first time published coffee-industry-specific recommendations for diacetyl exposure limits and mitigation last year, calling for limiting diacetyl expore to less than 5 parts per billion.
After doing full-shift sampling at JCC, NIOSH discovered limits above the 5 ppb exposure limit, with the highest measured concentration being 8.4 ppb. Levels of diacetyl in the air during short-term sampling were highest in grinding, blending roasted beans by hand, and weighing and packaging roasted coffee.
To give the number some context, the study authors estimate that keeping diacetyl levels below 5 ppb limits the risk of reduced lung function "after a working lifetime" to below one in 1,000 workers. "After a 45-year working lifetime exposure to 10 ppb — a concentration slightly higher than the highest concentration measured at this facility — NIOSH estimated less than 2 in 1,000 workers would develop reduced lung function," the authors wrote.
The author's further predicted that around two in 10,000 workers exposed to diacetyl at 10 ppb while working full-time for 45 years would develop "more severe" lung function reduction.
In this report, the authors made no direct association between diacetyl and respiratory health of the JCC workforce.
What Roasters Can Do
It's worth noting that the JCC roastery is located within a generally clean, efficient modern building, with up-to-date HVAC and roastery-specific ventilation systems in place.
While the risk of developing lung function reduction due to diacetyl exposure is low, according to this one-location report, Earley said his company's goal is to mitigate risk to whatever extent possible, while also further mitigating any chaff or dust inhalation that may be contributing to less severe upper respiratory symptoms.
"Our aim is for no risk, not low risk," said Earley, who noted a number of preventive strategies already in place at the roastery as a result of NIOSH's earlier findings, including air-handling systems above grinders and automated systems for blending roasted coffees to minimize blending by hand. The company has also provided N95 respirator masks to protect from dust, improved maintenance procedures for chaff removal and exhaust buildup, switched to vacuuming when possible instead of sweeping to minimize dust blow-up, and instituted a medical program to test employees for respiratory health issues.
"We are happy to have worked with NIOSH on this issue and proud of the fact that we were the first specialty coffee roaster to invite them into our facility," Earley said. "Even though OSHA has still not issued regulations on exposure to these compounds, we thought that it was important to engage so that we could make sure that our employees are safe."
Earley said he's been frequently contacted over the past two years by peers in the roasting industry who are either concerned about the wellbeing of their roasting staffs, or who simply want to stay ahead of the curve in terms of workplace safety should the work of NIOSH translate to new OSHA regulations.
"Every couple of months I heard from a different roaster somewhere. There's definitely interest in the industry. I would say that all the roasters I've talked to have been interested or concerned," Earley said. "I feel really strongly that this is an issue that specialty coffee roasters need to take seriously, and they should take steps to make sure their facilities are as safe as possible for their employees."
A full list of preventive measures both employers and employees can take towards mitigating exposure risk is available in the NIOSH report.
Nick Brown
Nick Brown is the editor of Daily Coffee News by Roast Magazine.