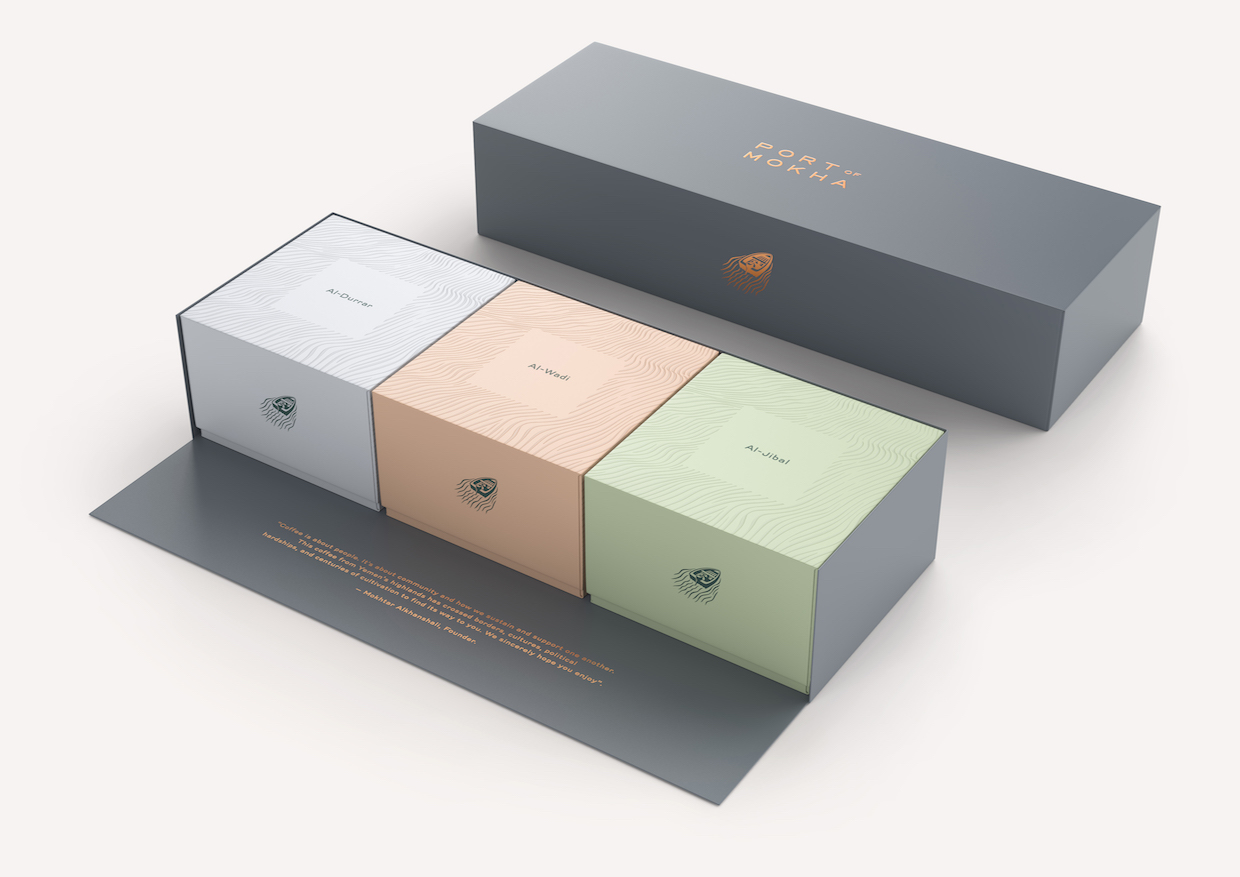 Oakland, California, and Sana'a, Yemen-based green coffee exporter/importer Port of Mokha is selling roasted coffee direct to consumers, unveiling a box set of three coffees from Yemen, each neatly packaged in 4-ounce boxes, for $158.
At a whopping $13.16 per coffee ounce, the box set fits very much in the luxury category, continuing one of the most compelling stories the coffee world has seen in recent years: the lightning-fast insurgence of Yemeni coffee in the highest rung of the international specialty market.
Port of Mokha founder Mokhtar Alkhanshali has been one of the key architects of the reemergence of Yemeni coffee since before he and fellow importer Andrew Nicholson made their infamous journey from the war-torn Middle Eastern country to a cupping event at the 2015 SCAA Expo in Seattle.
Since then, Alkhanshali has cultivated partnerships with some of the most high-profile specialty coffee roasters in the U.S., including Blue Bottle Coffee, Equator Coffees & Teas, George Howell Coffee, Slate Coffee Roasters and Dragonfly Coffee Roasters, to name a few.
Alkhanshali grew up in San Francisco before eventually returning to his native Yemen — where coffee was first commercially cultivated centuries ago — to help establish protocols for quality development while still honoring traditional Yemeni production practices that make Yemeni coffee truly unique in the world market.
The message accompanying the new box promotes not only the qualities of the coffees themselves, but also the larger story of coffee in Yemen, where Alkhanshali believes coffee could provide a means for hope amidst years of political chaos and humanitarian crises and armed conflict at the hands of actors both domestic and foreign.
"It's a miracle that this coffee is here," Alkhanshali said in an announcement of the recent box set release. "Port of Mokha believes that the very best coffee does more than provide an incredible experience of drinking it. It creates ripples of positive impact that can improve lives, lift economies, and revitalize cultures. Drinking Port of Mokha supports a worthy cause, and it just happens to be the best coffee in the world."
Each coffee in the Port of Mokha box set, called the Trilogy Box, originates from different a different region of of Yemen (Al-Durrar, Al-Wadi and Al-Jabal), and comes with ornate packaging with gold-embossed text along with instructions for various manual brew methods. Single boxes of the Al-Durrar and Al-Wadi coffees are also available for $42 and $48, respectively.
(Editor's note: An earlier version of this post incorrectly identified the sub-regions for each of the coffees in the box set, based on a press release from Port of Mokha.) 
Nick Brown
Nick Brown is the editor of Daily Coffee News by Roast Magazine.