Touring rock musicians don't leave their amps at home because they're heavy; nor does a passionate bowler travel with a plastic bowling ball.
Not shying away from a little extra heft for the sake of quality, espresso machine manufacturer Rocket Espresso last month unveiled the Portavia, a full-on prosumer espresso machine with a traditional, lever-activated 58-mm E61 grouphead, drip tray, Ulka vibration pump, pressure gauge, and the ability to brew and steam milk simultaneously, all built directly into a hard-shell carrying case with a handle on top.
Pitched as the "world's first truly portable espresso machine," the Portavia was unveiled at the HOST show earlier this fall in Rocket's home city of Milan, Italy.
Weighing about 21 kilograms (just over 46 pounds), the hefty set includes foam-padded slots for a pair of ceramic cups and saucers as well as a tamper, the professional-grade portafilter and an external water reservoir. Utilizing a thermosiphon system for temperature stability, the Portavia contains a 500-centiliter coffee boiler and 800-centiliter steam capacity that draw water downward from the cylindrical reservoir the user positions on the top of the machine.
A swiveling steam arm is there for milk, and the machine is heated and ready within about 10 minutes, according to the company. Rocket Espresso Owner Andrew Meo told Daily Coffee News that the machine can be safely packed and carried away immediately after, even if it's still warm.
Aside from its weight, the one thing holding the machine back from being truly footloose and fancy-free is its power requirement. It does need to be plugged in, and both 110V and 240V versions will be available. Meo said that while pricing is not yet confirmed, it is expected to retail for around $2,750, starting in February 2018.
Also at HOST, Rocket presented its entry into the prosumer pressure profiling arena with a prototype of a single-group version in its R9 series.
The new high-end machine features dual PID-controlled stainless steel boilers — a four-liter for steam, two-liter for brew — and a saturated grouphead. The pressure profiling is achieved manually by manipulating a horizontally rotating actuator at the top of the group that controls a potentiometer that runs the pump, while a touchscreen interface displays the profile in real time. Manual profiles can be saved and loaded for automatic control of subsequent shots.
A magnetic rotary pump draws water from either an onboard reservoir or a direct water connection. "We see the market for this being high-end prosumer, or potentially a commercial application such as a small restaurant [or] design studio, etc.," Meo said, adding that the machine is ideal for "a top espresso program despite having a low volume."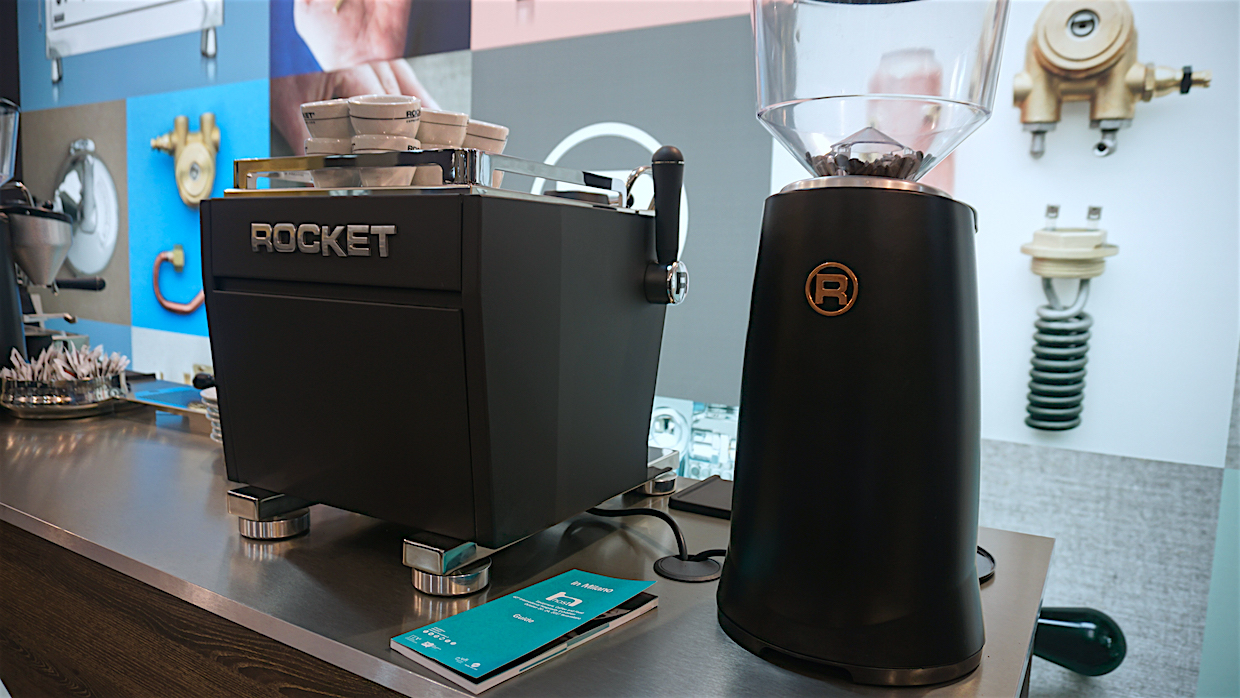 The R9 is slated to begin shipping in March 2018 for an anticipated retail price of somewhere around $5,500 to $6,000.
Howard Bryman
Howard Bryman is the associate editor of Daily Coffee News by Roast Magazine. He is based in Portland, Oregon.