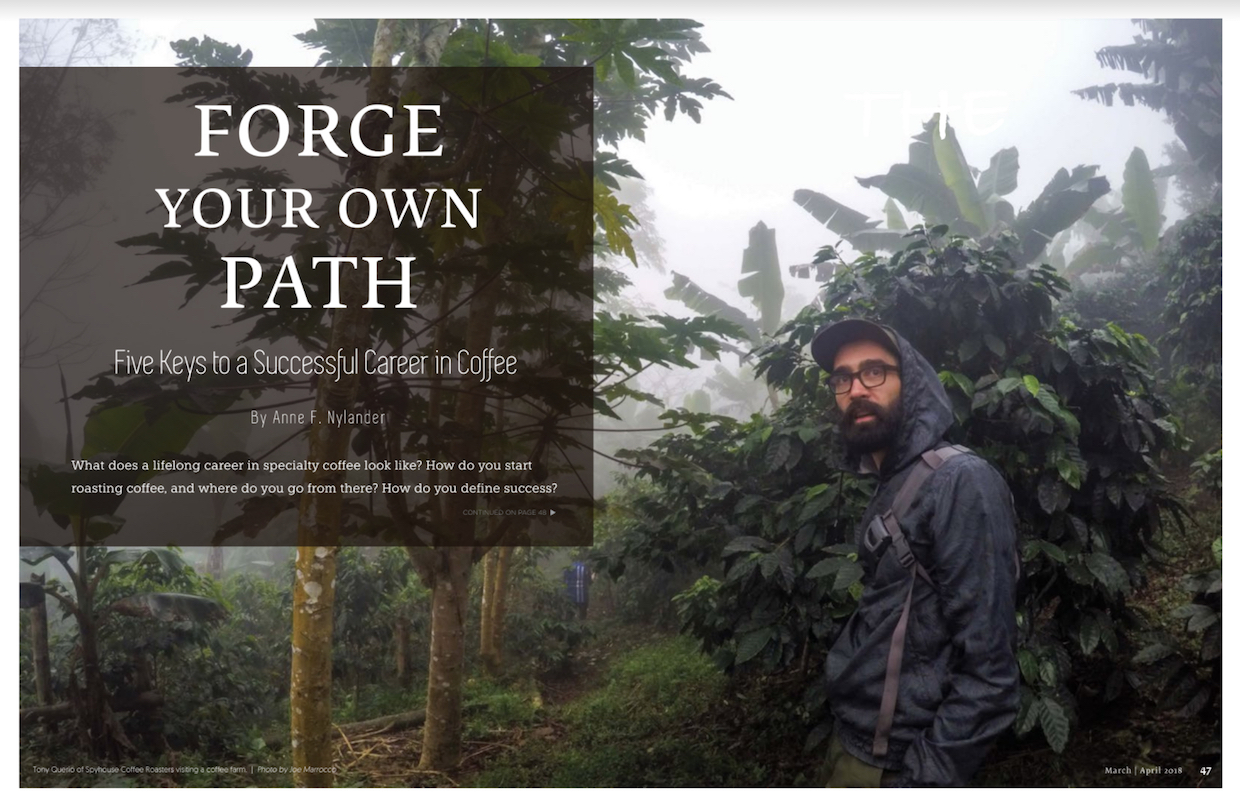 (Editor's note: This story originally appeared in the March/April issue of Roast magazine. Click here for more information on Roast.)
What does a lifelong career in specialty coffee look like? How do you start roasting coffee, and where do you go from there? How do you define success?
Not surprisingly, there is no single answer to any of these questions. Roasting coffee can take professionals to unexpected places, from jungles to laboratories to international coffee competitions to the doors of their own new businesses. Their careers and the paths they follow almost always take interesting twists and turns. After working with coffee professionals for more than 10 years, there's one thing I know for sure: Every story of progress within the industry is unique.
A successful career in coffee — one in which a professional continues to learn and progress over time — will look different to different people. There is no universal definition of "success," and in this business, an individual's ability to continually grow professionally while earning a living wage can be highly dependent on his or her capacity for self-management and self-development. Coffee careers aren't handed out, they are built, and building a career in coffee can be tough.
Many industry professionals I've spoken with describe their own career navigation as part opportunity, part luck, and a lot of hard work. Few have a simple, linear story of how they ended up where they are today, but when you talk to enough of them, some commonalities emerge. In this article, I'll share those common threads, and do my best to provide practical tips that can make the complex and sometimes frustrating process of building a lifelong career in coffee a bit more manageable.
Be Present
One common way to start a roasting career sounds ridiculously simple: Work in a place where coffee is roasted, then be present and available the day the production roaster quits. This advice not only sounds ridiculously simple, it also sounds a little far-fetched, right? And yet, this is not an uncommon way for a roaster to start getting time behind a roasting machine. On the one hand, this advice is hyperbole. Of course, it's not that simple. On the other hand, I've met dozens of people who've started their roasting careers this way, including three interviewed for this article.
Still, even with this piece of advice, there is skill involved. Simply showing up isn't enough. Being present also means being aware of your professional goals, and taking the time to build your skills so you become the undisputed best candidate when a position in your company, or your community, becomes available. So don't think of it as luck — think of it as a process by which you can increase your luck.
For starters, seek employment at a company that is aligned with your ideals and has opportunities for growth into a roasting position. Next, learn as much you can. Learn how to cup coffee, and how to assist in cupping rooms and laboratories. Engage in conversations about how you can be of service to your company. Can you pitch in when the production team needs help bagging coffee? How about when deliveries need to be made, or there's a glitch in the ordering software? Can you find a way, diplomatically, to be useful enough that you become an invaluable member of your team?
In 2003, Joey Gleason wanted to move out of late-night restaurant work and into a life as a bakery owner. She co-founded Redwing Coffee and Baking in Portland, Oregon, and began managing the company's ambitious food program while simultaneously learning about business operations.
Then what happened?
"Our coffee roaster quit," she says, so Gleason started roasting. Turned out, she liked roasting even more than she liked baking.
Eventually, Gleason decided to part ways with her partner at Redwing and focus exclusively on coffee. She closed Redwing and launched Marigold Coffee, her own roasting company, in 2009.
"Because I started my own company, I have literally done everything," she says, "barista, coffee bagger, roaster, green buyer, warehouse and inventory management, quality control." And that's not even a complete list.
To young professionals hoping to break into roasting, Gleason advises, "The first thing is to show interest in roasting. Let someone in the company know you would like to roast coffee, preferably the current head roaster or the owner. Show an interest in quality control, cupping and tasting notes. Be a good team player. If your company has more than one roaster, they probably have that secondary person batching and moving green coffee. Learn about green coffee. Learn your company's bag marks for each of their coffees, which could be helpful if they need someone in the roasters to batch or compile blends. Be ready to fill in when someone in the roastery is sick or on vacation. This is a great way to prove your value to the roasting team."
In other words, be present, and use that presence to increase your skill, your opportunity and your luck.
Ask Questions… and Be Patient
Young roasters often start their careers working on a production team. For many, production roasting is a dream career in and of itself. Many roasters roast for decades, building their knowledge and finding joy in this active culinary pursuit. These roasters often share the common traits of humility and steadfastness, more eager to get back to their next batch than to chitchat or be in the spotlight.
Bill Anstedt is one of those roasters, but before that, he was a young professional with a lot of questions and a willingness to learn. A veteran production roaster, Anstedt got his start in the production warehouse at Caribou Coffee in Minneapolis. He got the job, with no experience in coffee, by responding to an ad in the newspaper.
"I did just about everything to start," Anstedt recalls. "I filled bags. I picked coffee orders. I staged coffee orders. Then I kind of started pestering people in the roastery with questions, and then I was rewarded."
His reward came in the form of more heavy lifting — loading green coffee into roasters — but later progressed to running packaging machines and, finally, roasting coffee. The process took nearly nine years and a lot of patience, but once Anstedt got his chance behind the roaster, he never looked back.
"Watching all the reactions that happen from [the time] you charge a coffee until you're ready to discharge the coffee," he says, "I've done it for 15-plus years, and that's probably the best part."
So there you have it — dream job locked in as a lifelong production roaster. Or was it?
In early 2017, as Caribou was downsizing, Anstedt learned his role at the company would no longer exist. Suddenly, this coffee veteran needed to figure out his next move. At press time, Anstedt was still searching for the ideal role — and his story is not so unusual. In this era of mergers and consolidations, many longtime coffee professionals have found themselves seeking new positions after years of steady employment. Some turn to consulting, leveraging their depth of experience and expertise to help newer roasters succeed and grow. Some start their own roasting companies. Some use the connections they've developed over decades in the industry to land a new role with an established company.
After 18 years in the industry, Chris Wade also found himself unexpectedly seeking a new job. For 12 of those years, Wade had worked at Coffee Bean International (CBI) in Portland, Oregon.
He started out loading hoppers. By the time he left, he was managing incoming green coffee quality, running the cupping lab, purchasing, and leading the roaster training program. He left that job for what he expected would be another long-term position with the Alliance for Coffee Excellence (ACE), working with the Cup of Excellence program. The timing, however, was unfortunate, and he found himself laid off during a rocky transition with a new executive director, who herself is no longer with the organization.
It took about a year for him to find his current position as roasting manager at McMenamins, an iconic chain with historic properties throughout Oregon and Washington. During that year, he did some consulting, and even drove for Lyft. He had offers outside the industry, he says, but coffee is his passion, so he stuck it out and did what he needed to do until he found a new role in the industry.
"One thing I didn't want to do was take a job I knew I would have to walk away from," he says of the flexibility of driving for Lyft. "I wasn't too happy to have to do it, but at the same time, if a job opportunity came up, I could jump on it… and I could also take consulting gigs when they came up."
Network
Having that kind of consideration for his colleagues — not wanting to take a job he likely wouldn't keep — was important to Wade, because he knows developing long-term relationships within the industry is one of the most important aspects of a successful career in coffee — as well as one of the best ways to facilitate a job search.
"Talk to the people you know in the industry," he says. "See if anybody knows of any openings." Coffee jobs aren't always advertised, he notes, so the best way to get a foot in the door could be to let people know you're interested in finding a new position.
"A lot of people feel kind of weird when they first lose a job," Wade adds. "Don't be shy about it. It might be that someone knows of something you can get into really quickly."
But developing relationships within the industry isn't just about finding a new job when you need one. It's also a powerful way to hone your craft and grow your career — and hopefully help others along the way.
For those early in their careers, this can be as simple as extending the advice to "ask questions" into a sphere of people outside your workplace. Be sure to communicate with your current team first, and let them know you want to expand your professional network.
(They'll likely offer to introduce you to people they know in the industry.) Be respectful of your current employer, and abide by any guidelines that might be in place about sharing information with other companies.
One way to build new relationships is to share professional challenges and knowledge. When Wade was working at CBI, the roastmaster at McMenamins (his current employer) reached out with questions about airflow issues, and later asked for advice about buying a new roaster. Sharing information was part of the culture at CBI, he says, which allowed him to develop a number of strong relationships in the local coffee community. He's always open to troubleshooting issues with fellow roasters, he adds, not as a paid consultant, but "more of a casual, friends-in-the-industry kind of thing."
Industry events can be another great way to build your network. Volunteer to assist in classes, or to teach classes if you have the appropriate credentials. Attend or host local and regional events, and make a point of meeting a few new people each time. Volunteer at the Specialty Coffee Expo or World of Coffee, where you might bump elbows with the CEO of the company you're trying to join while cleaning cupping bowls. Compete in roasting competitions, and ask the judges for constructive feedback. If you aren't able to travel to events, take advantage of online networking opportunities through the Coffee Roasters Guild and other industry groups.
Whether in person or online, Tony Querio, director of coffee for Spyhouse Coffee Roasters in Minneapolis, has some advice about how to interact with other coffee professionals: "Be a good person," he says. "Be the kind of person somebody else wants to help. That will help you."
Not that you need incentive to be a good person, but you never know how the people you meet today could help you in your career tomorrow. In Querio's case, that played a significant role in landing his current job.
Querio started as a barista at Back Porch Coffee in Bend, Oregon. After moving from the cafe side to the production side, he got to know the lead roaster, who asked him to join the roasting team. Ultimately, his lead roaster at Back Porch moved to Minneapolis and recommended Querio to a small company looking for a director of coffee.
Meanwhile, back in Bend, Querio took a colleague visiting from out of town out for a beer. While they were chatting, Querio let his guest know he was ready to progress in his career. Turned out, his colleague was in Bend consulting on behalf of the same Minneapolis-based company, so between the recommendation and fortuitous bump-in, Querio landed a position heading up all coffee operations for a small company launching its roasting program for the first time.
In his first year with the company, he installed his first roaster, signed his first coffee contract, and built a coffee production team. Soon enough, he was living the director of coffee dream: traveling to origin, working closely with importers, and serving as a leader in the coffee community.
Keep Learning
In addition to the day-to-day work of developing skills and growing your career, there are numerous opportunities for formal education and professional certification. While some professions rely on long-established training and education programs, the coffee community in general, and specialty coffee in particular, is still in the early stages of formalizing education programs. Professional courses and certificate programs have been available through the Specialty Coffee Association of America (SCAA)/Roasters Guild and the Speciality Coffee Association of Europe (SCAE)/Roaster Guild of Europe for several years. With the recent unification of the groups, now known as the Specialty Coffee Association (SCA) and the Coffee Roasters Guild, a new program is being formalized. Some consultants and training companies offer professional development courses as well.
This is not to say that formal education and professional certifications for roasters don't have value. According to a 2014 compensation study conducted by the SCAA, roasters who hold a professional certificate can expect to earn almost $100,000 more on average over the course of their careers than their noncertified counterparts. It's important to note that the SCAA roaster certification program began in 2004, so by 2014 only 10 years of data were available, meaning the lifetime equation is merely a prediction, but these findings remain impressive. And as any professional roaster will tell you, it's not just about the money. There is great value in understanding the science behind roasting and getting the opportunity to hone your craft under the guidance of experienced professionals with diverse backgrounds, skills and perspectives. In addition, professional development sessions are excellent venues for developing and deepening personal and professional relationships within the industry.
If you have earned industry certifications, Wade suggests highlighting how that can benefit a potential employer when seeking a new position.
"Part of being a specialized trainer is that I can teach every SCA class in the roasting world," he says, "but I can also utilize those skills to do in-house staff training. That's the value to an employer."
Similarly, if you're applying for a roasting position but you've taken cupping or green grading courses, highlight those skills on your résumé as a potential asset to the company.
Training and education are precisely what brought South Carolina-based Ildi Revi to a career in coffee. Revi didn't start out as a barista or in a production warehouse. She started with a master's degree in adult education and organizational learning. She didn't learn that coffee grew on trees until she found herself working for the State Department in Mozambique. She later moved to Zimbabwe.
"In the eastern highlands is where I first met a coffee farmer," she recalls. "He roasted his coffee in a wok. … It was all very romantic. I high-tailed it up to the mountains, fell in love, got married, and had two kids. That was when my eyes were opened to specialty coffee."
A few years later, she returned to South Carolina to try her hand at importing and roasting her farm's coffee.
"I bought a roaster and set up a cafe," she says. "I learned however I could: from others, from reading, and from making lots of
mistakes."
When she found herself in need of more guidance, she adds, "I looked to the SCAA to teach me." That was back in 2006, shortly after the SCAA and the Roasters Guild had begun creating certificate programs.
Revi realized that, while the roasting content was new to her, adult education was not, so she could volunteer her skills to improve the delivery and management of these education programs. She first attended the courses, then she taught as a volunteer within the program. Her expertise proved valuable, and soon her volunteer work turned into a job. As education manager for the SCAA, she launched the association's instructor development program, organized the Roasters Guild and Barista Guild certificate programs, and led countless young coffee professionals through thousands of hours of adult education training. While Revi's story is unique to her educational experience, many lifelong learners in the specialty coffee industry end up blending all aspects of their education and experience to find a position that best suits their interests and abilities.
In addition to coffee-specific education programs, many coffee professionals benefit from additional training in business and regulatory areas. Business owners, managers and directors of coffee — and those aspiring to such positions — often need training in food safety, good manufacturing practices, inventory management, accounting principles and more.
Proficiency with a foreign language is another area in which education can prove immensely marketable in the coffee industry. And while Wade says you should never count yourself out for a position just because language skills are listed on the job posting — those are often "wish list" skills rather than requirements, he notes — proficiency in a second language is a valuable skill, well worth the educational investment, and definitely something you should highlight on your résumé, if applicable.
Clearly, there's no single path to success in the coffee industry and, more importantly, no single definition for success. The world of specialty coffee is welcoming and open to people truly willing to learn. Don't be afraid to reach out to others in the industry, visit different companies and talk to the professionals you admire. Your career is yours to build, but the coffee community is here to help.
Anne F Nylander
Anne F. Nylander is a Seattle-based specialty coffee professional. She's a World Barista Championship-certified sensory judge, an authorized trainer in coffee preparation for the Specialty Coffee Association, and a coffee career counselor. Nylander has been involved in the specialty coffee industry since 2006. She also loves karaoke, craft cocktails and pictures of cute animals.