A startup industrial equipment brand called Sōvda has launched a new optical sorting machine capable of sorting either green or roasted coffee, while fitting physically, aesthetically and financially into specialty coffee production spaces. Called the Pearl Mini, the machine can sort 250 kilos per hour for roasted coffee and 500 per hour for green coffee, according to the company, which makes it ideally suited to roasting facilities that operate 15- to 90-kilo-capacity roasters.
Sōvda Head of Innovation Samuel Gurel, who is also the CEO and co-founder of Sōvda parent company Torch Coffee Roasters, told Daily Coffee News that while optical sorting is not a new technology, it has to this point in been used primarily for green beans as far as the coffee industry is concerned, and rarely for roasted coffees. Meanwhile, defects common among certain processing methods can be more effectively identified post-roast.
"Two things have happened in the last 10 years that have changed the industry," said Gurel. "The demand for better coffee is increasing. And at the same time, natural processed and honey processed coffee is increasing in all growing regions. Naturals and honeys have more defects because floaters are not sorted out in the classification channel after fermenting. This leads to more inconsistency and quakers."
According to Svōda, the Pearl Mini has the ability not only to color-sort for quakers, but also the inevitable burnt or scorched bean here and there, pebbles and other detritus. Gurel said that the Pearl Mini's stone-sorting features reinforce its value by potentially saving a company from having to invest in a destoner. "The innovation of the Pearl Mini is [that it is] the first sorter designed with specialty coffee roasters at the center of the R&D team, and specifically for the specialty industry," he said.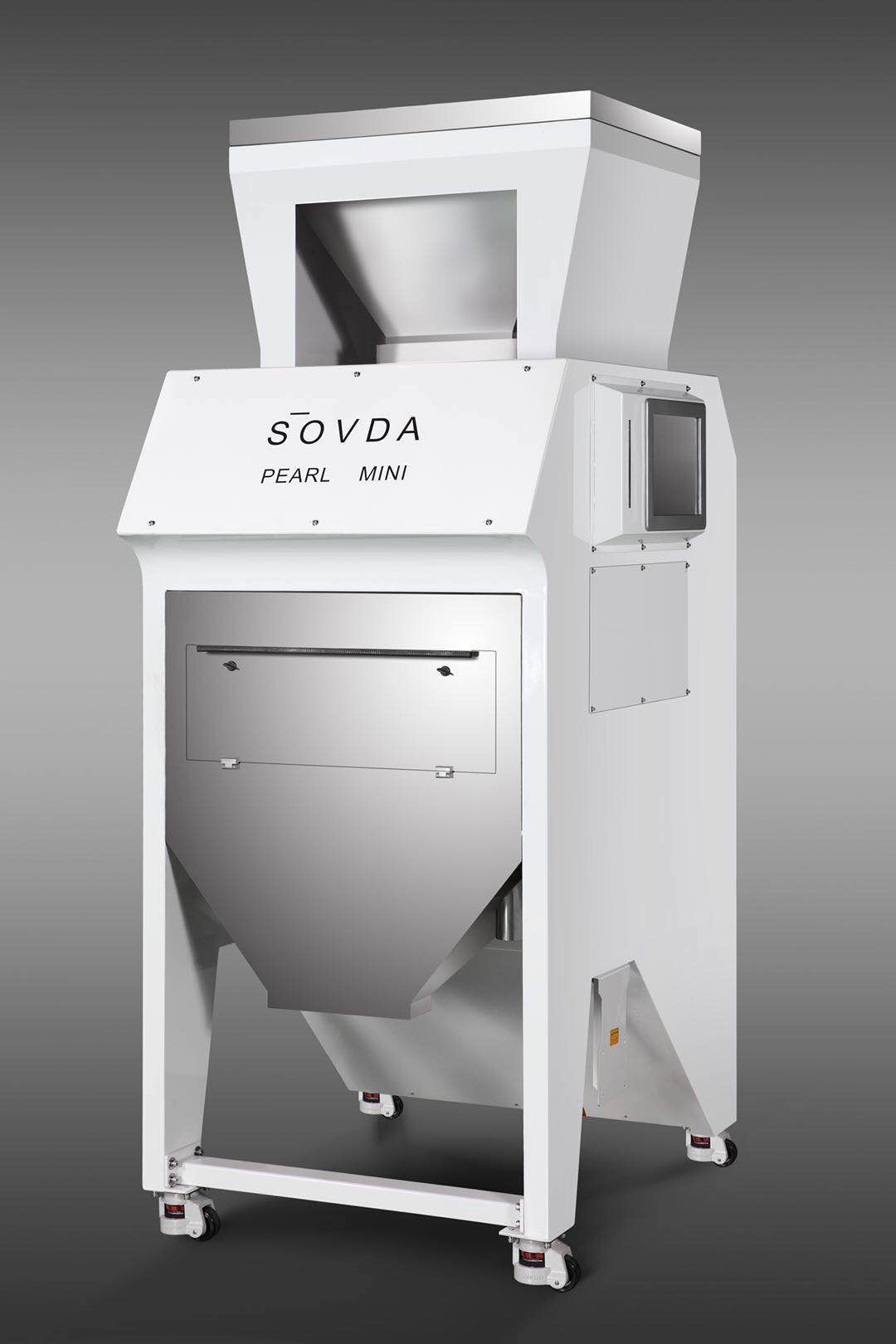 Sōvda became majority-owned by its strategic R&D partner company Torch Coffee Roasters last year after the latter was impressed by its test of a beta Pearl Mini machine at its production facility in Spokane, Washington. Torch also has offices in Hong Kong, Thailand, Saudi Arabia and China. The Pearl Mini prototype has reportedly sorted over 100 tons of coffee so far during testing.
Gurel said that through optical sorting with an HD camera, 99 percent or greater precision in identifying defects and foreign objects is the easy part. The hard part is controlling the poof of compressed air that the machine uses to knock a defective bit out of the channel of good stuff.
"There may be a good bean near the bad bean that ends up in the defects," said Gurel. "So for every 100 kilograms of coffee sorted, if you have 1-3 kilograms of defect, you will have 300-900 grams of good beans with those defects. That is the weakness of color sorting. Most of our customers feel that 1-3 percent increase in cost is negligible for a massive increase in quality."
Apart from functionality, the company also aims for adoption by the specialty coffee industry through the clean, streamlined "Scandinavian" aesthetics of the machine — making it a reasonable addition to the production line visible to patrons in a roastery cafe — as well as accessible to smaller companies' bottom line. The machine will retail for $24,500, according to Gurel.
While a non-disclosure agreement prevented Gurel from naming Sōvda's manufacturing partner, the company described its partner as one that specializes in color sorting technology and holds over 200 patents. The Pearl Mini is being manufactured in factories in Hefei, China. The first finished, production unit has shipped, according to Gurel, and several more are currently in production. Arkansas-based Onyx Coffee Lab is the first roaster in the United States to have ordered a Pearl Mini, which Gurel said is due to arrive in about a month.
Gurel said he has also received interest from buyers around the world, including for use at processing facilities at origin. Gurel said he has fielded inquiries from India, Thailand, Indonesia, Philippines and Hawaii. "In countries like India and Thailand, there is a lot of internal consumption, so the ability to color sort in small quantities is a huge advantage," he said.
Gurel said the company is accepting pre-orders via IndieGoGo at a reduced rate of $19,500 through September 5. Shipping from the factory runs an estimated additional $3500.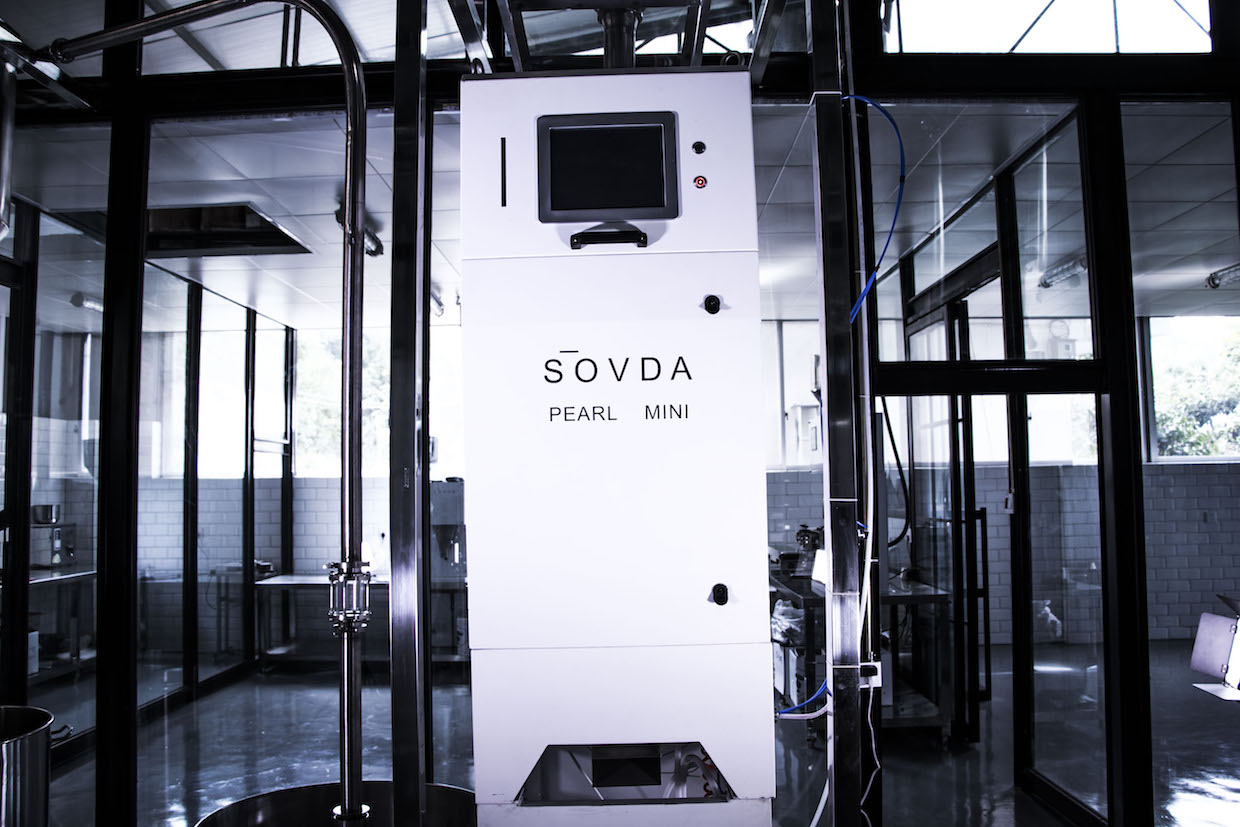 Another project in the works by Sōvda is the Ruby coffee cherry sorter, which the company actually developed prior to the Pearl. Torch currently has two Ruby Minis and one Ruby in operation on partner farms, and has been testing the equipment for roughly five years.
Torch, in partnership with the Sustainable Coffee Institute and Sōvda, employed Ruby machines on plantations in Yunnan for its series of coffees called the Mountain Man project, with very promising results. Gurel said some of the greens were sold to Starbucks.
"While we were very happy with the Ruby and Ruby Mini, we felt it could be better, so we launched the second beta version at the end of the processing season in spring of 2018, and felt that it didn't see enough time in service to start selling them," said Gurel. "One of the challenges with developing equipment for coffee processing is cherries can only be harvested a few months out of the year. After this year's testing we will launch the Ruby."
Howard Bryman
Howard Bryman is the associate editor of Daily Coffee News by Roast Magazine. He is based in Portland, Oregon.