While beer and coffee are appearing side by side behind commercial beverage counters more frequently these days, rarely do they cause as much a ruckus as they do inside the newly opened North Dallas, Texas, establishment Civil Pour.
In the bright and modern 2,500-square-foot bar and coffee shop, suds and perks align for a collective retail splash involving a row of 30 taps alongside a five-group Poursteady machine kept lively by an extensive multi-roaster coffee program.
Two of those taps are reserved for the shop's cold brew, while a pair of Mahlkonig Peak grinders coupled with a three-group Unic Stella di Caffe espresso machine team up for drinks based on the Rogue Espresso formula by fellow Dallas company Novel Coffee.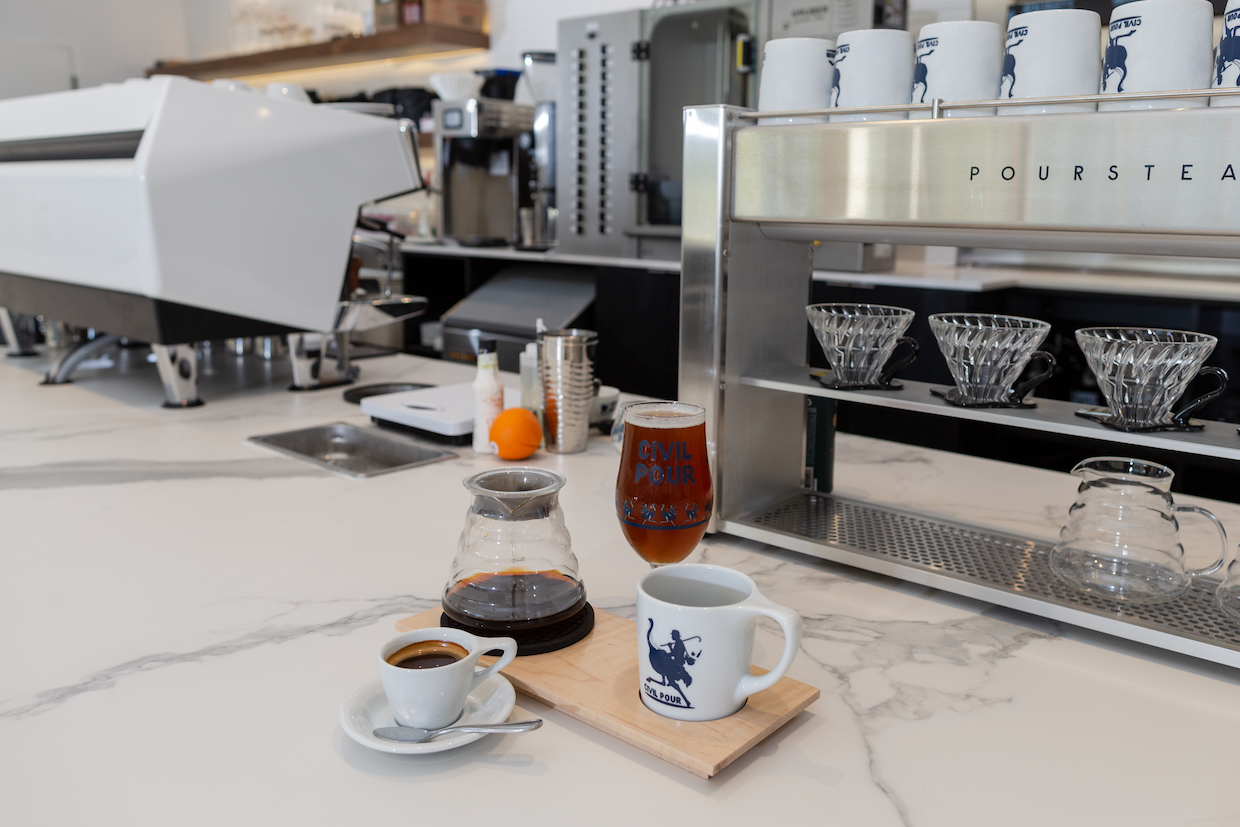 "It's got some African coffee and Brazilian coffee, and imparts neat characteristics into the final blend, so that's here to stay for the foreseeable future," Civil Pour Co-Owner Chad Montgomery told Daily Coffee News.
The shop's pourover program includes or is soon-to-include a spectrum of U.S. roasters such as Sweet Bloom from Colorado, Victrola Coffee out of Seattle,Long Beach-based Recreational Coffee, Virginia's Red Rooster, Dallas local Noble Coyote, Fort Worth neighbor Avoca Coffee, Portland-based Coava Coffee, and multiple more. The common thread between them all is an emphasis more on coffee's natural fruity characteristics than on flavors imparted by the roast.
"Coffee is a fruit, and it should taste like that," said Montgomery. "Coffee that's roasted too much loses its delicious character. So we seek out roasters to feature who are able to keep the interesting fruit notes of the plant. Sometimes that's caramel, chocolate, berries, peach, wine, or other wild flavors that are all totally natural within the bean itself. The roaster just unlocks it for us to enjoy."
Civil Pour Co-Owner Nellie Montgomery brought her 20 years of experience working in architecture to the blueprint and interior design of the new establishment.
"We've always enjoyed clean and modern, but with some warmth to avoid a feel that's sterile like a hospital," Chad Montgomery of his wife's design. "We did the warm wood tables and shelving units to add some character and color to the space. We just wanted somewhere with comfortable chairs, good wifi, great coffee, beer, and food, where people could possibly be persuaded to come twice in a single day."
Overlooking the space is an elaborate mural by Los Angeles-based artist Chris Saunders featuring an elephant flanked by herons. For the Montgomerys, this serves as a reminder of — well, reminders.
"It's been said that elephants never forget someone once they meet, so we're going for that when we meet our regular customers," said Montgomery. "We hope to learn their orders and names when they come to the store."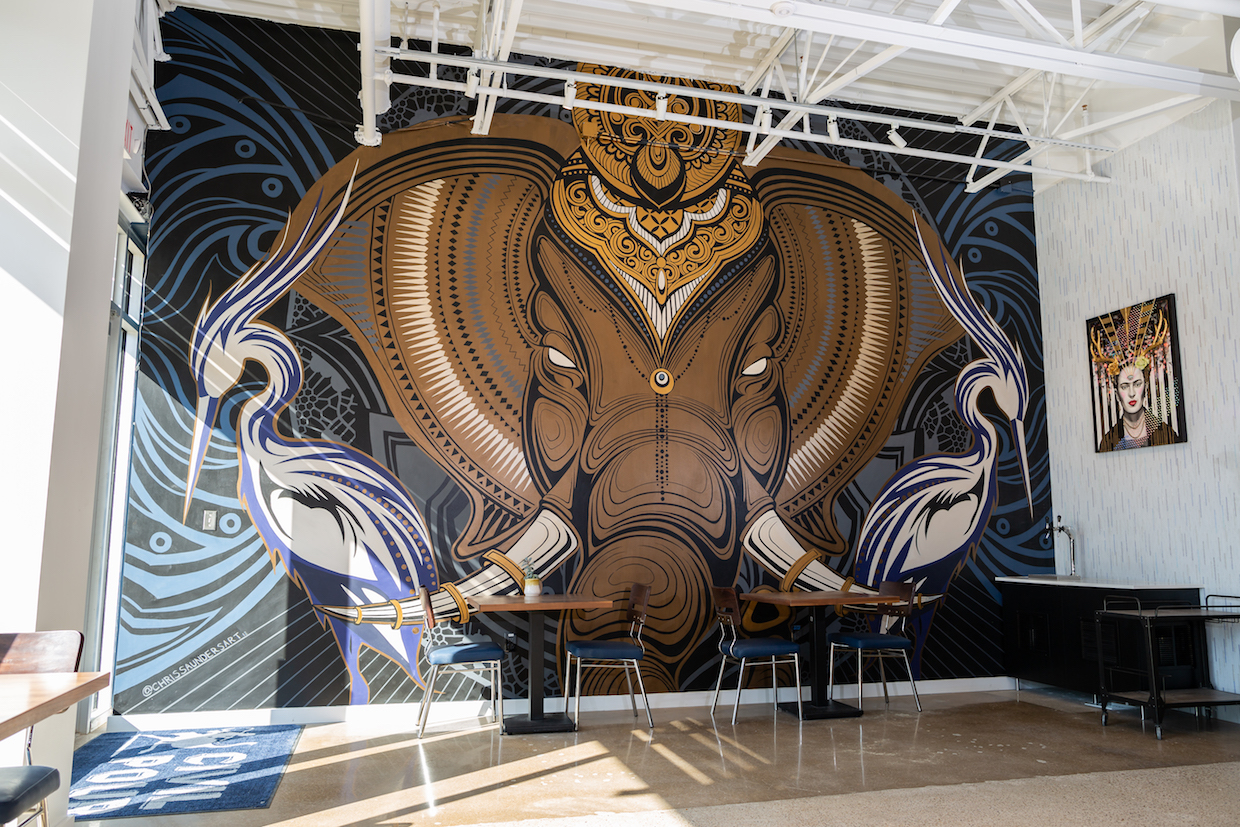 As it happens, the Montgomerys have long been in the business of memorable happenings. The duo also founded the Big Texas Beer Fest, which this year in late March rang in its seventh annual occurrence, featuring more than 500 beers from over more than breweries.
Asked whether they might eventually segue from making toasts to mastering roasts, Montgomery said that from what he's gathered in conversations with roasters and shop owners, the tipping point of fiscal sense comes with roughly 5-7 retail locations.
"If it does well and there is demand elsewhere, obviously we'd love to open another one or more, but we're cautious risk takers who feel things out first," said Montgomery. "Six, nine, or maybe 12 months down the line, perhaps we'll have a better idea. Much to my wife's dismay, I have new business ideas every day."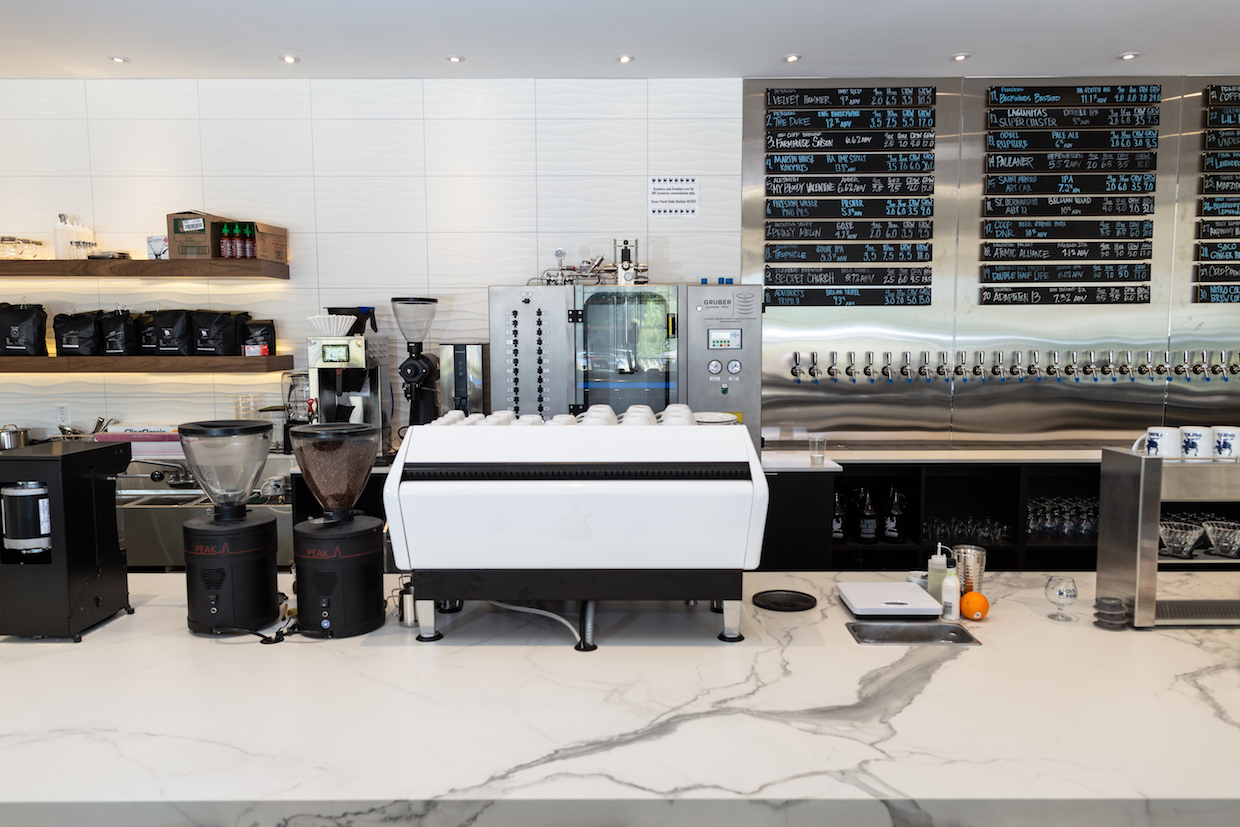 Civil Pour is now pouring at 8061 Walnut Hill Lane in Dallas.
Howard Bryman
Howard Bryman is the associate editor of Daily Coffee News by Roast Magazine. He is based in Portland, Oregon.