A new flower has budded in the garden of third-party AeroPress accessories, as the Ameuus filter set emerges from a Toronto-based company called Tecford Design. The company — which owns the brand and trademark for Ameuus, pronounced like "amuse" — specializes in the metal fabrication technique of photochemical machining (PCM), also called photochemical etching.
To this point, its PCM acumen has been focused on finely detailed decorative items and precision micro-components for electronic devices. The Ameuus filter is Tecford's first foray into the coffee world. Its treatment of thin discs of stainless steel with UV light and a chemical etchant yields an unprecedentedly fine array of teeny-tiny, very precise holes through which an oily brew passes and grinds do not, according to the company.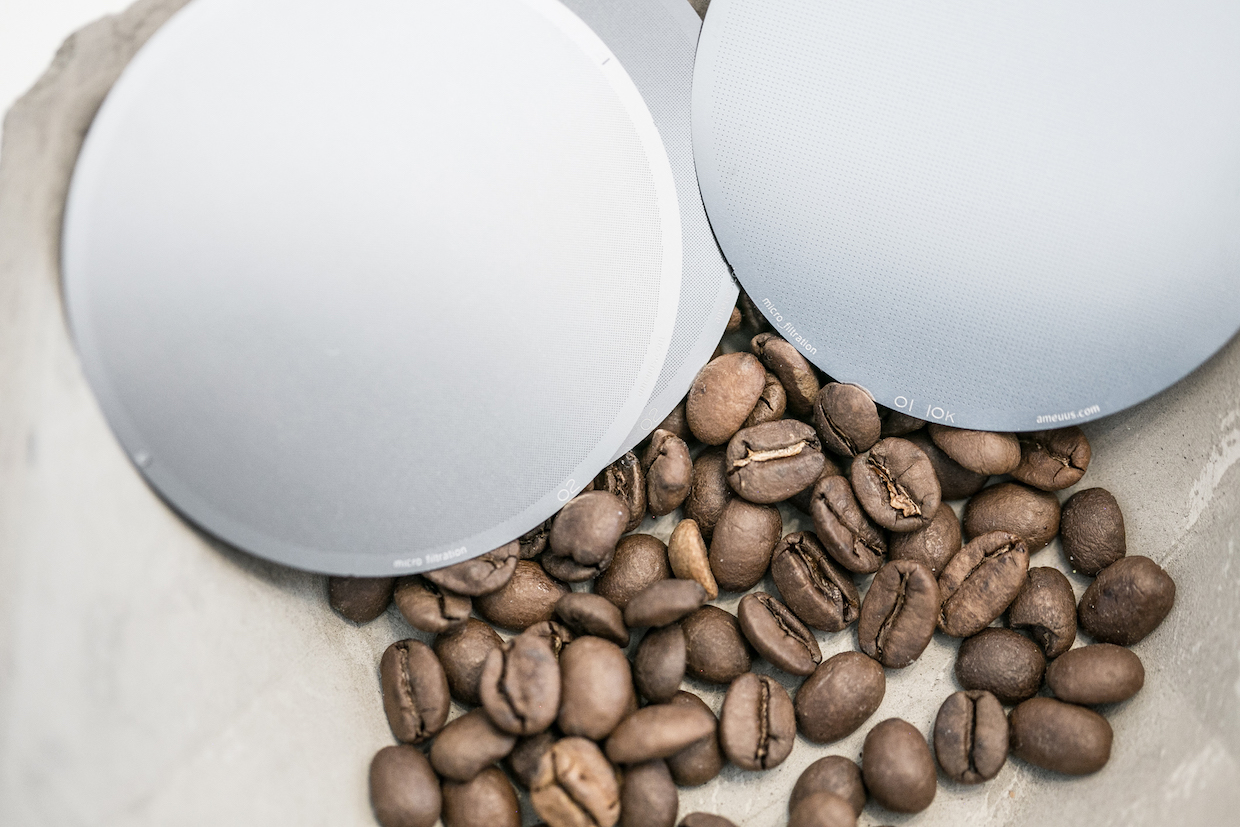 The Ameuus product line is launching with two options. The first is the o2, a system of two filters, each with roughly 50,000 holes etched into its surface and an alignment hole on the edge. When filters A and B are stacked with the edge holes in perfect alignment, their 100-micron holes are partially blocked to result in a maximum of 30-micron filtration fineness. The second option is the o1 10K, a single filter featuring 10,000 holes of 100-micron fineness.
"The initial plan was to only offer the o2, but we felt that not everyone may want to use two filters every time they brewed with the AeroPress, thus we also developed the o1 10K," Ameuus Product Designer Ricci Ng told Daily Coffee News. "We experimented with prototypes of different hole counts to find a configuration that provided the optimal flow rate, while trying to maintain as close a filtration level to the o2 as possible."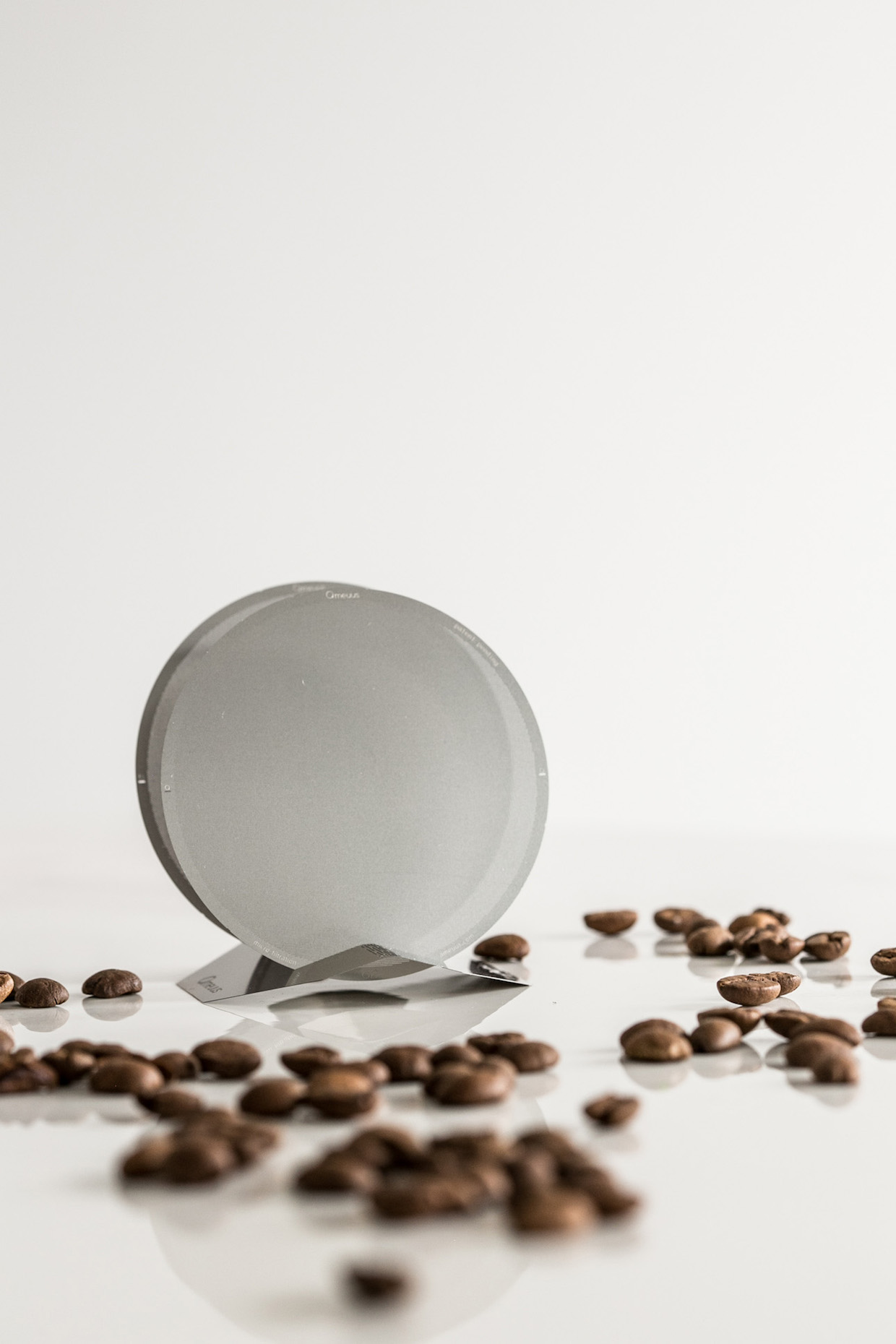 Ng added that on top of the convenience, the o1 10K will also offer a lower price point. Neither option is expected to be remarkably pricey, though. The MSRP has yet to be determined and will be "dependent on the local market landscape," according to Ng, and the aim will be to land at lower prices than competing products.
An ongoing Kickstarter campaign is offering an o2 system for roughly USD$15 that includes a stand for drying the two discs upright. An o1 10K is available to backers for roughly $10, and both can be pre-ordered for about $20, including the drying stand. The campaign, which hit its goal in three hours after launching nine days ago, has now raised more than 1,000 percent of its $1,145 USD goal.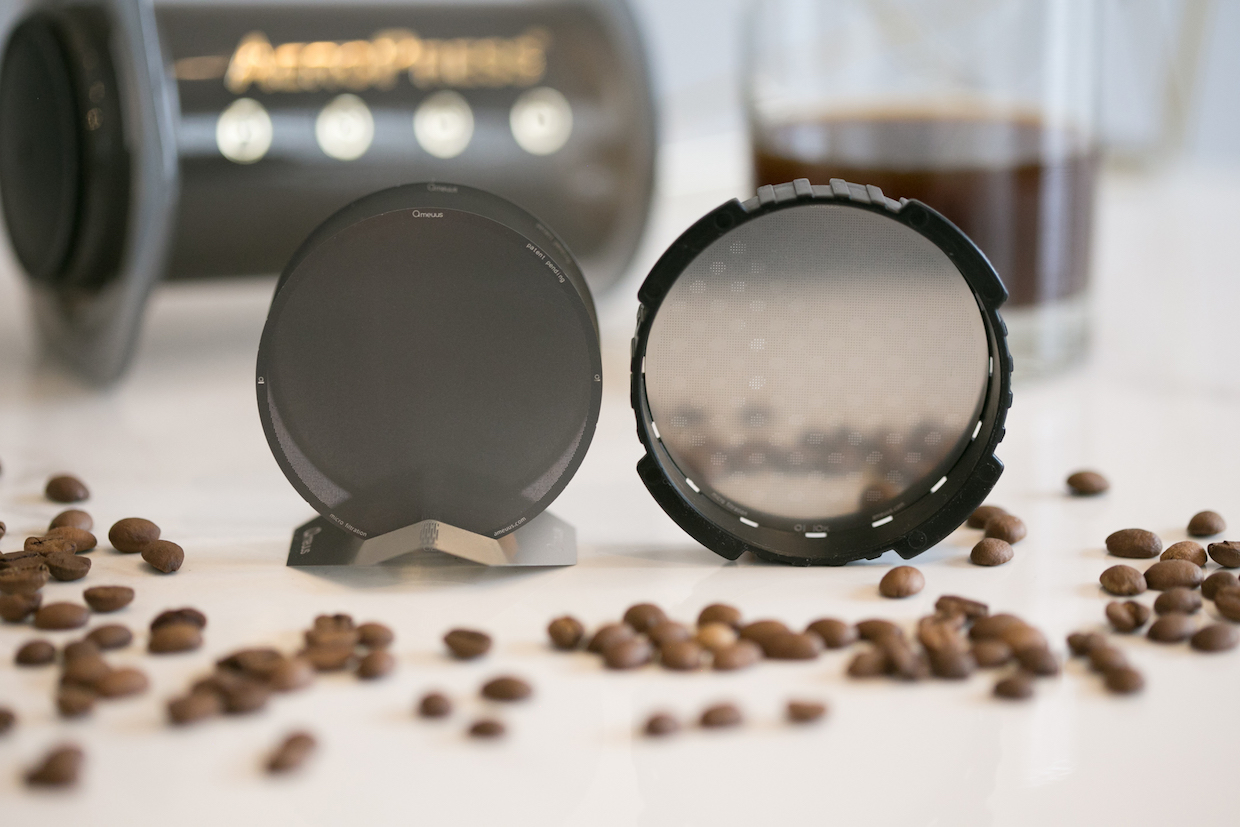 Given Tecford Design's experience and existing partnerships in PCM product manufacturing, Ng acknowledged that the crowdfunding campaign was not necessary to initiate production for the Ameuus filter line, but it is a useful tool for gauging the market for the product.
"The main purpose of KS was to ensure there was enough interest to justify the upfront production cost and attain the minimum ordering quantity," said Ng. "This project was our first direct-to-consumer undertaking and we wanted to make sure we can also gather as much feedback as possible from the backers based on their initial experience."
Ng, who has no professional coffee background himself, also collaborated coffee pros from around the Toronto specialty coffee scene, most notably including 2018 Regional Toronto AeroPress Champion Graham Hayes.
"He is one of the most knowledgeable people I've met on the subject of coffee, and also a true gentleman," said Ng. "I am very grateful to have met a friend like him."
Currently, as the high-piling crowdfunds continue to broadcast a green light for Ameuus to move forward, the company is focusing on packaging and logistics to assure a January 2019 delivery. Retail channels from that point on are also TBD, although Ng said Ameuus has been approached by distributors in Asia and the United States.
As for longer term development of their technology's commercial potential, Ng said their patent filings have covered a broad range of filtration applications.
"We are definitely going to continue exploring the coffee and manual brew market," said Ng. "Our focus right now is to deliver a quality product, and to most likely make changes to the filters after the first wave of user feedback. Until we deliver our first batch, we will not look at any other products, although this filter technology can definitely be applied to other brew methods."
Howard Bryman
Howard Bryman is the associate editor of Daily Coffee News by Roast Magazine. He is based in Portland, Oregon.