Southern California-based manual espresso brewer maker Flair Espresso is setting another place at its table this holiday season — a bigger one.
Parent company Intact Idea is in the process of launching a higher-capacity, fortified edition of its portable, electronics-free espresso maker, called the Flair Signature Pro. The Pro features a number of upgrades aimed at enhancing the durability, ease of use, versatility and other attributes of the original Flair Espresso design.
A standard integrated piston pressure gauge is the most readily apparent new feature. Less obvious is that the brew head itself is larger, the frame is described by the company as 50 percent stronger, plastic components have been replaced by stainless steel, and the brew head design now emphasizes visibility of the bottom of the filter basket to heighten what the company calls "the bottomless experience."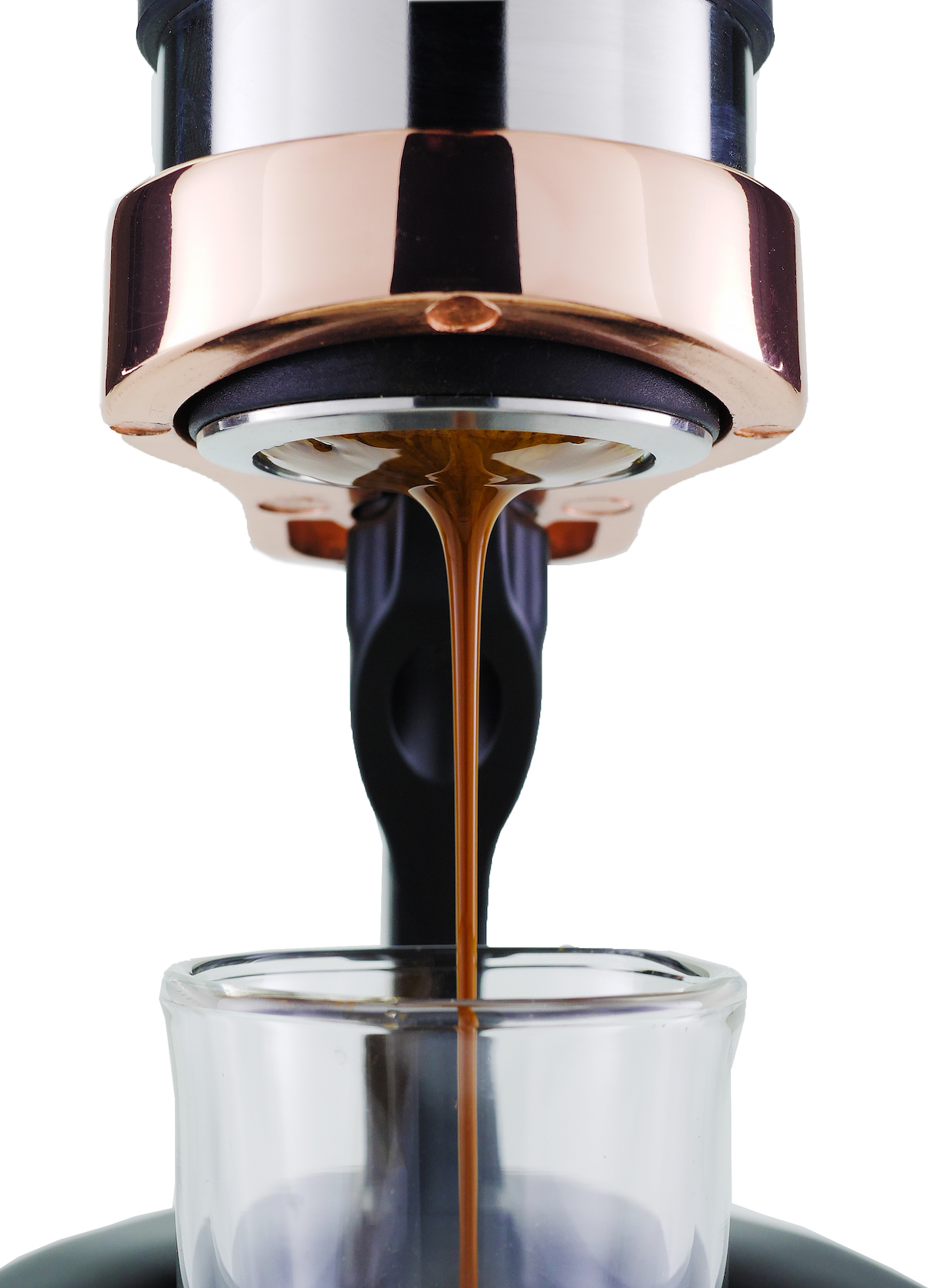 The pressure gauge came about after the concept was introduced by Hungarian company Naked-Portafilter earlier this year. Intact Idea told Daily Coffee News that while they give full credit for the original idea and proof-of-concept to Naked-Portafilter, owned by Gábor Laczkó, the manufacturing costs of Laczkó's design proved unwieldy given the target price of an entire Flair package.
The gauge that now comes standard on the Signature Pro was therefore designed in-house. It functions similarly to Laczkó's gauge, but is constructed differently to better allow for preheating of the piston, as well as for manufacturing efficiencies, according to Flair.
Kits will be available for Flair pressure gauges on the smaller and earlier models, and Naked-Portafilter remains the Hungarian distributor for the Flair.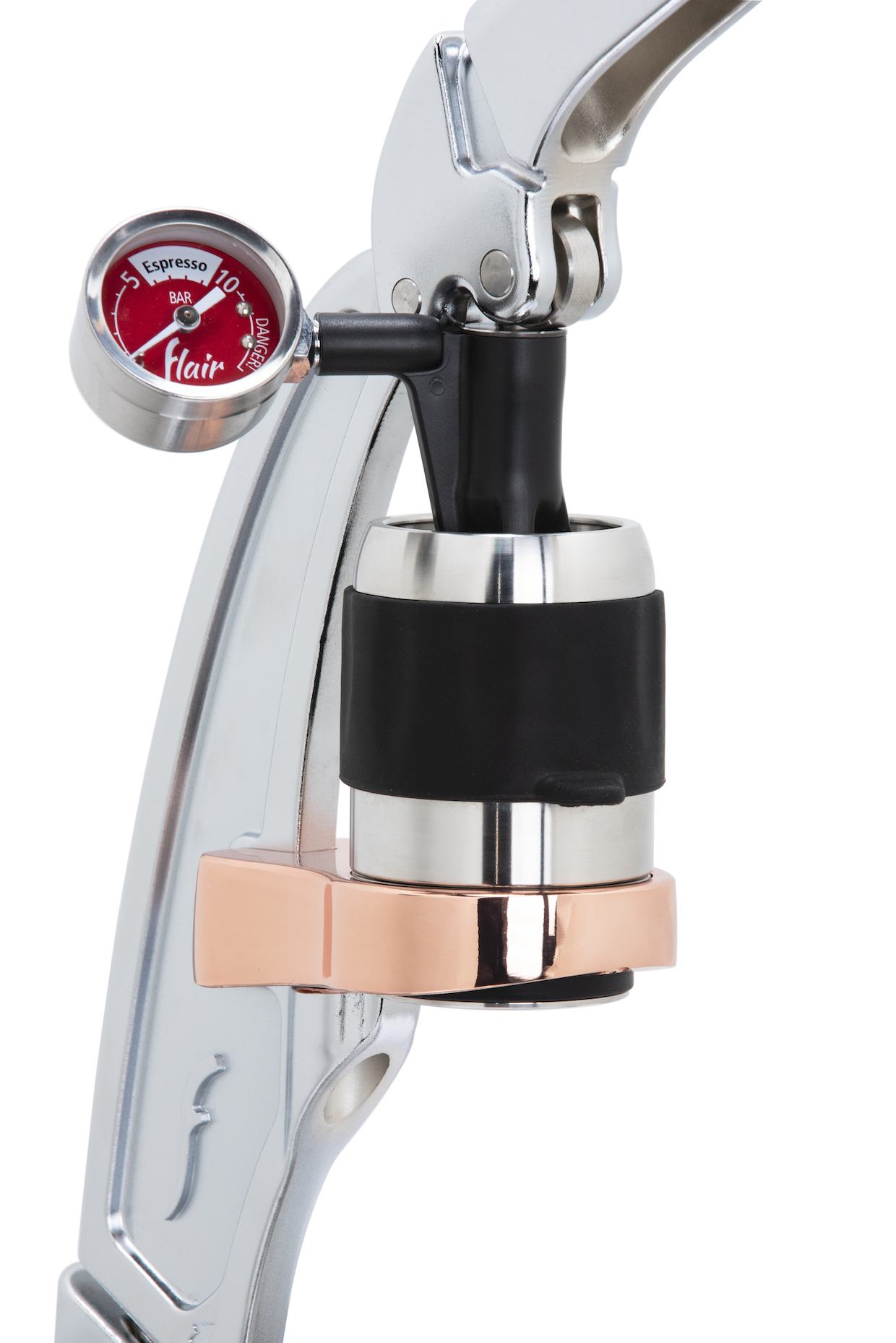 The Pro brew head's hot water capacity of roughly 72 milliliters is more than the roughly 60-milliliter maximum of the original models, while its larger filter baskets hold doses as high as about 24 grams. The increased potential yield amounts to shots as big as 55 milliliters, which the company said is more in line with the sort of espresso one expects from prosumer gear and from cafes.
An increase in stainless steel construction imparts what the company describes as a "premium feel," while also increasing durability and eliminating concerns of those consumers who prefer to avoid plastics of any kind making contact with their water or brew. The Pro includes a new stainless steel tamper, a stainless steel dispersion screen, and a branded stainless steel drip tray that has some reservoir depth to it, as opposed to the flat plastic tray of earlier editions.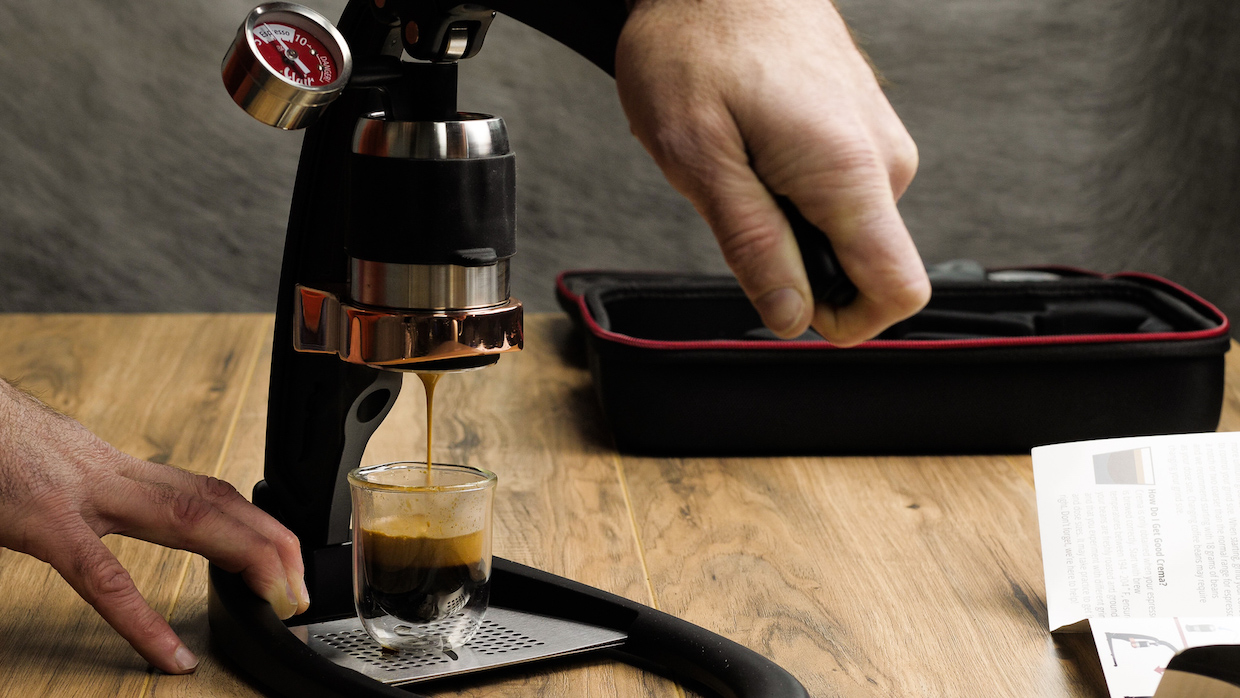 The dispersion screen has notably shifted to a drop-in design, as opposed to the earlier design that rested on top of the portafilter. The new design prevents the nuisance of airlock that previously could result, depending on a user's technique. A cap for the brew head also allows users to preheat the part by pouring water into it and letting it sit for 30 seconds, instead of soaking it in a separate bowl of hot water.
As is true of espresso craft on any equipment, use and enjoyment of the Flair is all about process and technique. By adding these new features, the company hopes to make the brewing process simpler and more forgiving, allowing for a broad range of techniques to influence the cup.
Flair Espresso Director of Support and Social Andrew Pernicano described the challenge of developing a device and a brew guide that embraces technical flexibility on one hand and ease of use on the other.
"This brew method above all others mimics a science or chemistry experiment," said Pernicano. "Holding the controls loose will end in disaster, but on the flipside there is the law of diminishing returns that informs us there's a point we're not likely to notice the benefits of that rain dance we performed just before pulling the lever down. We have to strike a balance between suggesting our users brew intentionally but not necessarily obsessively."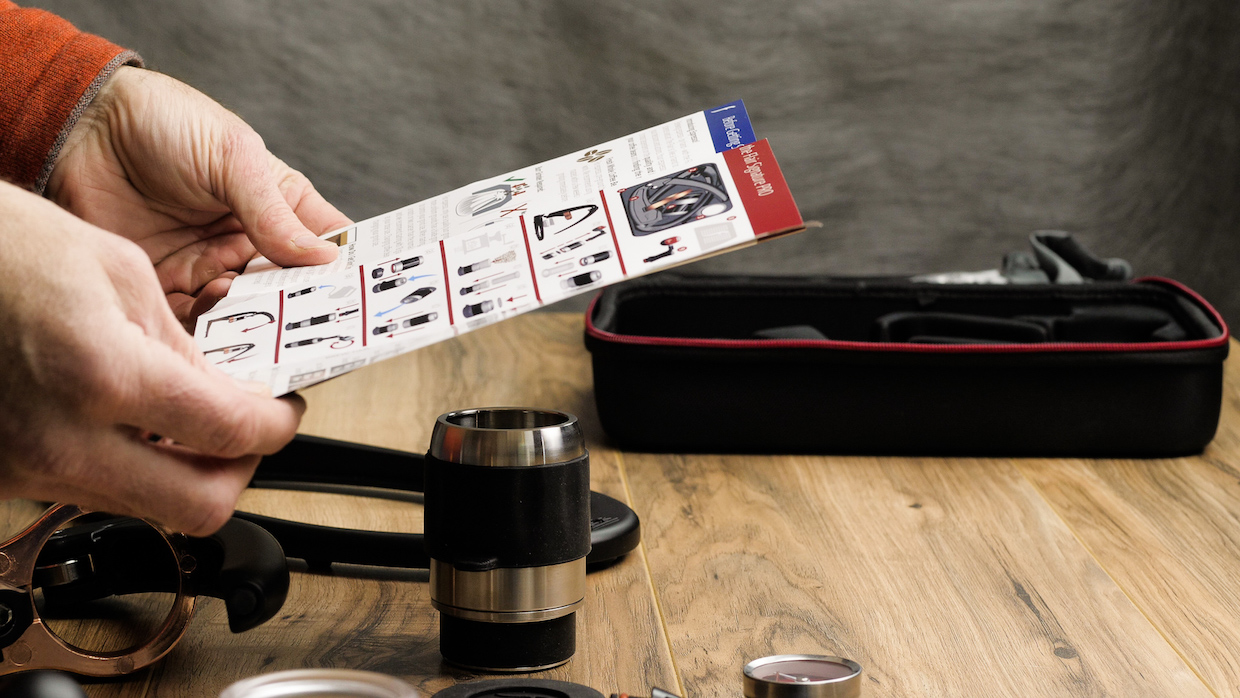 Pernicano also said that beyond the strictures of traditional espresso, the Flair allows for plenty of other avenues worth exploring, too.
"Once you start to play around with using brew water at room temperature or even colder, you realize that you can actually get a very espresso-like yield by longer contact time and preinfusion and a little bit more pressure," said Pernicano. "You realize there's quite a bit more room [for experimentation], in my opinion."
The Flair Signature Pro has entered production, and will land on US shores early next month, according to the company. Sales will launch directly through the Flair website on Friday, Nov. 23. The Flair Signature Pro will be sold for $299, including the pressure gauge, stainless steel drip tray, tamper and carrying case.
As of 2019, all models of Flair will be made with the reinforced frame and larger portafilter base. Portafilter bases on lower-tier models with smaller brew heads will include a plastic adapter that can be removed to accommodate a larger Pro brew head, should users want to upgrade later.
The Flair Espresso line will also soon expand beyond brewers. Without going into specifics, Pernicano said the Flair team hopes to equip consumers "for every step in the espresso-making process," although only after extensive development and testing.
"There's already enough players in each category [of espresso-related equipment] to dissuade us from delivering an also-ran product," said Pernicano. "Besides, it's not our DNA, or in our name. We're Flair. We intend to make a statement and set ourselves far apart from the competition with every product we deliver."
Howard Bryman
Howard Bryman is the associate editor of Daily Coffee News by Roast Magazine. He is based in Portland, Oregon.