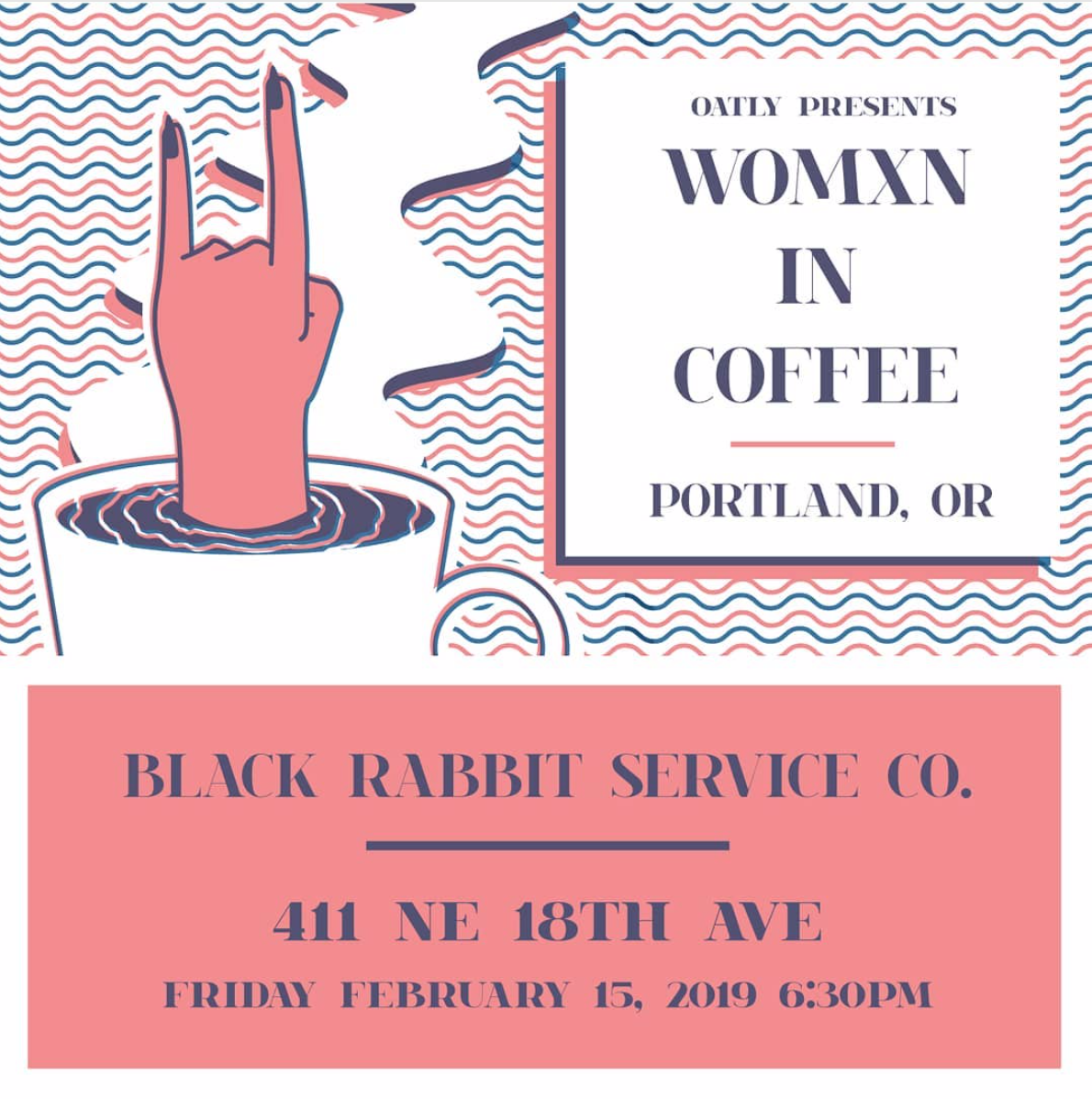 Womxn in Coffee
This Friday, Feb. 15th, the second Womxn in Coffee event will be held at Black Rabbit Service Co. in Portland, Oregon. Presented by Oatly and organized by Seattle-Based barista Tatiana Benitez, the event will be free and open to the public.
"During the event a panel of peers and myself will be talking openly and honestly about our experiences working in the coffee industry with my main focus on the experiences of fellow people of color and queer folx," Benitez told Daily Coffee News. "My goal is to raise awareness about these injustices and to start the conversation. We will also be discussing, along with the audience, solutions and ideas that we may all have on how to stop this from happening within their cafes."
Panelists for this discussion will include Molly Flynn of Broadcast Coffee in Seattle, as well as Portland-based coffee professionals Sara Reynolds of Good Coffee, Alejandria Acereto of Stumptown Coffee Roasters, Camila Coddou formerly of Ristretto, and Paxton Ogwaro of Never Coffee Lab.
"When it came to choosing a panel, I took recommendations from a couple of friends who are more integrated into the Portland coffee community," said Benitez. "I look for folx who are very impactful and who have a story to tell."
The first event was held last October, welcoming over a hundred people at General Porpoise in Seattle.
"The crowd was engaged and responsive, and they had such phenomenal questions at the end," Flynn, who founded the social movement #CoffeeToo, said of the first Womxn in Coffee event last fall. "The panelists shared deeply touching accounts of the experiences they have faced, and I am really looking forward to hearing similarly earnest accounts from the panelists of this upcoming Portland event."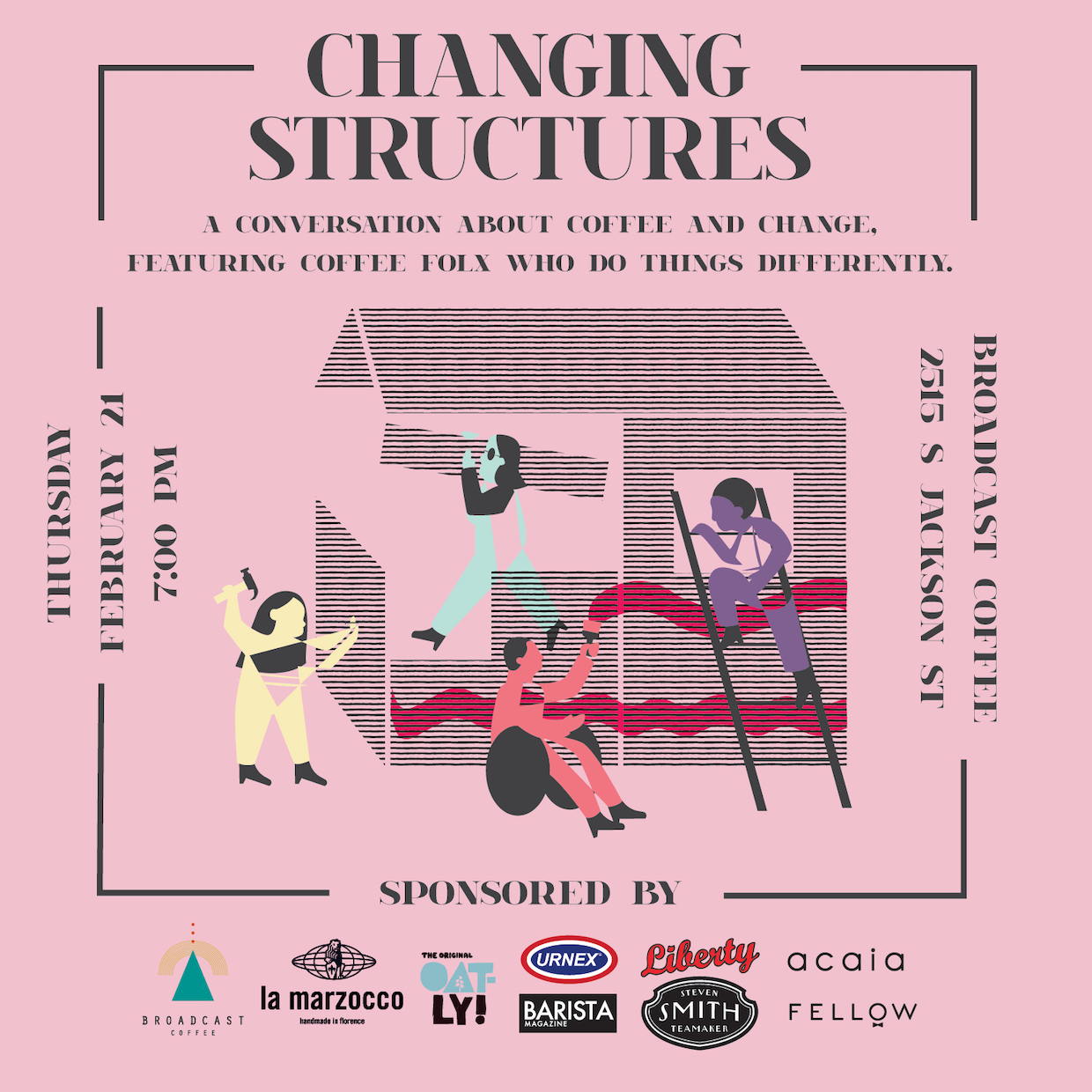 Changing Structures: A Conversation About Coffee and Change
Next Thursday, Feb. 21st, Seattle's Broadcast Coffee will host an interactive discussion at its Jackson Street location. The event, called Changing Structures, is presented by #CoffeeToo and Umeko Motoyoshi of San Francisco-based Sudden Coffee and Umeshiso. Admission is free, with a suggested donation of five dollars to support #CoffeeToo.
At the heart of the event, Changing Structures will feature a conversation led by Motoyoshi, who will be joined by panelists Ian Williams of Deadstock Coffee in Portland, Oregon; Radhika Kapur of Third Culture Coffee in Seattle; and Laura Perry of LÜNA Coffee in Vancouver, B.C.
Topics may range from the creation of nontraditional cafe spaces to building a value chain around the true cost of coffee production.
"The goal of this event is to show every member of our community how much they are needed, and how much we can achieve together," Motoyoshi told Daily Coffee News. "Each speaker has come up against a structure in coffee that's regarded as immutable, and they have created a new alternative. We will ground our conversation in the experiential, making the event a how-to for coffee folx who share our vision of a more equitable, sustainable, and accessible industry."
Motoyoshi notes that over the past few years, there has been a seemingly coordinated effort by a new generation of baristas and other coffee professionals to challenge the decisions and power structures that keep specific demographics out of this conversation.
"These individuals are passionate, they're networked, they're incredibly smart, and they're deeply invested in change," said Motoyoshi. "And many are still being excluded from important conversations, due to outdated structures that centralize power and authority. The realm of 'decision makers' is often populated by a very narrow demographic, and this just cannot continue. Our event responds directly to the need for our industry to open up, pull together, and work collectively. We can't afford for higher-ups to brush off the barista who is dying to learn more about sourcing transparency, or labor shortages, or the cost of coffee production."
Lily Kubota
Lily Kubota is the managing editor and digital content manager for Roast Magazine. She is based in Southern California.