Any new industry seeking to re-mold the identity of Marlborough, Massachusetts, will have big shoes to fill, as the town's history in footwear manufacturing goes back more than 150 years.
Embracing rather than ignoring this heritage, Lost Shoe Brewing and Roasting Company has proven to be a comfortable fit in downtown Marlborough, where the company opened the doors to its production brewery, roastery and taproom earlier this month.
Elements of concrete, wood, brick and leather featured throughout the spacious combination coffee bar and taproom are intended by owners Melynda and JP Gallagher to foster a warm and welcoming atmosphere, yet with an ever-present nod to the city's industrial tradition. The mixture of seating includes a long 25-seat bar, German beer hall tables, and leather couches and chairs arranged around cobbler benches repurposed into coffee tables.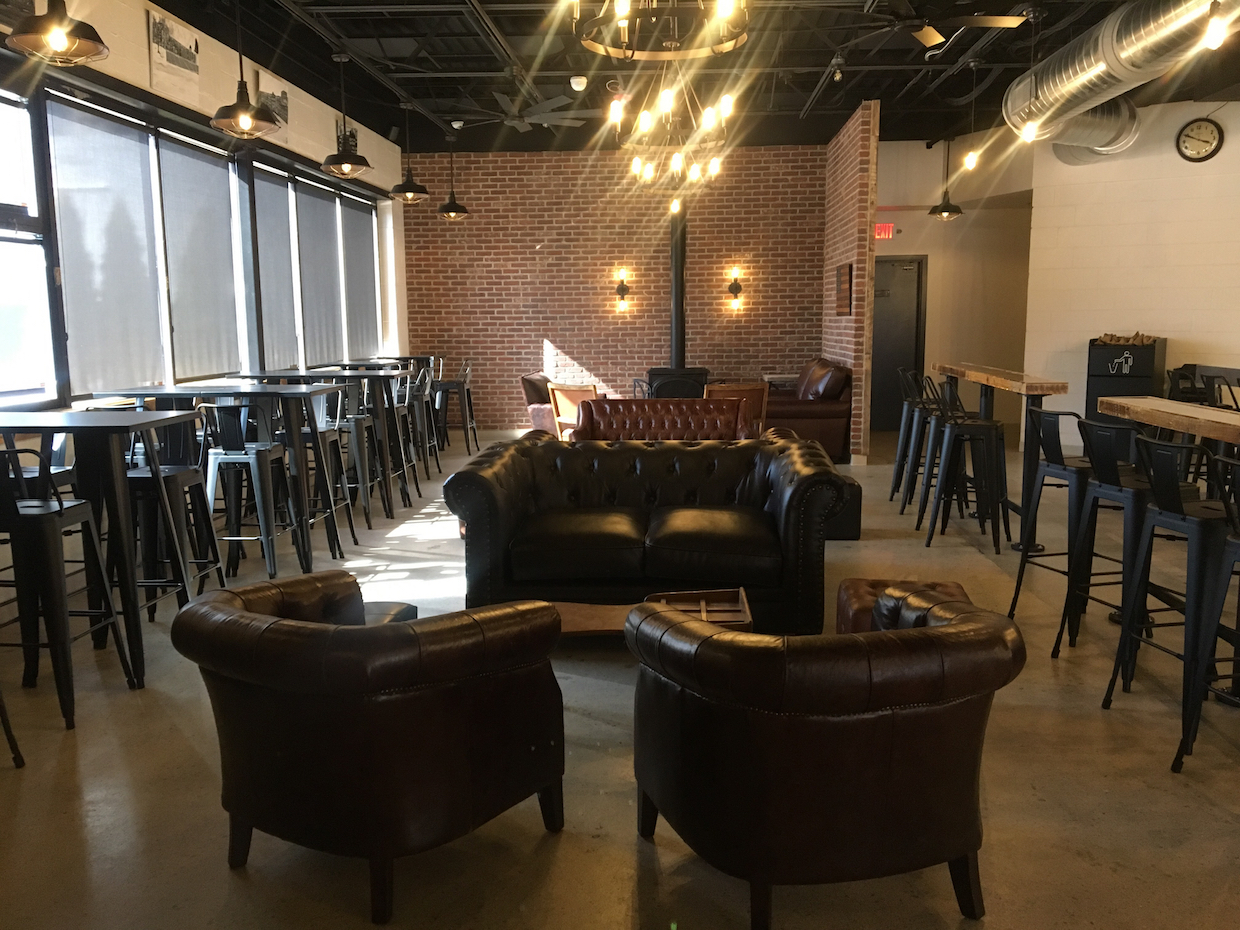 "Marlborough at one time had over 40 shoe factories and is the original home to Frye Boots," Melynda Gallagher told Daily Coffee News. "We have a Frye Boot sign hanging in our taproom as well as a chandelier of [shoe] tree lasts that came from another local shoe factory."
The layout also draws plenty of attention to the crafts currently at hand. Of the facility's 4,600 total square feet, a bit less than half is taken up by production, including a row of shiny brewing tanks and equipment, as well as the company's Diedrich IR-12 roasting machine, its VortX Ecofilter industrial air purifier and other roastery gear.
"We really wanted to open as a combination brewery and coffee roastery, rather than a brewery that serves coffee or a cafe that serves beer, so we made the taproom inclusive of both crafts," said Gallagher. "It was also really important to us for customers to be able to see all the brewing and roasting equipment so we included a large window wall that looks into the production space."
Transparency was also a consideration in choosing equipment on the bar itself. A 2-group chrome Modbar espresso and steam installation not only echoes the shiny metals of the brewery through the windows, but leaves open the space between baristas and customers for discussions about origins, flavors, brew methods and all the parallels that exist between the two worlds laced together in Lost Shoe.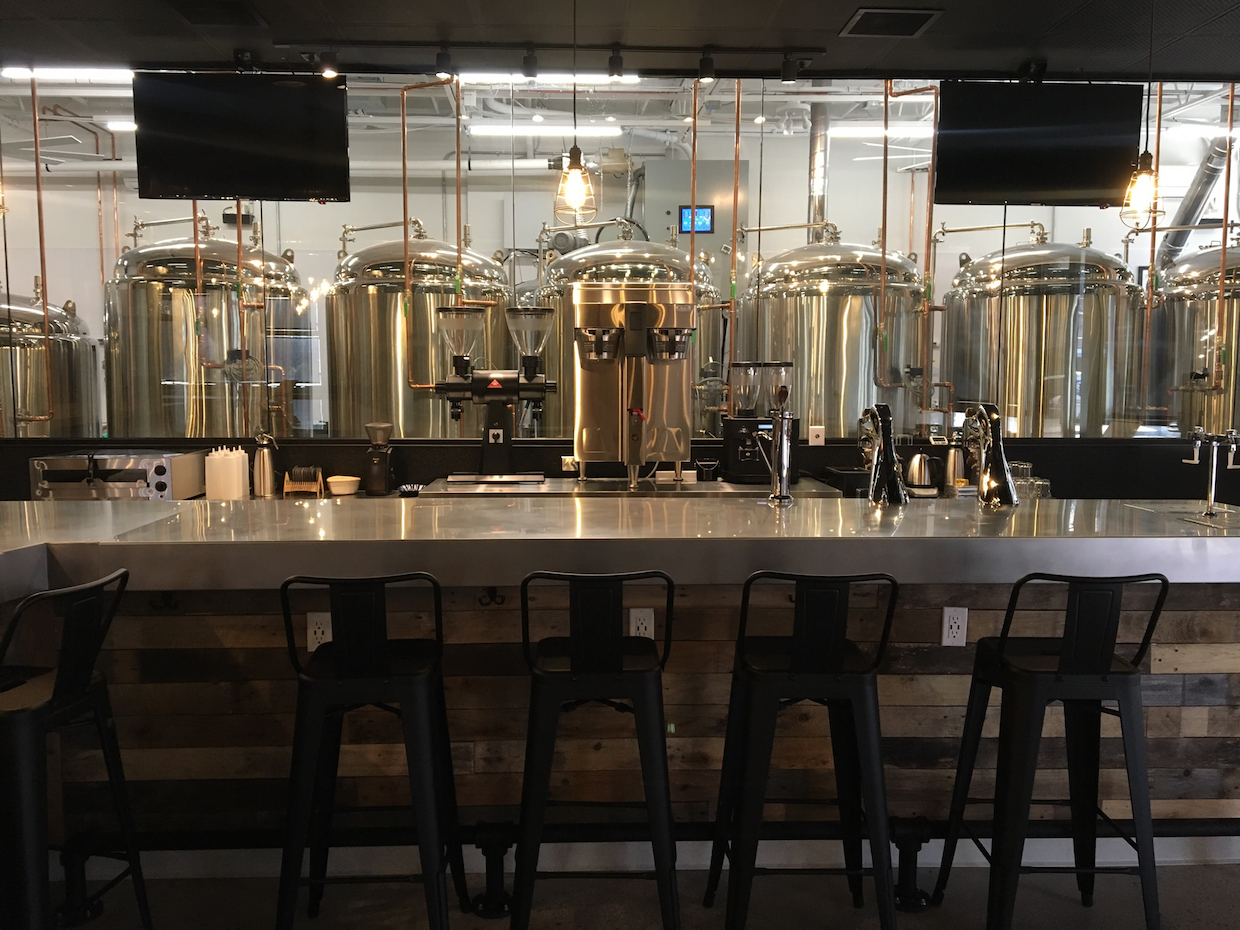 "There are also so many similarities between coffee and beer; I think the most prominent being the sensory aspect," said Gallagher. "While we serve beer flights in the taproom, we also have coffee flights where you can try a combination of different coffees or brewing methods. I love giving people the experience of trying a single origin coffee as drip, cold brew, and espresso all next to each other. Or a few different origins brewed the same way next to each other. It really opens people's eyes to what coffee has to offer. The brewery scene has been so popular and people have been exposed to so many different beer styles, but people are still amazed when I tell them coffee can taste like fruit or flowers."
For the Gallaghers, brewing and roasting are two former hobbies that each has steadily ratcheted up to professional quality and scale. Gallagher said that while her partner and husband JP has been homebrewing for about 10 years, it wasn't until she took up roasting that plans for a business began to crystalize.
"We knew the combination made sense and allowed us to utilize our space to its maximum potential," said Gallagher, who completed the Coffee Lab International School of Coffee roasting class several years ago.
Still in its first month of operation, Lost Shoe has yet to tap into the wholesale roasting business, though Gallagher said the company intends to engage in some "limited" wholesale arrangements in the future. For now, the focus remains on fine-tuning in-house production and service, putting some live music events onto the calendar, and canning for beer and cold brew slated to begin sometime before the fall.
Lost Shoe Brewing and Roasting Company located at 19 Weed Street in downtown Marlborough.
Howard Bryman
Howard Bryman is the associate editor of Daily Coffee News by Roast Magazine. He is based in Portland, Oregon.