A living piece of history is now rumbling and roasting in a green steel building on a remote and wooded property in eastern Washington state. Pull Caffé Founder Todd Millar told Daily Coffee News that he believes his refurbished industrial roaster — which has been actively production roasting once a week for the past six months — is the oldest Probat roaster in the world.
The beans that Millar roasts on the antique, German-built workhorse beneath the high ceiling of a tucked-away 2,000-square-foot building in Yacolt come from some of the oldest known growing regions. These are blended into Pull Caffé's sole roasted coffee product, a classic Moka Java blend featuring the sweetness of beans from Ethiopia's Sidama region and the nuttiness of beans from Indonesia's Island of Java.
That medium-dark blend is then vacuum-sealed into old-fashioned oxygen-free steel cans using a vintage, American-made canning machine built in 1947. Wood from old, fallen trees around the  roastery's property is used to fuel the 120-kilo-capacity roaster's fire, under which Pull roasts 60 kilos at a time.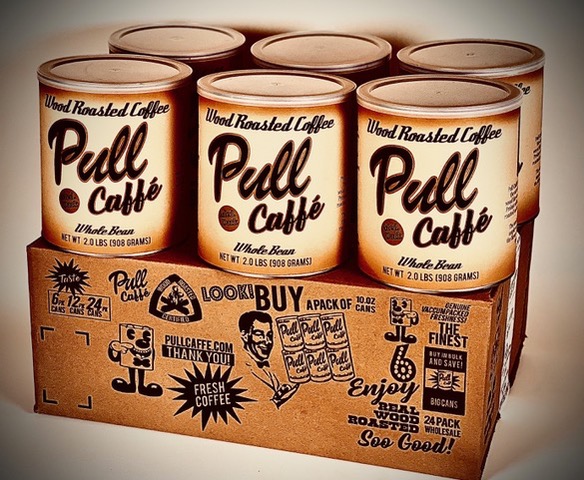 "It was coal-fired originally, but in those times a coal oven could run on wood as a fuel source as well," Millar told Daily Coffee News. "[The machine is] 100% original, minus a few bolts and brackets — all original from the factory, as far as we can tell. I love the history and energy of old equipment, and most appreciate how things even this old can stand the test of time."
Immortality Requires Work
As the builder of Pull Luxury Espresso machines, a line of manual lever machines built both for beauty and longevity, Millar knows a thing or two about machines made to last. Back in December of 2017, Millar employed a vintage forklift to load the 11,000-pound main body of the ancient Probat into the steel building in Yacolt, along with other parts so heavy that the combined weight of it all cracked the building's reinforced concrete slab foundation in multiple places.
The extensive restoration that followed was a labor of love, undertaken with help from mechanical restoration expert David Cornell, whose career included such positions as head restoration manager for famed classic car collector Jay Leno, and as crew chief for the Rare Bear, a modified and restored World War II-era plane that broke world records for speed.
"It took roughly a year, and roughly six more months of testing," Millar said of the rebuild. "David was called upon many, many times, during every step of the restoration process — 60 times or more."
Millar was advised by Cornell not to change the machine's antique appearance too much, as this would actually diminish its value as a historical artifact. He did scrape away some loose paint, removed some rust and applied a USDA-approved high-temperature clear coat to preserve the metal that remained. Today the actual beans only touch clean, untreated iron. Unfortunately, Cornell passed away shortly before Millar fired up the machine for the first time in December of 2018.
Millar's roasting business, previously known as Millar's Organic Wood Roasted Coffee, started in the early 1990s on a 5-kilo Probat before an upgrade to a Toper 15-kilo machine. Last year, with new belts for the wheels, an afterburner installation and a re-seasoning period, the Probat officially became the beating heart of the Pull Caffé roasting program.
Oldest in the World?
Pull Caffé's cans and other marketing materials now proudly feature the claim that the company's coffees are roasted on the "oldest coffee roaster in the world." Millar has no doubt about the veracity of that claim, and though specifics are all but impossible to come by, he's pretty sure his machine was originally built in 1896. To support the claim, he reached out to Probat for confirmation, as well as for permission to print it on his labels.
Millar got in touch with Probat USA CEO John Fortin, who then forwarded inquiry on to Probat CEO Wim Abbing in Germany for approval. They approved, granting Millar permission to print the claim on cans and ads. However, the current head of the Probat Museum of Coffee Technology, Tina von Gimborn-Abbing, isn't convinced.
Abbing, who is Probat co-founder Theodor von Gimborn's great-granddaughter and is married to CEO Tim Abbing, told Millar she believes his machine was made at Probat's factory in Austria, which started its production in the early 20th century, putting the origin of the machine somewhere in the neighborhood of 1909.
Meanwhile, the owners of a smaller Probat machine in Switzerland claim that theirs dates back to 1895, Abbing said.
Millar looked into it. In photos, the more ornate design of the Swiss machine leads Millar to believe it's newer than his. The Swiss Probat also has front and rear ball bearings upon which the drum turns, which Millar contends did not come into use until the 20th century, whereas the machine in Washington has older-fashioned bushings that require steady lubrication with oil for continued smooth function.
"Here's what we know for 100% sure," Millar told DCN. "Our vintage roaster has two distinctive markings: 'Original Emerich' on an emblem, and another, casted in cast iron, 'Probat.' The other much smaller vintage roasters only have the one emblem, 'Original Emerich,' and not the 'Probat' anywhere. So, we know for sure, to the best of our knowledge, we have the oldest known Probat, branded as such. For the record, all of the last surviving roasters are not of this large capacity, as well."
Both Millar's and the Swiss machines' dates of manufacture are ultimately unprovable. Millar and Abbing both concede that while Probat was founded in 1889, its early records and history are foggy at best due to the destruction of the original Probat factory and headquarters in October, 1944, when an Allied Forces bombing reduced nearly all of Emmerich, Germany, to rubble in the thick of World War II.
A Serbian farmer purchased Millar's Probat from a public auction in 1980, and the machine's history preceding that event remains a mystery. The future, however, is certainly clear, bright and warmed by a roaring wood-fueled fire. As an olive branch in the midst of what's always been a friendly and good-natured dispute, Abbing has invited the Millars to visit them in Germany — a trip that Millar looks forward to making with a can or two of Pull Caffé under his arm to share.
"Tina so graciously has invited us to visit," said Millar. "We are so excited to visit and hope to go soon."
On that occasion, or separately, the Millars might also swing through Switzerland to visit what is, by their count, the second oldest Probat in the world.
Howard Bryman
Howard Bryman is the associate editor of Daily Coffee News by Roast Magazine. He is based in Portland, Oregon.