New brands of roasted beans have been popping up like saplings from the Sycamore, Illinois-based company Coroco Coffee, whose roasting and production facility opened its tasting room to the public this past fall.
The female-led, mostly family-run company's 2,000-square-foot location in the small city about an hour's drive west from Chicago houses a Loring Falcon S15 roaster that supports products from seven different brands of coffee.
Each brand under the Coroco Coffee canopy is supported by its own small roasting team, while each reflects different aesthetic, ethical and quality-related considerations in order to appeal to different markets.
"With all the variety in coffee, we wanted each brand to have its own vibe, and its own brand standards — such as Hi Hope using Fair Trade cooperatives that support community initiatives, or Flavor Girl featuring all female producers," Coroco Coffee Owner, President and CEO Karen Weckerly told Daily Coffee News. "Diner Coffee, the nod to the greasy spoon where my husband and I worked together and first met, can only be 'coffee that tastes like coffee,' whereas Ambler Coffee is home to most of our single-origin microlots."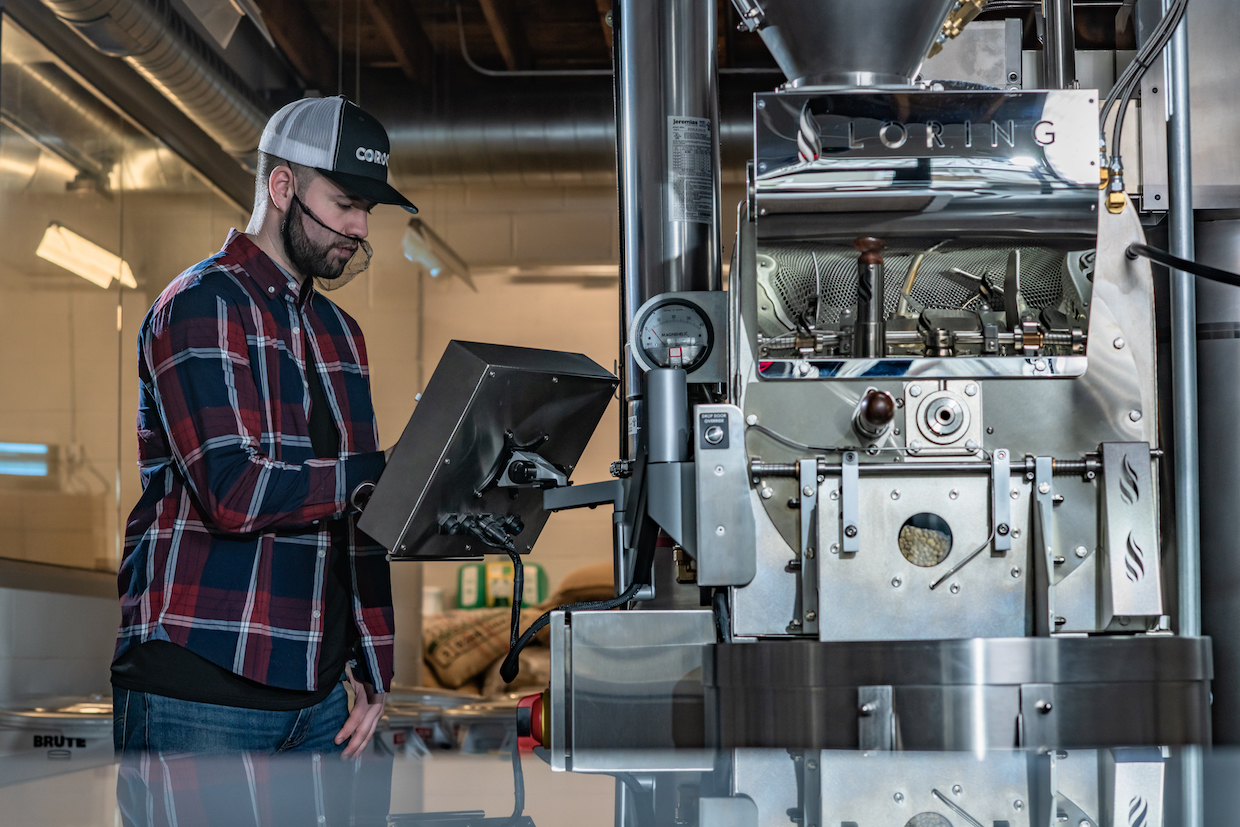 Also under the Coroco umbrella is: Cask'd Coffee, a brand of wine-, rum- or bourbon-infused coffees; Propeller Coffee, which specifically draws attention to the benefits of fluid-bed "air roasting;" and Interlude Coffee, a brand centered on coffees of chocolaty and fruity character.
While all are owned and operated by the company, each brand has its own lead roaster setting profiles on the company's shared Ikawa sample roaster prior to bigger batches on the Loring. Said Weckerly, "The beauty of being housed together as a collective is that we are all able to collaborate on cuppings and assist each other with production."
Other notable production equipment includes a new Sōvda Precision Weigh/Fill bagging system, and other pneumatic conveyance systems customized by Sōvda to fill Coroco's Jacky bins with green coffees.
Weckerly said coffees are are often sourced collaboratively between the brands, while volume purchases may be coordinated to save on shipping, both financially and in terms of the business's carbon footprint.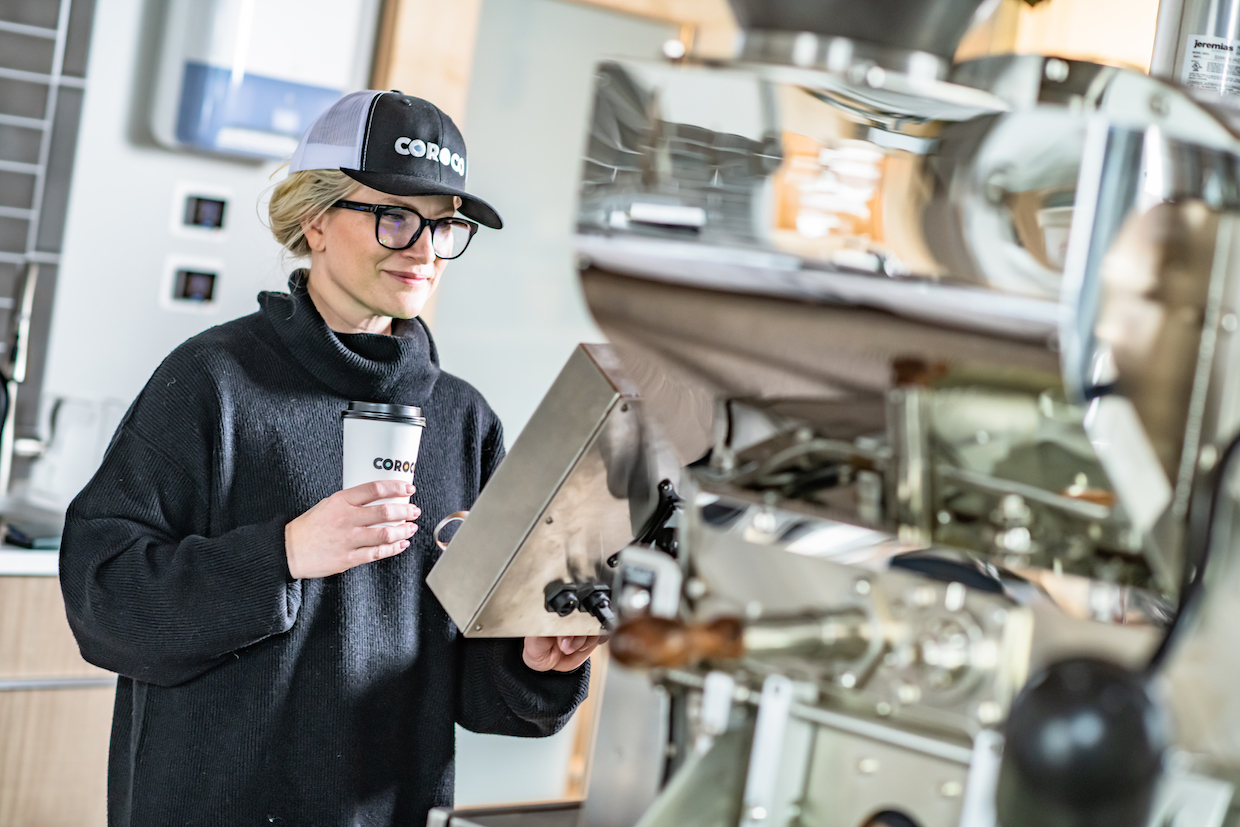 "Green buying is probably where we have the most fun and intense discussions, with some of us vying to 'bogart' the choicest microlots for ourselves," said Weckerly. "[There are] lots of poker faces during company cuppings."
The Coroco (a portmanteau of "coffee roasting collective") tasting lab that opened last Fall occupies about 400 square feet of the space. A Modbar espresso installation paired with a Mazzer Super Jolly grinder provides plenty of opportunity for clear and lively discussions over the bar between baristas and customers, while a Fetco XTS batch brewer provides quick drip options ground by a Mahlkönig EK43.
The roasting operations is kept "front and center," according to Weckerly, for further engagement with the customers on all that quality coffee entails, while the design of the retail space was kept intentionally minimal in order to channel more focus onto the coffees themselves.
A polished concrete floor beneath a palette of blacks and whites is warmed by the restored original wooden ceiling and other wooden features around the shop.
"We play vinyl records during the hours we are open to the public, as well, to set the tone," said Weckerly. "We hope to be able to install solar panels on the roof next year, once we have a baseline established for power use, as conserving energy where we can is a priority."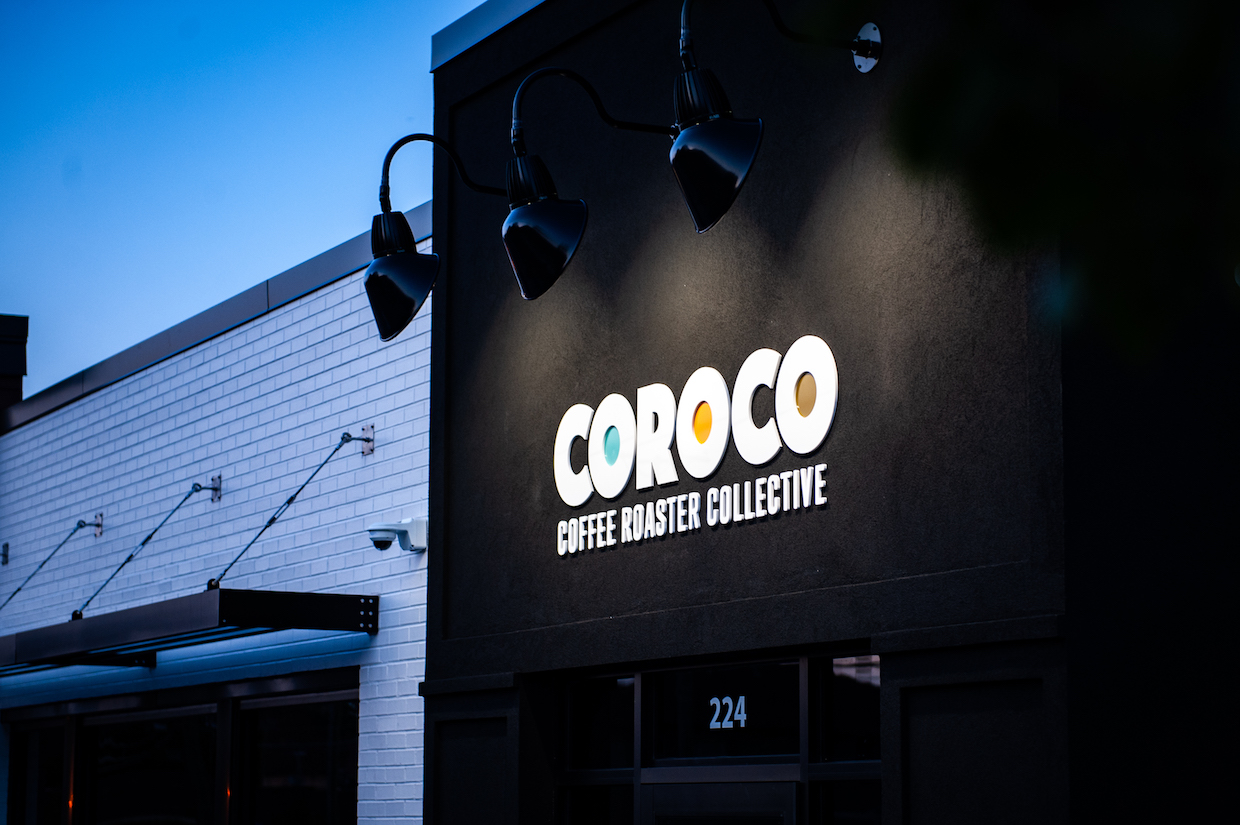 Coroco Coffee is soon to expand its tasting room hours for five days per week, and there are no immediate plans for another standalone retail location, Weckerly said.
"Quality of life of all our staff and work/life balance is a high priority," said Weckerly, "so any expansion will be done thoughtfully, so that we do not get too big too fast."
Coroco Coffee is now open at 224 S California St in Sycamore, Illinois. 
Howard Bryman
Howard Bryman is the associate editor of Daily Coffee News by Roast Magazine. He is based in Portland, Oregon.