Commercial cold brew production equipment maker Brew Bomb has a new ace up its sleeve.
For coffee retailers seeking a front-of-house cold-brew solution that's as easy on the eyes as it is to keep consistent from shop to shop, the ACE Brewer brings the Colorado company's high-precision Kyoto-esque slow-drip brewing process into a countertop-friendly footprint while maintaining its digital controls and adding cloud connectivity.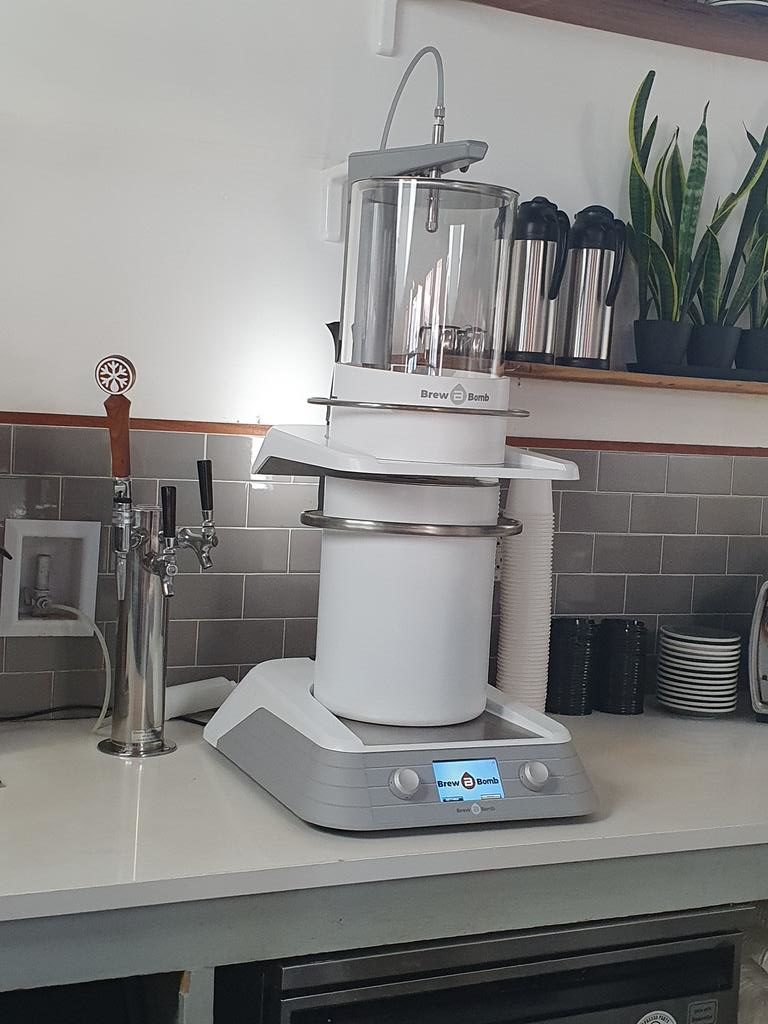 "With cold brew driving the growth in the coffee industry, combined with the trend where savvy consumers respond to a unique coffee experience, it makes sense to put a specialty cold brewer out front, where it is as integral as the espresso machine," Brew Bomb Founder and CEO Ray Buerger told Daily Coffee News. "When the ACE is brewing, it is a beautiful spectacle, clearly focused on crafting something special."
While the company's existing models are comparatively large, composed of bulky steel tanks, racks and exposed tubing for more industrial applications, the ACE Brewer presents a clear glass brewing chamber atop a white stand and receptacle with shiny metal accents and a tidy interface of knobs and a screen integrated into the base.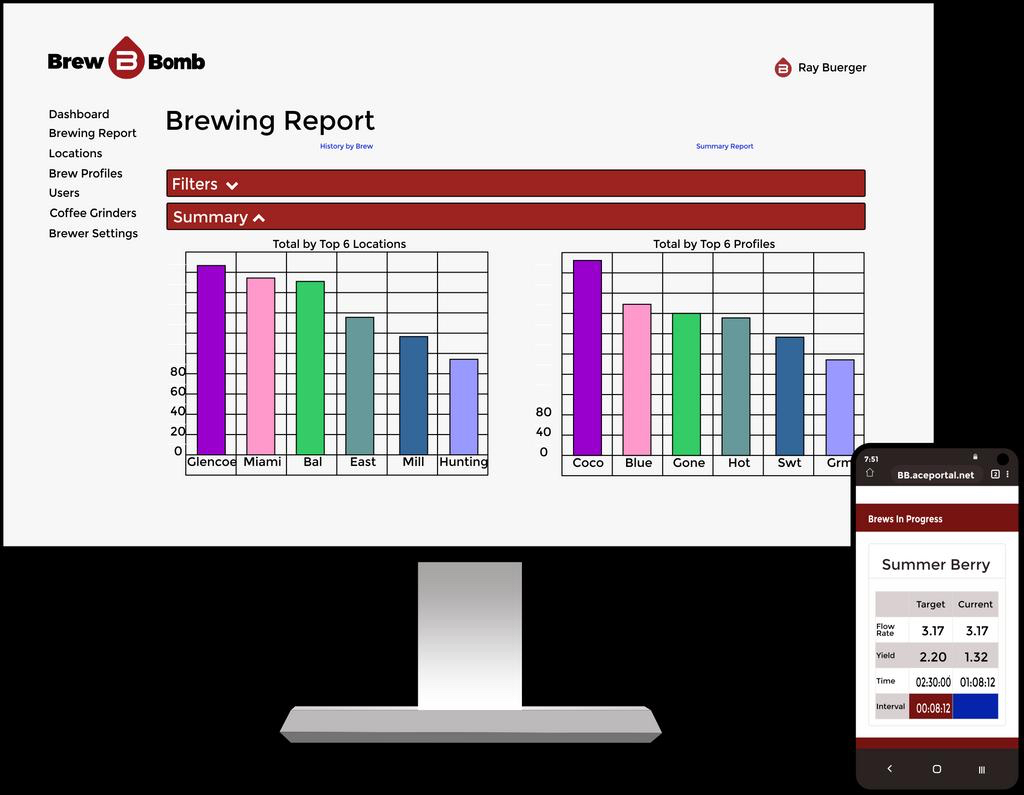 And whereas its original commercial brewers are intended for centralized, higher-volume production of up to 300 gallons per day, ACE brewers are networked for sharing brew parameters across multiple locations to generate up to five gallons of finished brew within two hours on individual coffeehouse counters.
"Crafting onsite has really important advantages," said Buerger. "If your production facility is in Seattle, do you really want to transport heavy cold brew in refrigerated trucks to San Diego? Or, what if a resort on Catalina Island wants to serve your cold brew? Wouldn't it be a lot easier to equip the store with an Ace Brewer, ship the roast coffee, web distribute the brew profile and craft locally? Now is not a great time to talk about remote resorts or even cruise ships, but think ahead to when the world gets back to normal."
Brew Bomb's core technology, unveiled in 2017, involves precisely timed and calibrated sprays of temperature-controlled water upon a coffee bed for what amounts to a slow-drip style of brewing that the company has dubbed Active Cold Extraction (ACE).
The ACE Brewer builds upon this by allowing users to create, store and transmit profiles of information and settings, including origin, grind, brew time, flow rate and recipe concentration, according to Buerger. The ACE also facilitates "interval brewing," which Buerger said separates extraction time from contact time in order to develop more complex cup qualities without over-extracting.
Pre-orders are open now for a Limited Edition run of 25 ACE Brewers slated to ship in July 2020. These units will be hand-assembled in the United States by Buerger himself and the company's head of manufacturing, and will carry a 2-year unlimited warranty. Buyers will also get a two-year "Artisan Subscription" to the Brew Bomb web portal that includes additional tools for managing multi-branch operations, different user permissions and high level reporting.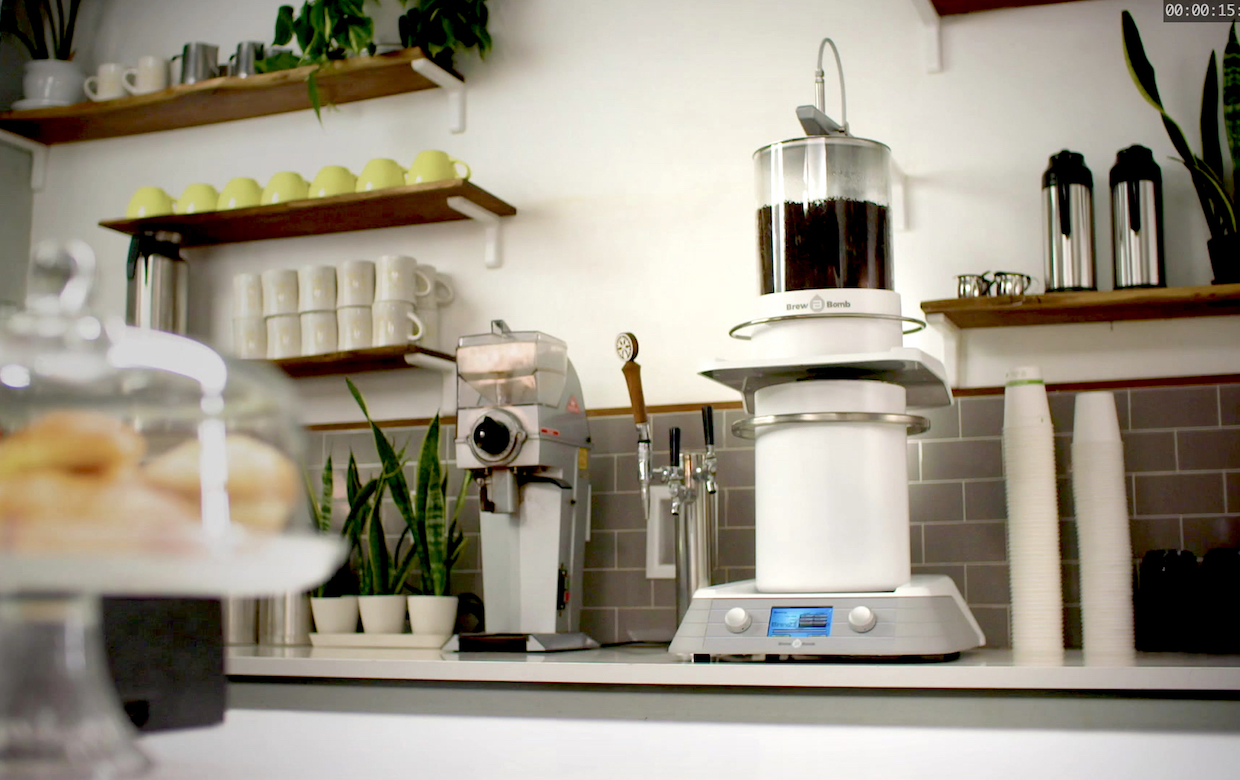 Pricing on pre-order machines is $6,450, down $1,500 from the list price of $7,950.
Full scale distribution of ACE Brewers is slated for August 2020. After that, Buerger said the company will work on finishing a web-connected operating system for its X-Series brewers by next year, while also continuing development of 1,000-3,000 gallon Brew Bomb systems.
Howard Bryman
Howard Bryman is the associate editor of Daily Coffee News by Roast Magazine. He is based in Portland, Oregon.