The robots may be coming for coffee, although behind every 'bot there's at least one even better human. This is certainly the case with Botz Coffee, whose crudely lovable robot avatar helps to inspire fun human connections with specialty coffee lovers.
Botz Founder and Roaster Danny Falloon launched the roasting company in Munster, Indiana, in February, unveiling an array of bagged coffees and energized pixels with a black code-window aesthetic online.
There are no photos anywhere on the website or social channels showing lush mountain landscapes, drying patios or farmer handshakes — but there is roast data.
Falloon told Daily Coffee News that, contrary to any notion that consumers are disinterested in details as technical as roast curves, he has received many earnest and thought-provoking questions from visitors to the site, including from people that have no background in roasting or coffee.
"My take is that most people don't even know roast curves exist," said Falloon. "Many coffee consumers are sophisticated. They care about the details, like altitude, processing, and coffee varieties, so why not empower them with roast curve information?"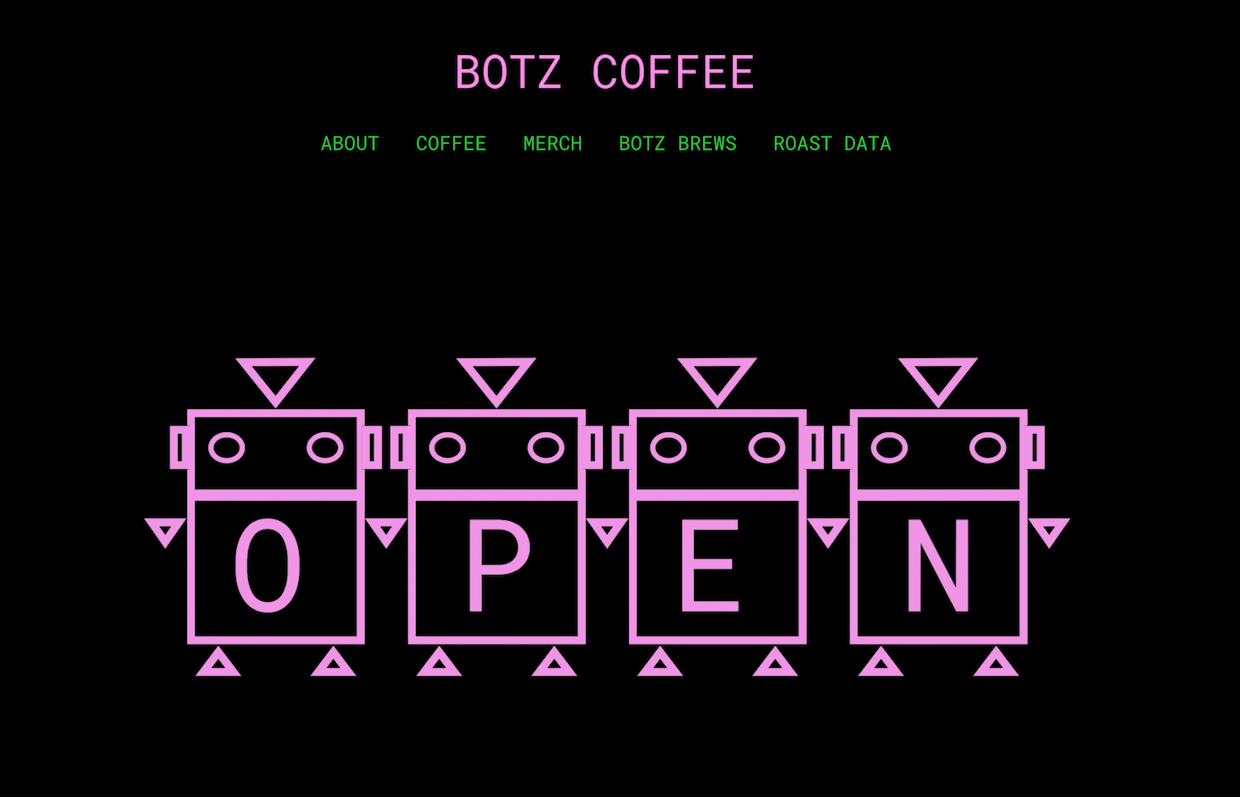 The site also includes charismatic writings in a green Roboto Mono typeface that describe the origins of each coffee and the experience of drinking it. Info provided on a coffee grown by Hualter Huanca in Peru, for example, roams from the law of diminishing marginal utility when eating candy bars to Botz's sister's obsession with marzipan.
"To start a roasting business from scratch, you need to conjure all the collective courage of your heroes, and for me, that's my family — along with a long roster of supernatural and sci-fi legends," Falloon told Daily Coffee News. "Botz Coffee, and the Botz persona, is deeply rooted in my own human experience. 'Botz' is a nod to my childhood nickname — short for 'brother' in Serbian — and the robot logo on the bag, which mimics the shape of a coffee roaster, was inspired by my love of video games, collectible action figures, and the color pink, which has brought me good luck ever since my dad gifted me my first golf shirt in an ostentatious shade of bubblegum."
Falloon followed a longstanding coffee passion into a training program at CoRo in Berkeley, California, which then landed him a roasting job with JBC Coffee in Madison, Wisconsin. Now a certified Q Grader based in Munster, Falloon rents time on a local Probat P12/2 machine to roast top-quality greens sourced from Nordic Approach, Red Fox Coffee Merchants and Ally Coffee for sale directly to consumers.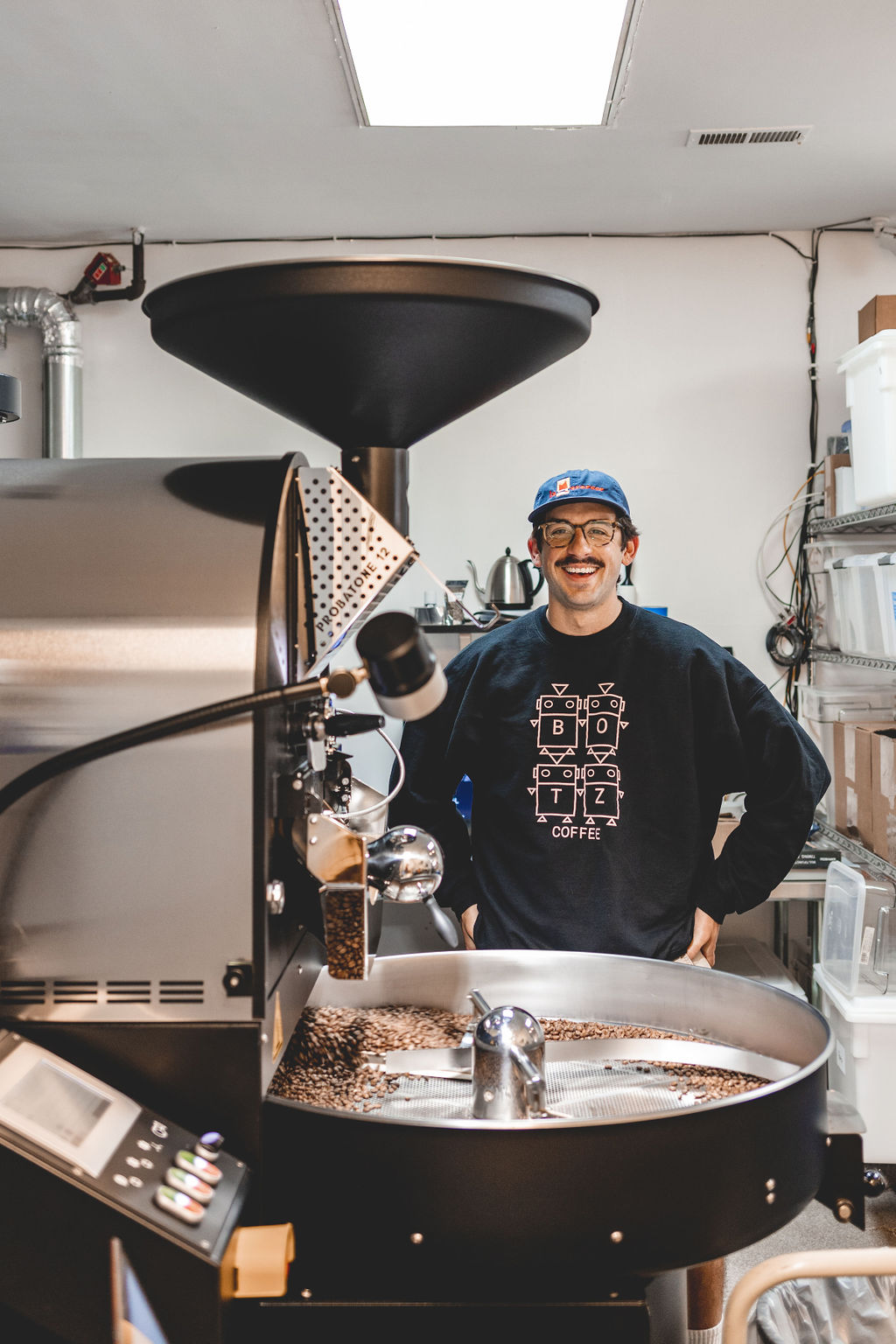 Falloon hopes someday to establish a more physical manifestation of Botz, including public educational, training and co-roasting opportunities.
As COVID-19 has slowed wholesale business for roasters throughout the country while traffic in the direct-to-consumer online space has also picked up, Falloon recognizes the challenges of launching a coffee business now. However, it remains Falloon's belief that a rising virtual tide floats all Botz.
"My timing in opening Botz was arguably inopportune, but at this moment, and in this climate, coffee consumption and culture appears to be shifting, at least temporarily," said Falloon. "I miss meeting friends, new and old, at cafés, and I know my customers do too. I want to empower them with the skills and know-how to brew dialed-in cups and foster those same cafe-cultivated conversations in their own homes."
In addition to the published roast curves, Falloon maintains a YouTube channel for music videos made from Cropster roast profile recordings.
"The music videos are one of my attempts to show Botz customers, lovingly referred to as 'Botzonians,' what we're about," said Falloon. "We take coffee roasting seriously, but ourselves, not so much. We are playful, and we think the flavors in your cup should be too."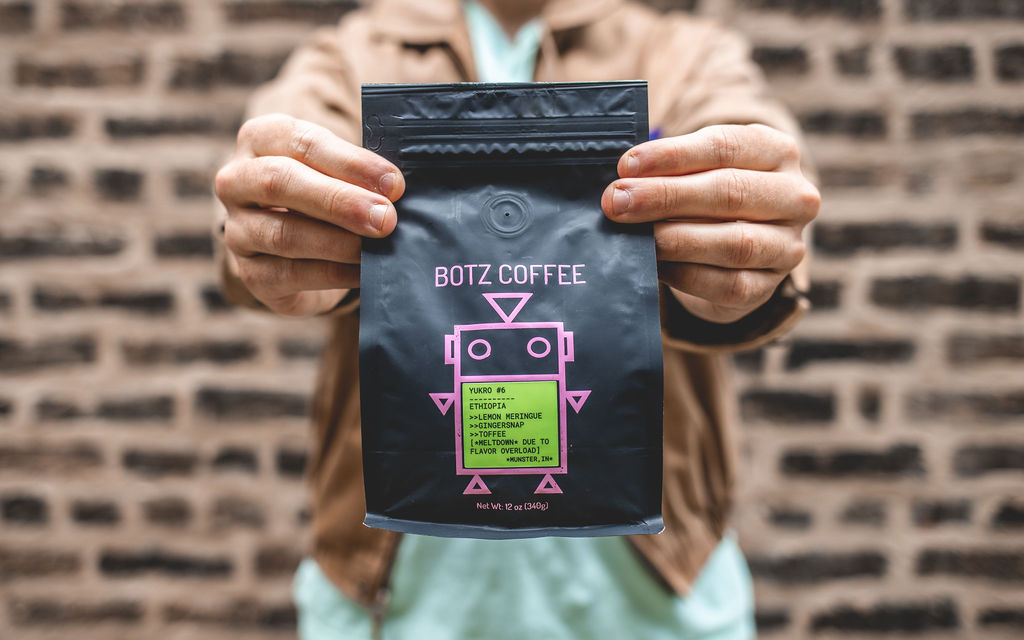 The music videos are also Falloon's attempt to get more people excited about roasting, while also demonstrating the sort of transparency he wished more roasters would do when he was first setting out to learn the craft and the science.
"There is a constant and necessary dialogue about transparency in specialty coffee, and I've always been intrigued as to why roast curves haven't made their way into that conversation," said Falloon. "Disregarding that there are many different types of roasting machines, probe placements, and data logging software applications, maybe enough roast data and empirical evidence will help a consumer better understand their roast preferences, on the one hand, and the effort behind their cup, on the other."
Howard Bryman
Howard Bryman is the associate editor of Daily Coffee News by Roast Magazine. He is based in Portland, Oregon.