Rozum Robotics, backed by a development team in Belarus with offices in the United States and Europe, is seeking to enter more specialty coffee retail markets in various countries around the world with a new robotic specialty coffee experience called Rozum Cafe.
Unlike with earlier examples of robotic coffee kiosks such as Briggo, Cafe X, Truebird or b;eat project by Dal.komm, the coffee-making equipment, kiosk exterior branding and cup branding of the Rozum automated espresso stations are all customizable, according to the company.
Furthermore, Rozum's core achievement, the robotic barista arm, can be purchased independently of a complete cafe setup, and installed in any existing cafe environment.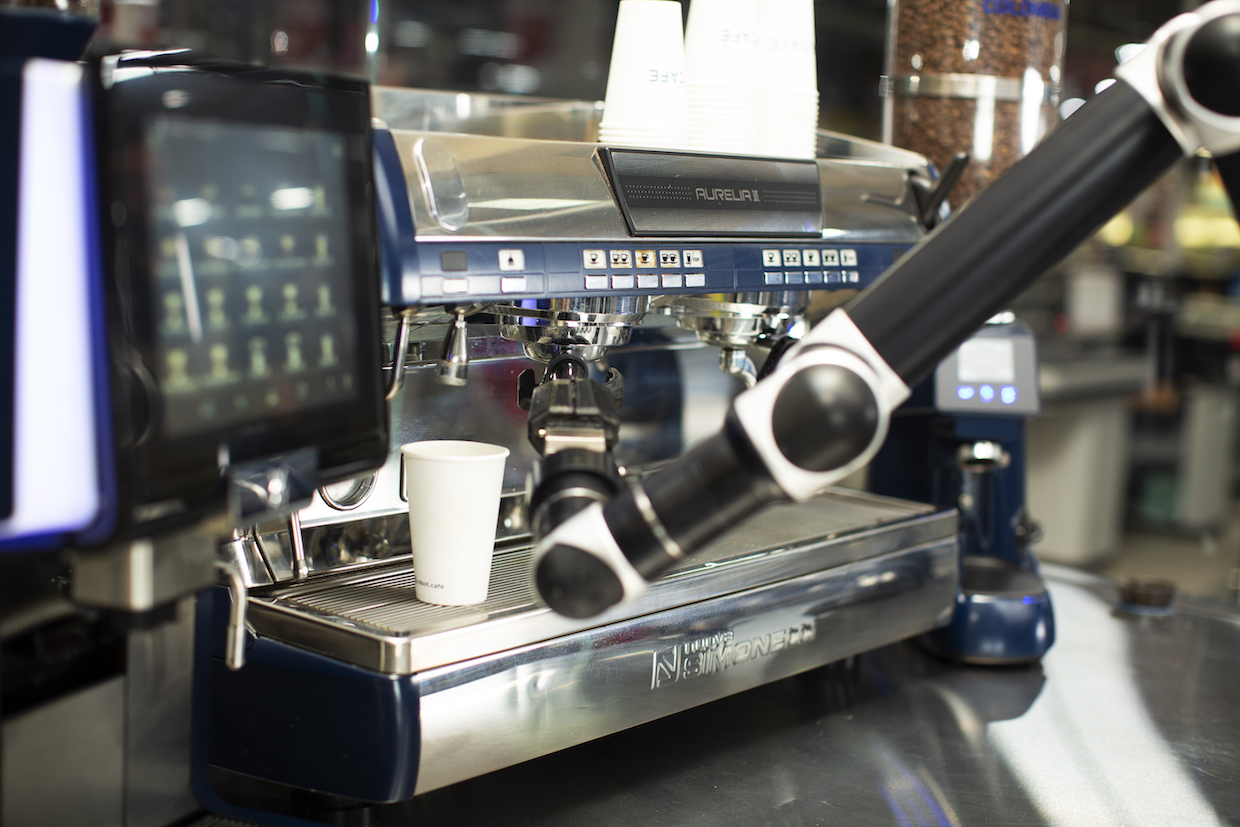 "The robot is collaborative, which means it is constructed exactly for safe work with and nearby people," Rozum PR and Content Manager Anna Kidron told Daily Coffee News. "We already had such a project with another of our products, a robot bartender. The robot was installed on the bar counter."
With a standard Rozum Café package, promoted as a turnkey solution at about $100,000 USD, the robotic arm twists and squirms in a compact space to carry a traditional portafilter first to a Nuova Simonelli MDXS on-demand grinder, then to a Puqpress 2 automatic tamper, then onto a Nuova Simonelli Aurellia II espresso machine, followed by a Pro-Fondi EVO electronic portafilter cleaning device that removes the spent coffee puck and scrubs the basket.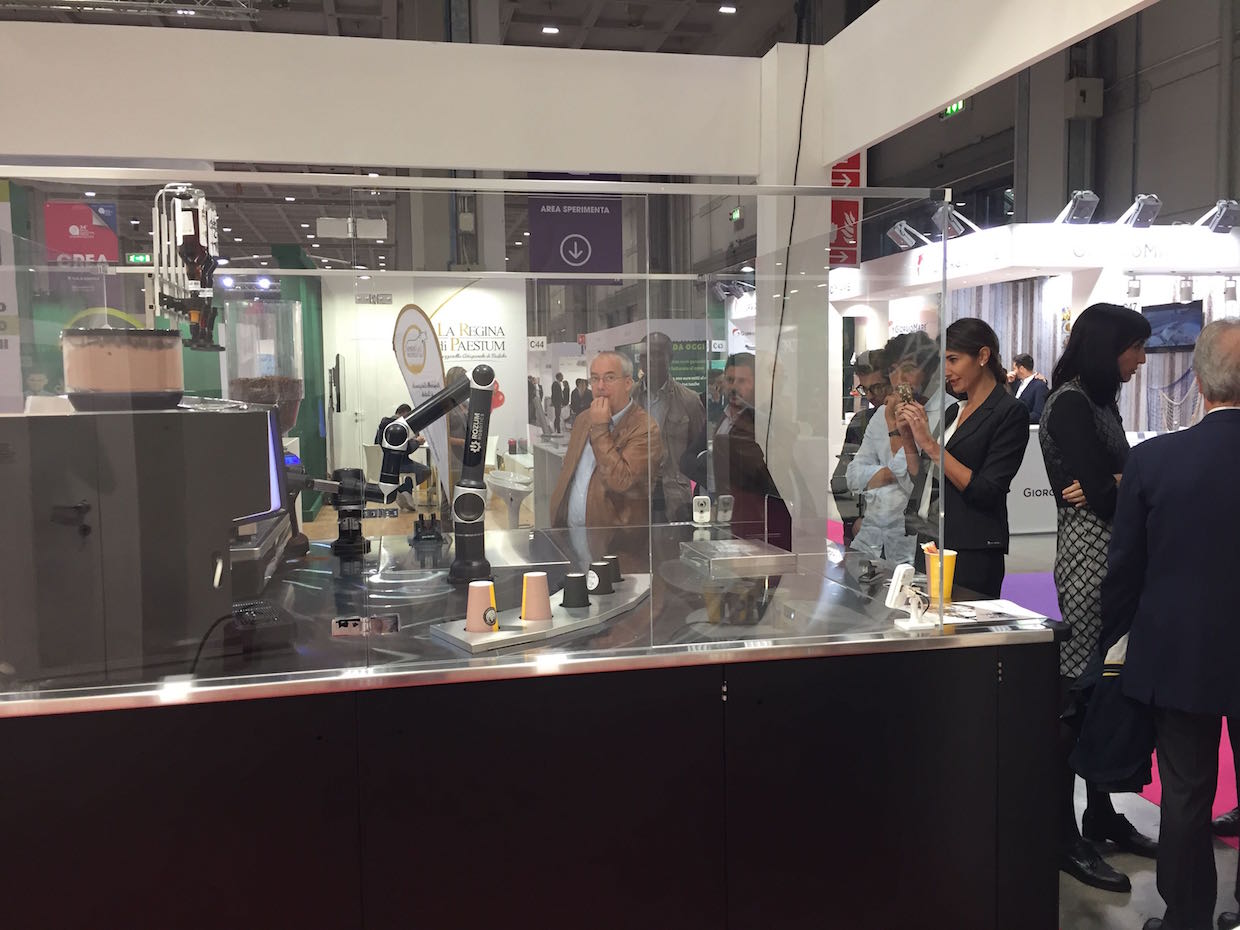 The arm also carries the paper cup of espresso over to a WMF 1500 S+ super-automatic machine, which heats and froths fresh milk appropriately for a variety of traditional espresso drinks.
Yet if the buyer prefers the robot perform its duties on equipment made by La Marzocco, Mahlkönig or any other manufacturer, Rozum can make accommodations prior to delivery and installation.
"If a buyer wants to make any changes to the Rozum Café construction or package, it's possible as a customization option," said Kidron. "It means we buy all the required equipment, program and test the robot how to work on it."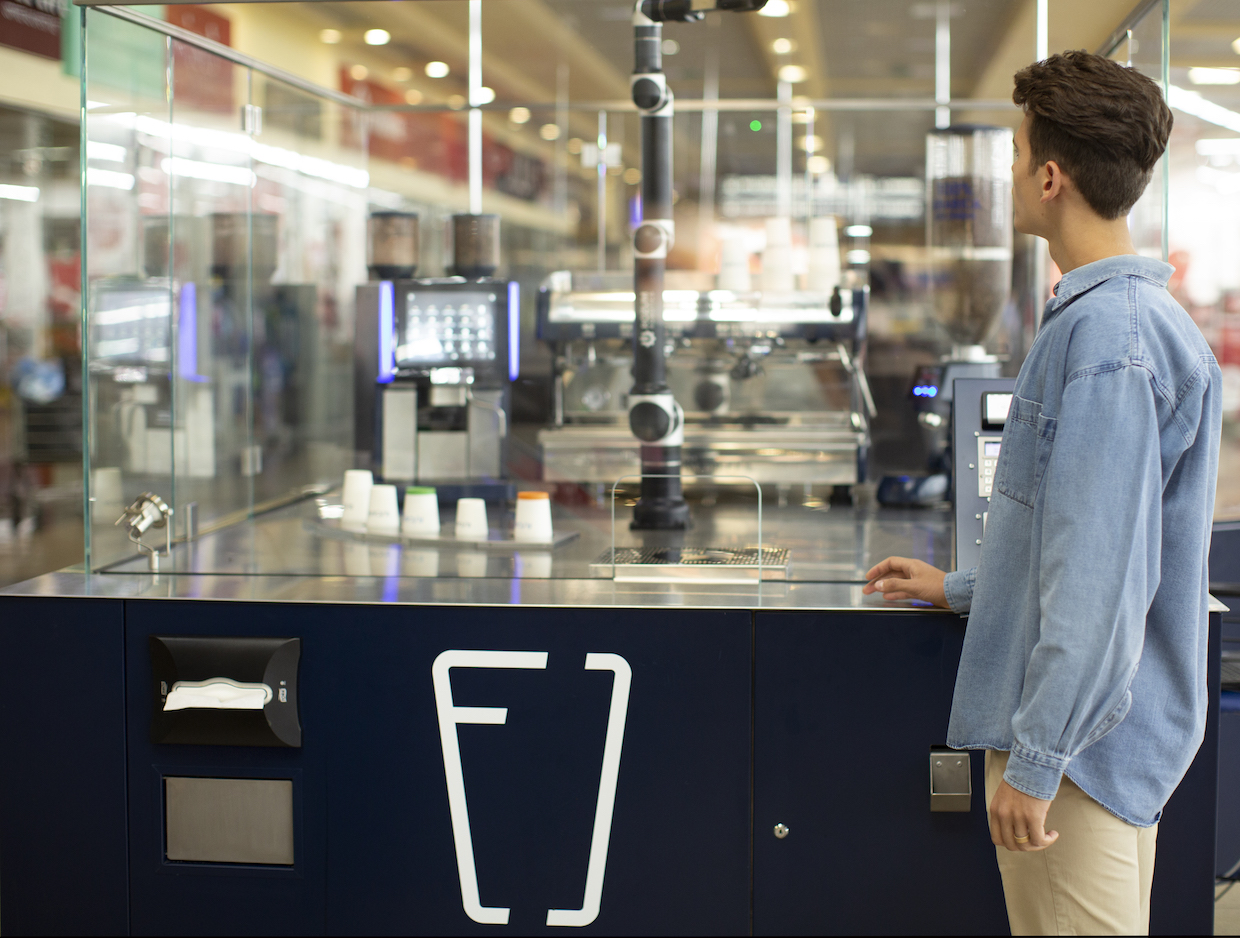 Kidron said the company will train buyers on how to make adjustments to brewing parameters should the owner want to periodically change coffees or recipes, or simply to experiment.
"After the Rozum Café is delivered to the customer, our support team comes on location and spends up to five days for installing and testing the cafe," said Kidron. "During this period we also provide a learning program for the cafe owner on how to use and maintain the Rozum Café. Of course, it includes the instructions on the coffee recipes, grinder, tamp and foaming settings."
The first Rozum robotic barista was launched in the summer of 2019 in a shopping mall in Ukraine. Four more robot baristas from Rozum Robotics have started serving since then, including one in Russia, one in Saudi Arabia and two in Belarus. Technically none of these are Rozum Cafes, as all are branded independently by their owners.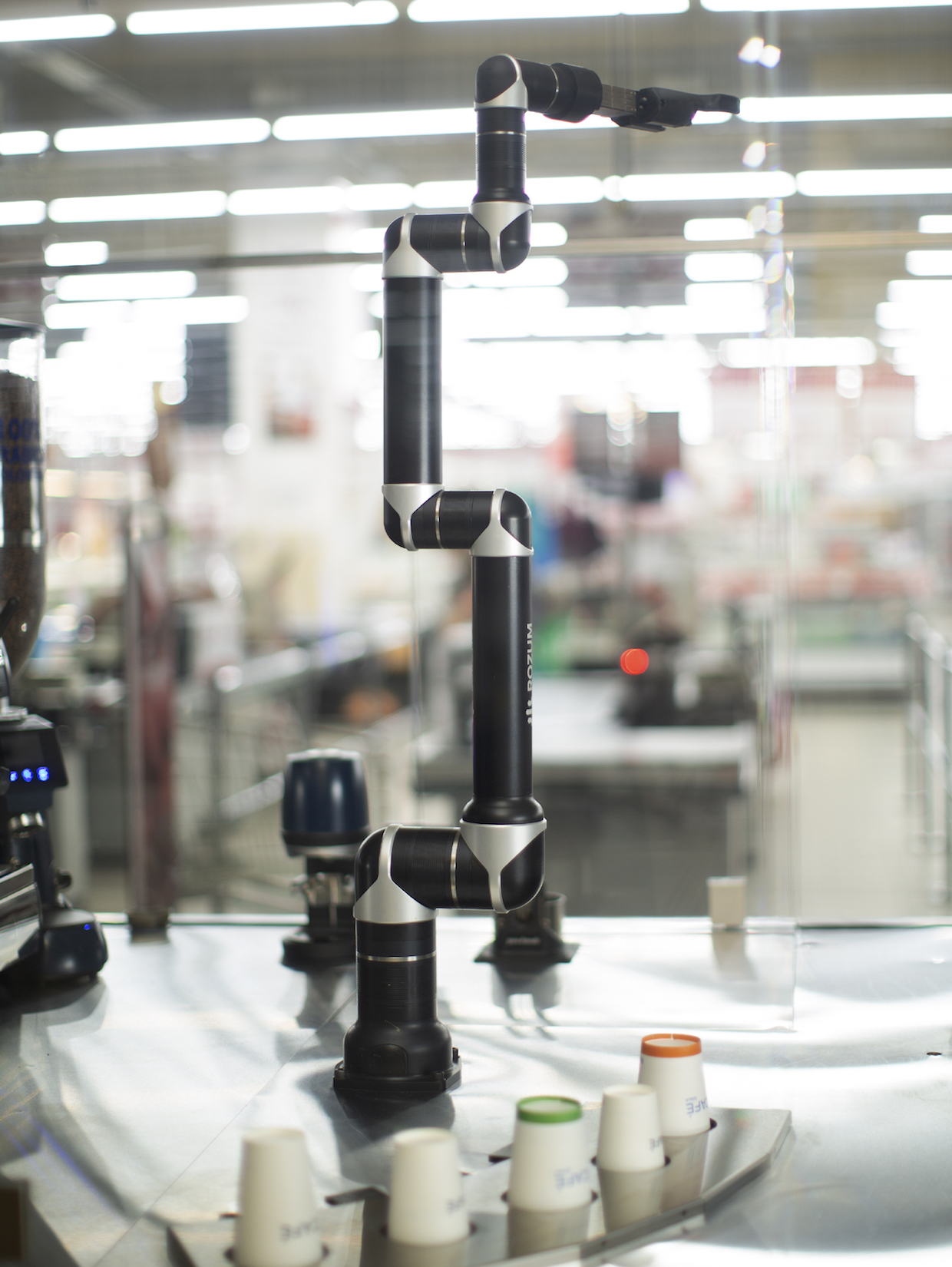 No Rozum robots are serving customers in the United States yet, but Kidron said the company is "working on it." Rozum is also working towards the goals of making the brewing and serving process faster by up to 30%, while adding audio and visual effects to the performance. A standard Rozum Cafe package is priced at $100,000, and a robotic arm alone sells for $22,000.
Howard Bryman
Howard Bryman is the associate editor of Daily Coffee News by Roast Magazine. He is based in Portland, Oregon.