The Australia-based makers of the Delter Coffee Press have revealed the next brewer in what's becoming a line of clear, vertically-oriented manual devices, the Delter Cold Drip Coffee Maker (Kickstarter link).
The new slow-drip — a.k.a. Dutch or Kyoto-style — cold brew device is designed to solve a longstanding barrier, according to Delter Coffee, that has kept the slow-drip method from achieving the set-it-and-forget-it ease to which it has always seemed so close. Its solution is to take things one level at a time.
Some vigilance has always been required when using traditional slow-drip brewers, as the user must periodically adjust a drip valve to ensure a constant rate of droplets as the gravity-induced pressure from a single water reservoir diminishes.
Mark Folker, inventor of both the Delter Coffee Press and the Delter Cold Drip, alleviated this issue in his latest design by doing away with the single large reservoir design and instead utilizing a system of three smaller stacked reservoirs that steadily drip down into each other.
Each of these short cylinders holds 200 milliliters. Carefully calibrated holes centered in their bases each allow one drip per second to continuously pass. As the top two empty, the bottom one remains full, thereby maintaining a steady "pressure head" — that is, the depth from the water's surface to the hole.
"The idea relies on minimizing the pressure head with shallow trays that stack over each other," Folker told Daily Coffee News. "Because each tray is shallow, the overall pressure loss is minimized, and secondly because each tray drips at the same time, the result is that the bottom tray essentially remains full until the trays above drain out. Hence the flow rate over the coffee will also remain steady, right up until the last tray itself drains."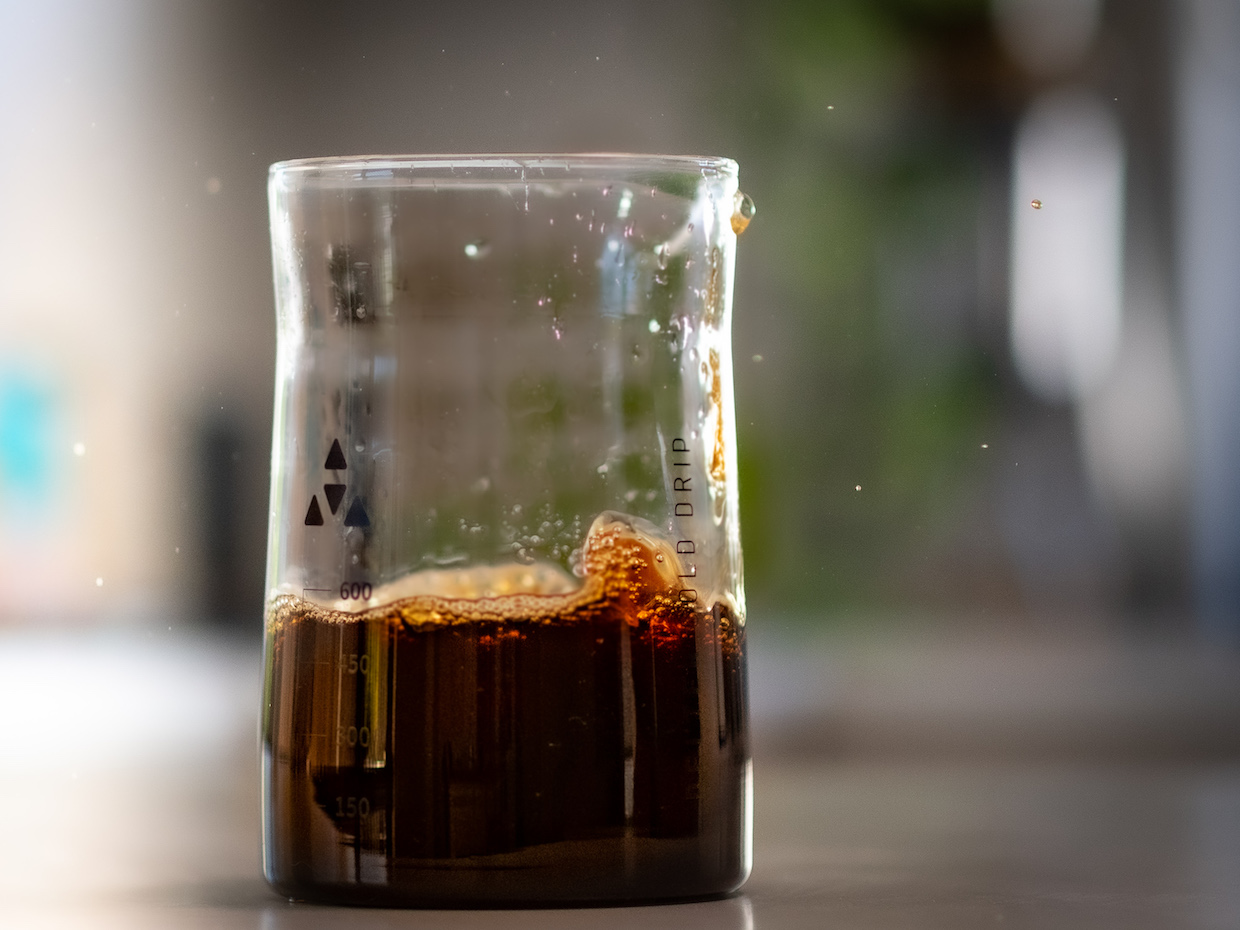 The Delter Cold Drip brewer consists of three BPA-free plastic water containers atop a coffee basket designed to hold 50 grams of coffee with a stainless steel filter held in place by a silicone gasket. The receptacle is borosilicate glass with an optional silicone lid.
Folker, who is also the inventor of the Trinity One brewer, told DCN that the Delter Coffee brand overall is centered around simple and affordable brewing gear that makes specialty coffee experiences more accessible to a wider audience.
"We achieved that firstly with the Delter Coffee Press, combining the best of both worlds in pour over and press styles, and making it easy with no need for scales for measuring out water," said Folker.
Trinity Coffee, meanwhile, is a brand focused more on the premium segment of specialty coffee consumption. Trinity will soon be working towards a goal of minimizing the environmental impact of coffee consumption with an upcoming rebrand and a new device, Folker said. There are also plans to expand the Delter Cold Drip line.
"We also plan to work on some more auxiliary tools," Folker said of Delter. "Grinders, servers, glassware and whatever else our team is inspired to create. The focus will remain on offering something new. That's always essential."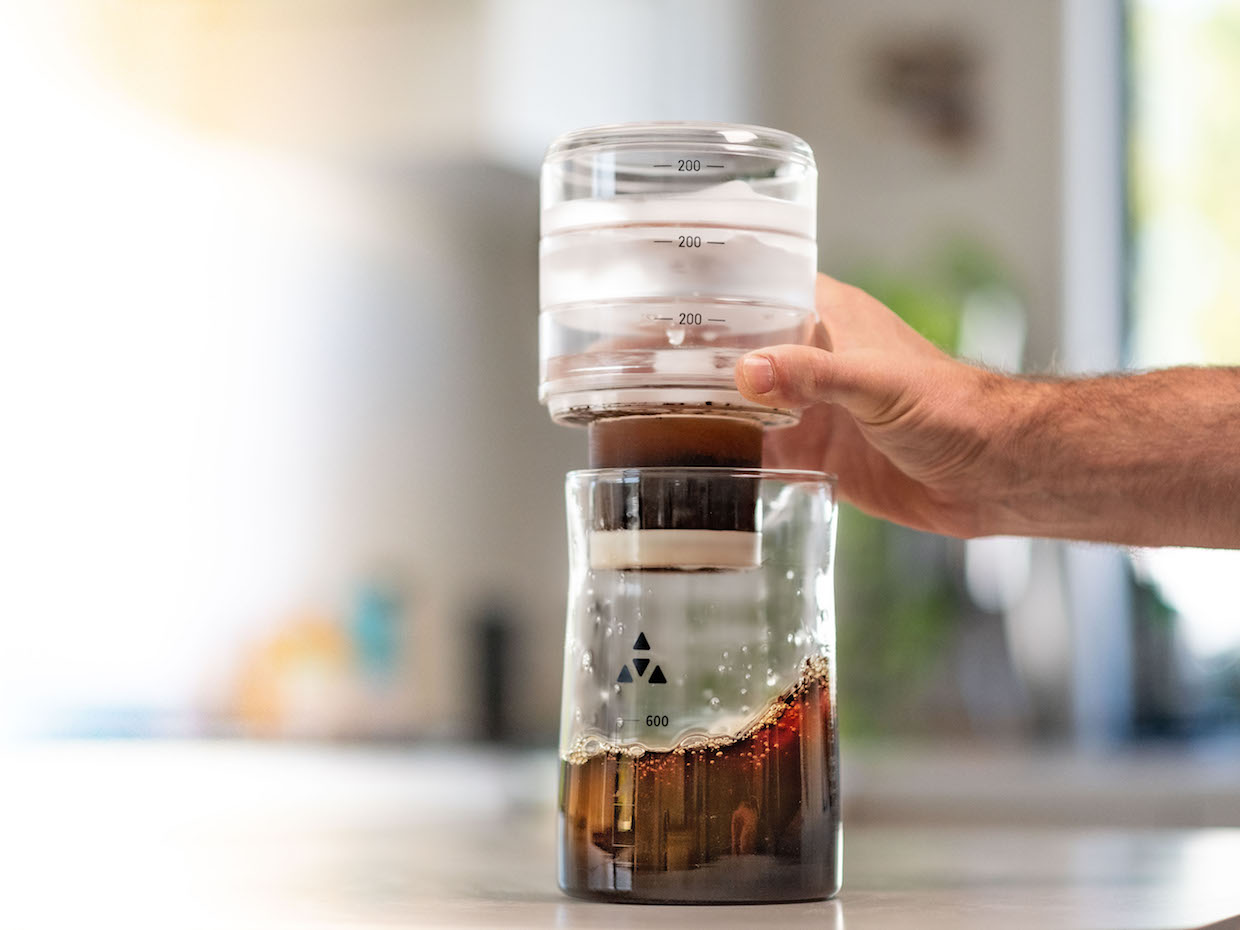 Pre-orders for the Delter Cold Drip brewer are available through a Kickstarter campaign that surpassed its $10,000 USD goal within seven hours. At the time of this writing the campaign had earned more than $70,000 of pledges with roughly a week remaining on the clock. Delter promises delivery of products to backers by October of this year, after which time the MSRP is expected to be $125 USD.
Howard Bryman
Howard Bryman is the associate editor of Daily Coffee News by Roast Magazine. He is based in Portland, Oregon.