Outdoor utility equipment brand VSSL, which specializes in compact and durable kits for campers and hikers, has trekked into new terrain with the launch of its first coffee-focused product, the VSSL Java manual grinder.
The Java adheres to the cylindrical format of VSSL's existing products, all of which are like lightweight pipe bombs of usefulness. Each metal tube designed by the Canadian company has so far included puck-like tins that contain first-aid items, a fire-starter kit, and most recently a flask and two shot glasses for celebrating a peak well summited.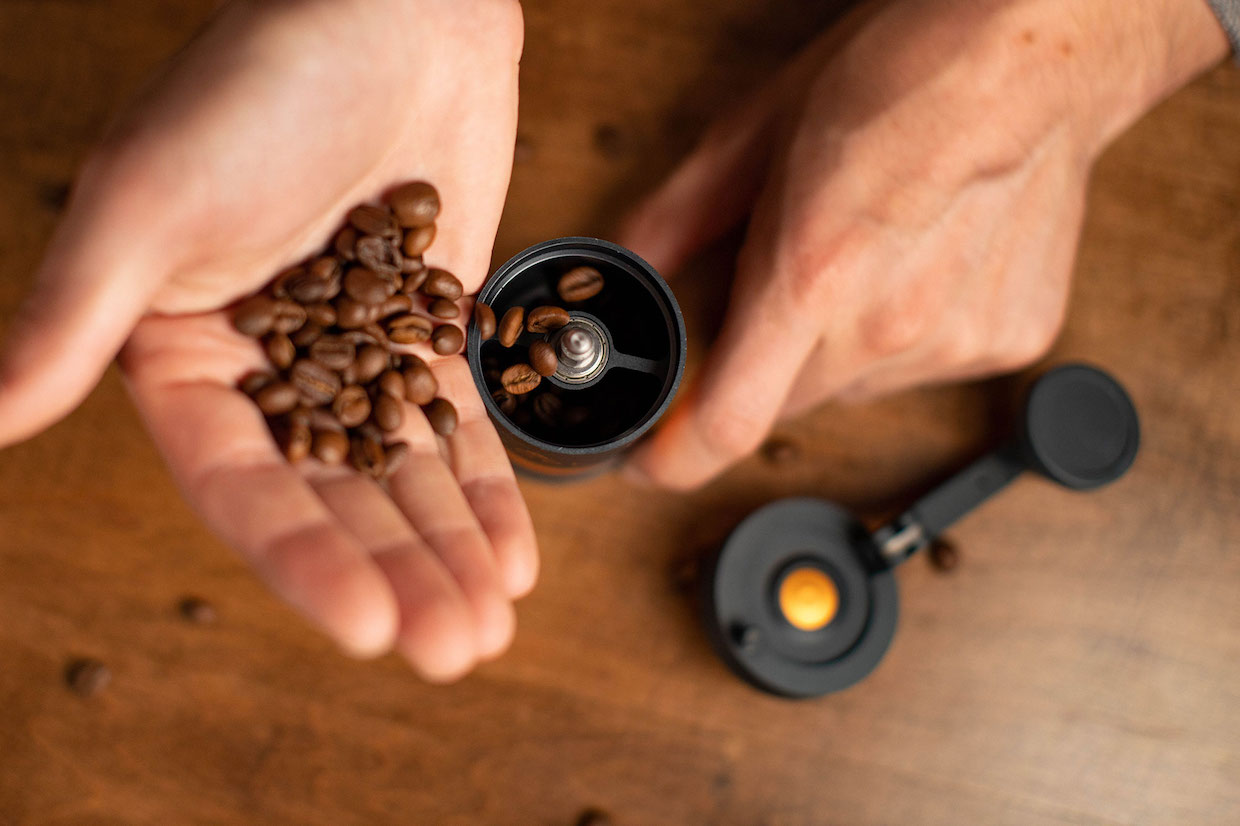 The Java, which has been ripping through Kickstarter to the tune of nearly $170,000 thus far, contains a uniquely aligned manual coffee grinding system centered on 38-millimeter stainless steel conical burrs.
"While our primary VSSLs focus on being 'prepared,' we made a drinking flask so that we could help you celebrate when things don't go wrong, or when you've reached that summit," VSSL Founder Todd Weimer told Daily Coffee News. "And to properly bookend your adventures, I wanted something to help start the day as well."
From Weimer's perspective, the product also caters to the specific demands of outdoors types in terms of durability and weight, while meeting the demands for grind quality among coffee people. The Java weighs in at 360 grams, offers 30 clicks of grind adjustment within an aircraft-grade aluminum body topped with a handle that folds over to form a carabiner clip.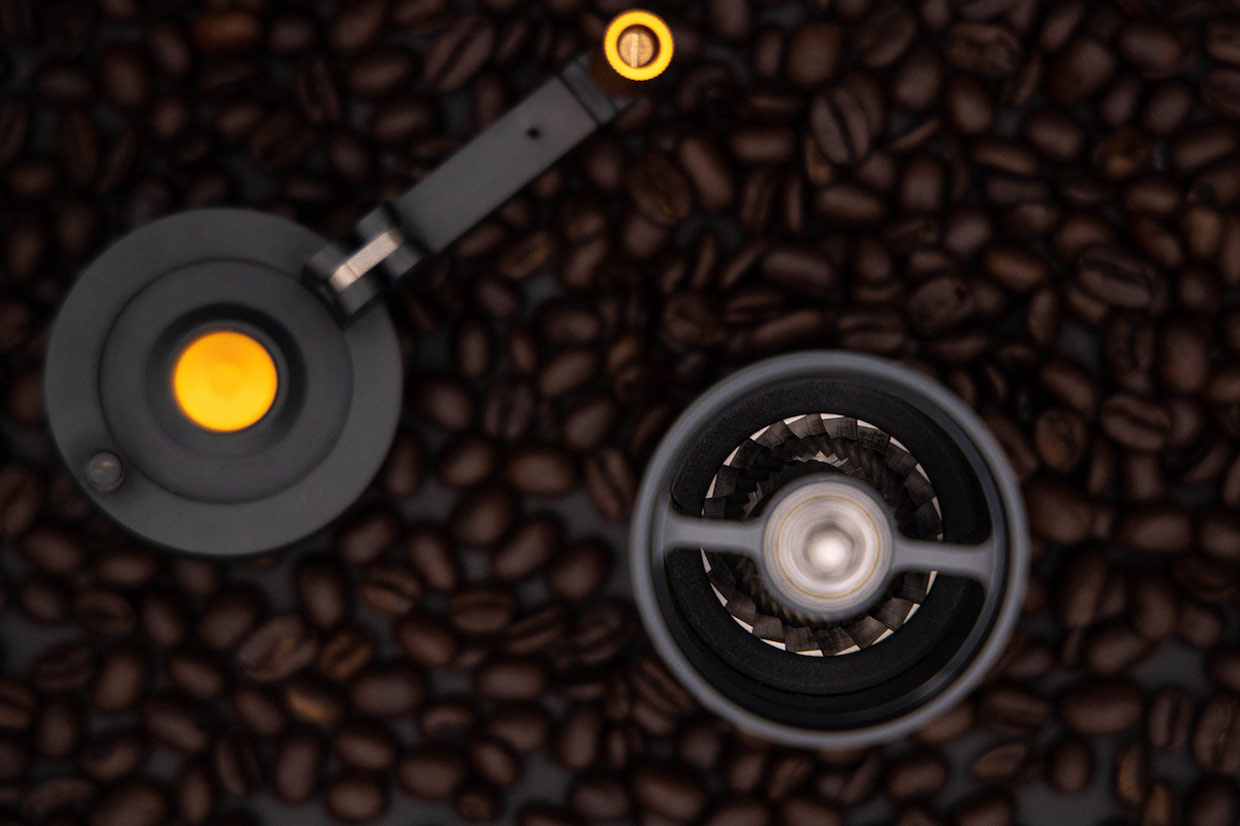 The sealed top assembly of the Java includes an innovative push-button release mechanism that frees the handle-lid assembly to load the beans, and when users crank the handle, rather than drive the axle directly, the entire top ring rotates to drive the axle at its center, with a set of bearings in the top ring promoting smooth, steady motion.
"This is an entirely new mechanism that involves no threads on the end cap, and the end cap essentially works as a frictionless bearing," said Weimer. "So between the perimeter of the end cap, the point where it connects to the axle and the two bearings, you have four contact points that serve as bearings for stabilizing the axle as the user applies force."
Another set of tightly-packed bearings lower down inside the grinder further maintain alignment.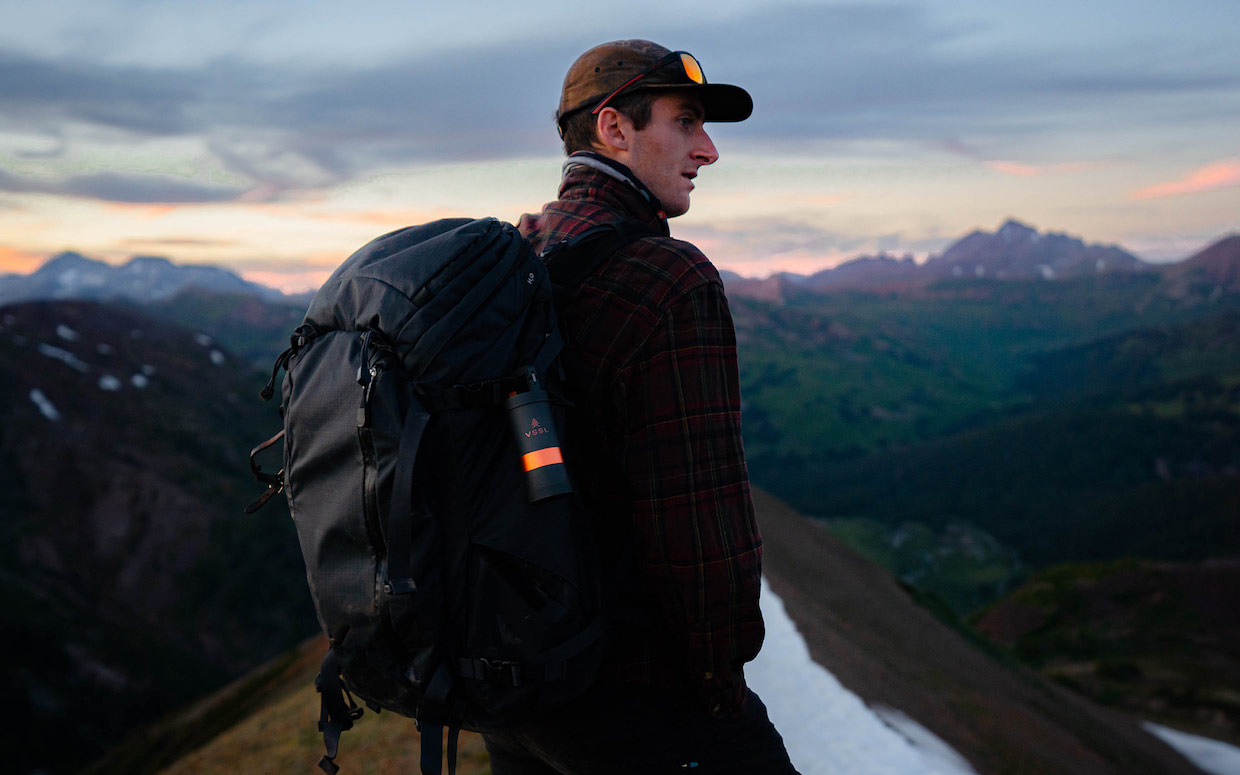 "With our bearing-to-axle tolerance, some force is required to set the axle in place," said Weimer. "This maximizes the effectiveness of the bearings and also helps reduce wobble while grinding. And not only that, some force is required to set our bearings into their housing. These aren't loose either. All these 'little things' add up to greater stability."
After testing burrs made by a variety of manufacturers in Europe and Asia, the company settled on those made by its partner manufacturer in China. As for what happens to the ground beans, Weimer does anticipate adding a VSSL-packed brewer to the lineup at some point.
Said Weimer, "Eventually I want to get to the point where you just need water and beans, and we'll provide all the tools to make coffee happen."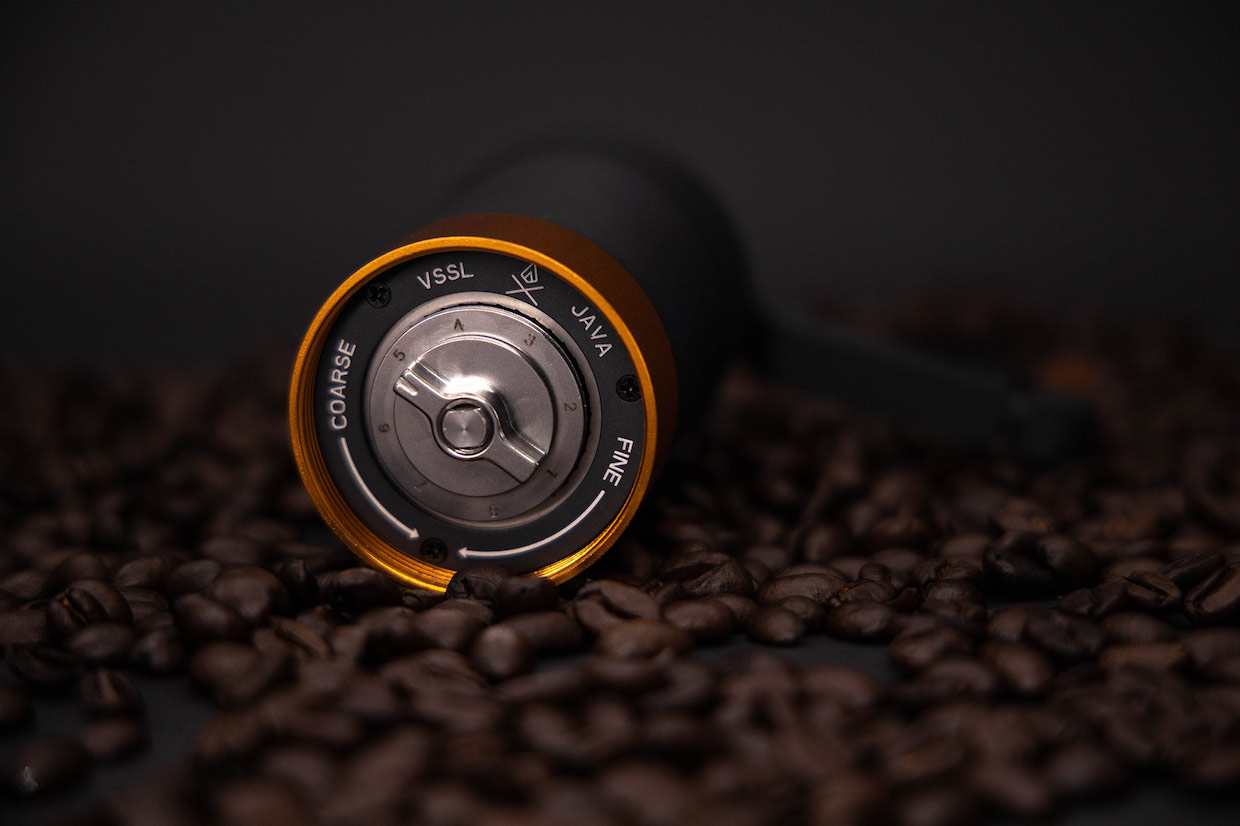 A Canadian company based in Abbotsford, British Columbia, VSSL also maintains a shipping warehouse just south of the border in Washington state. Delivery to Kickstarter backers is slated to begin February 2021, after which the Java is anticipated to launch for retail sales for USD $145 through the VSSL online store.
Howard Bryman
Howard Bryman is the associate editor of Daily Coffee News by Roast Magazine. He is based in Portland, Oregon.