A new mobile coffee company with progressive aims and a donation-heavy business model called Cafablanca is rolling around Southern California, providing pick-me-ups to protesters and nonprofit workers while giving away drinks to others in need.
Run by a biracial queer couple that sources roasted beans from BIPOC-owned Cute Coffee, Cafablanca was originally conceived as a mobile coffee catering company for television and movie sets around Los Angeles.
Today, Cafablanca does prepare drinks on a propane-fueled Astoria lever espresso machine installed on the back of a retro-stylish Indonesian motor scooter, but not just for cast and crew.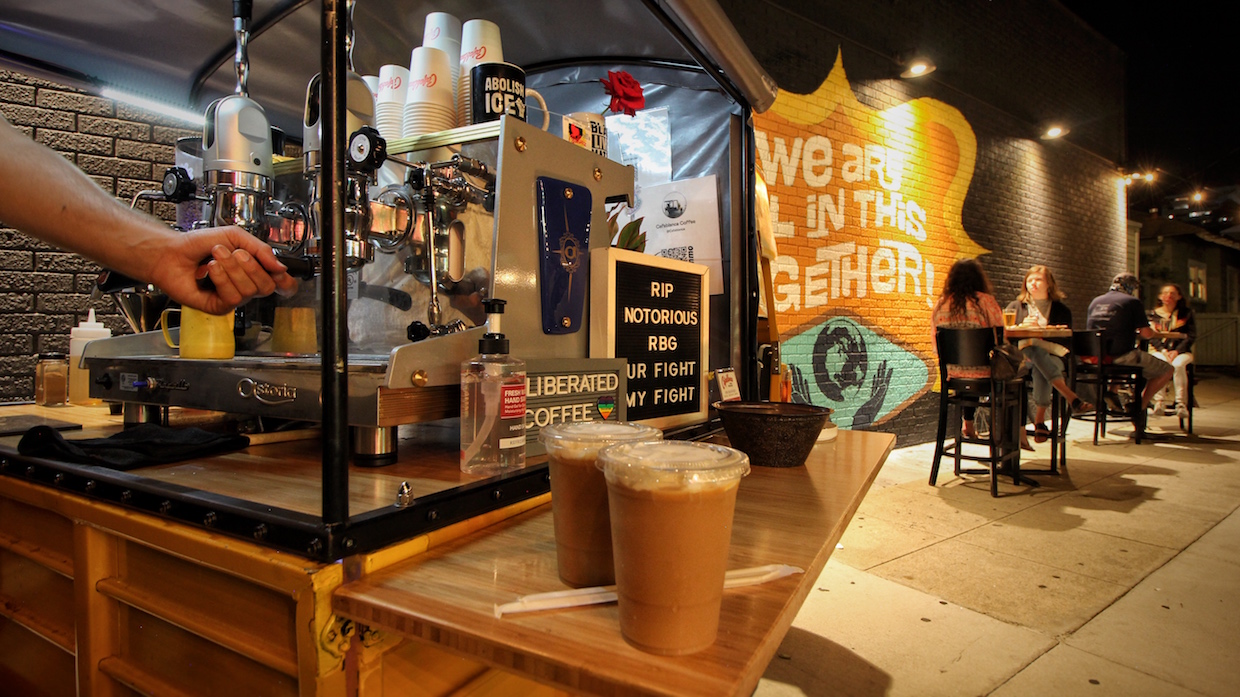 After the pandemic halted all events and most film and television productions, Co-owners Cameron Kude and Juan Fernandez felt compelled by the times to forge ahead with a new vision for the business.
Part of the inspiration came this summer when Kude, a former Portlander, expressed support on Oregon Governor Kate Brown's Instagram when she posted her disapproval of unidentified federal agents abducting protesters off the streets.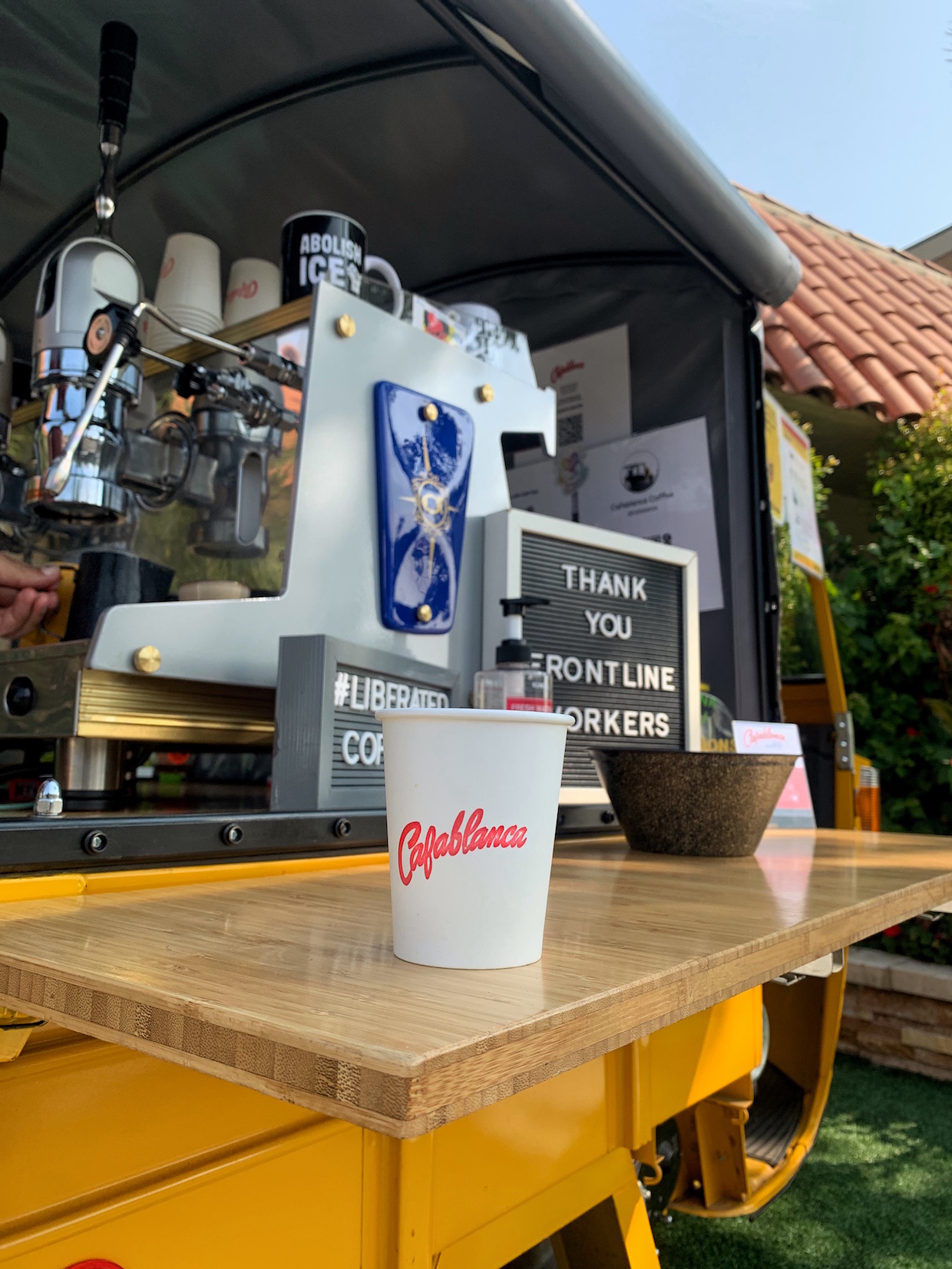 "I commended her in the comments section, which attracted the ire of an anonymous MAGA troll who said something along the lines of 'George Floyd is burning in hell,'" Kude told Daily Coffee News. "I told him he sounded like a nazi, so he followed the link in my bio to my dormant coffee catering business and threatened to ruin me by having all of his followers leave me 1-star reviews on Yelp. Welp, Trump's terrible pandemic response beat him to it — the catering industry was comatose and COVID wasn't going away anytime soon — so I decided to transform my cart from a vehicle for catering coffee to a vehicle for fueling the resistance."
Followers can now track the location of Cafablanca via Instagram in order to score drinks made on the lever espresso machine modeled after the 1960s-era Astoria Rapallo. Its boiler is heated by propane, while a 3,000-watt inverter connected to a system of three car batteries powers the machine's floating water level sensor, as well as its water pump, lights, grinder and device chargers.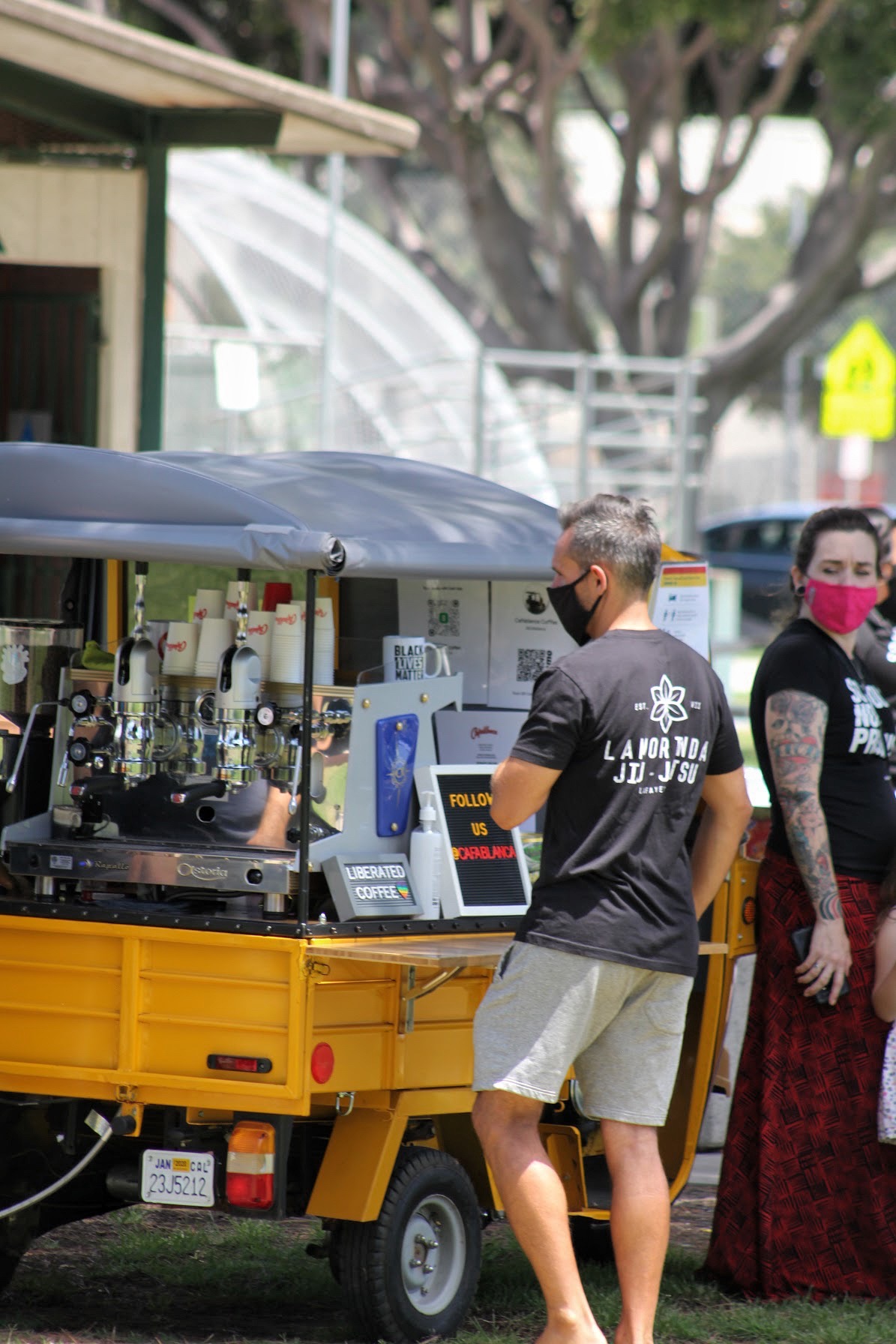 The scooter itself is a model rare in the United States because of its tricky manual transmission, according to Kude. While it runs and is street legal, Cafablanca doesn't actually drive it. The coffee scooter is kept clean and shiny inside the back of a Dodge Sprinter van with a motorized winch that delivers it around town.
Visitors to the scooter bar are welcome to pay what they can, be it market rate, nothing at all or a more generous donation. The money covers the costs of doing business after 20% of all proceeds goes to various social and political causes, according to the company.
Despite the ongoing pandemic, Kude said that with a gradual resumption of film shoots and events in Los Angeles, catering opportunities have recently picked up, as well.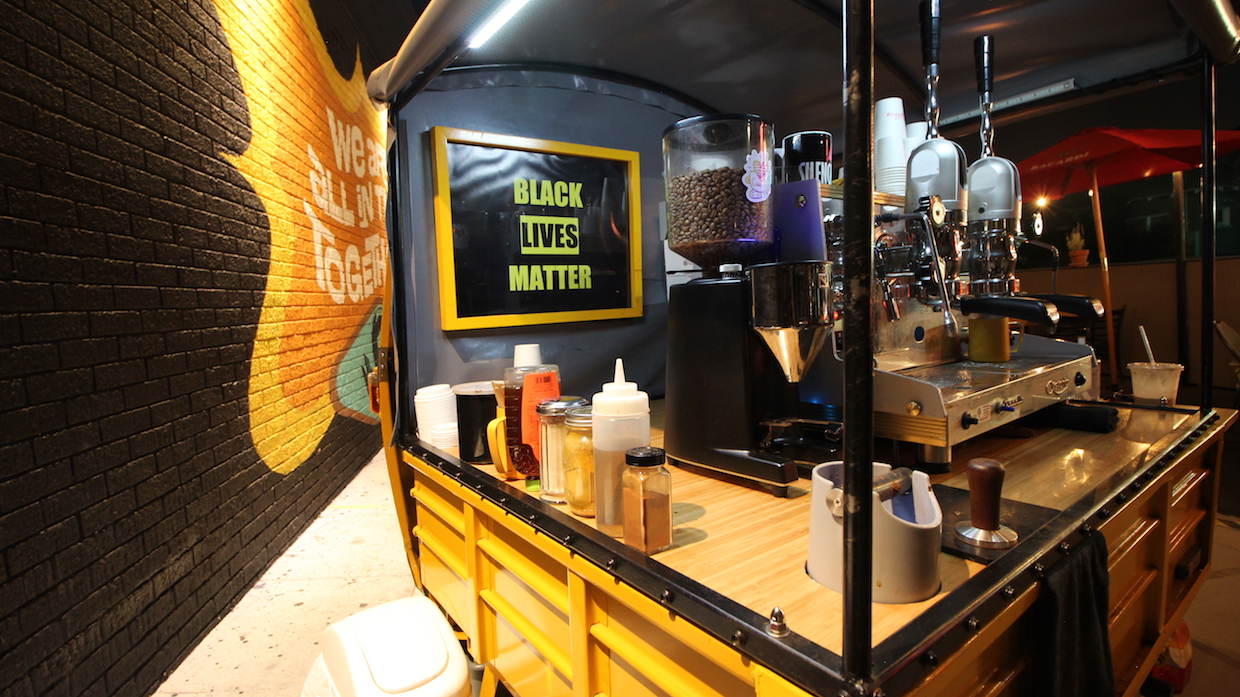 "I'd love to get back to catering film sets full time, or starting a brick-and-mortar, but how long until LA is uninhabitable?" said Kude. "At this point we're more concerned with the future of our planet than the future of our pop-up. We do hope for [a] more functional new normal to set in soon, and we're doing everything we can to make that happen."
Howard Bryman
Howard Bryman is the associate editor of Daily Coffee News by Roast Magazine. He is based in Portland, Oregon.