Outdoor lifestyle photographer, marketing professional and coffee roaster Vince Camiolo has brought one of his favorite subjects into sharper focus with the opening the One Up One Down Coffee Roastery & Caffe in Trenton, New Jersey.
With One Up One Down's 3-kilo Mill City Roasters machine visible behind a retail coffee bar, the new location boasts an abundance of lovingly restored wood surfaces, white upper walls, found objects and 1970s-style furnishings in the space formerly occupied by Trenton Coffee House and Records.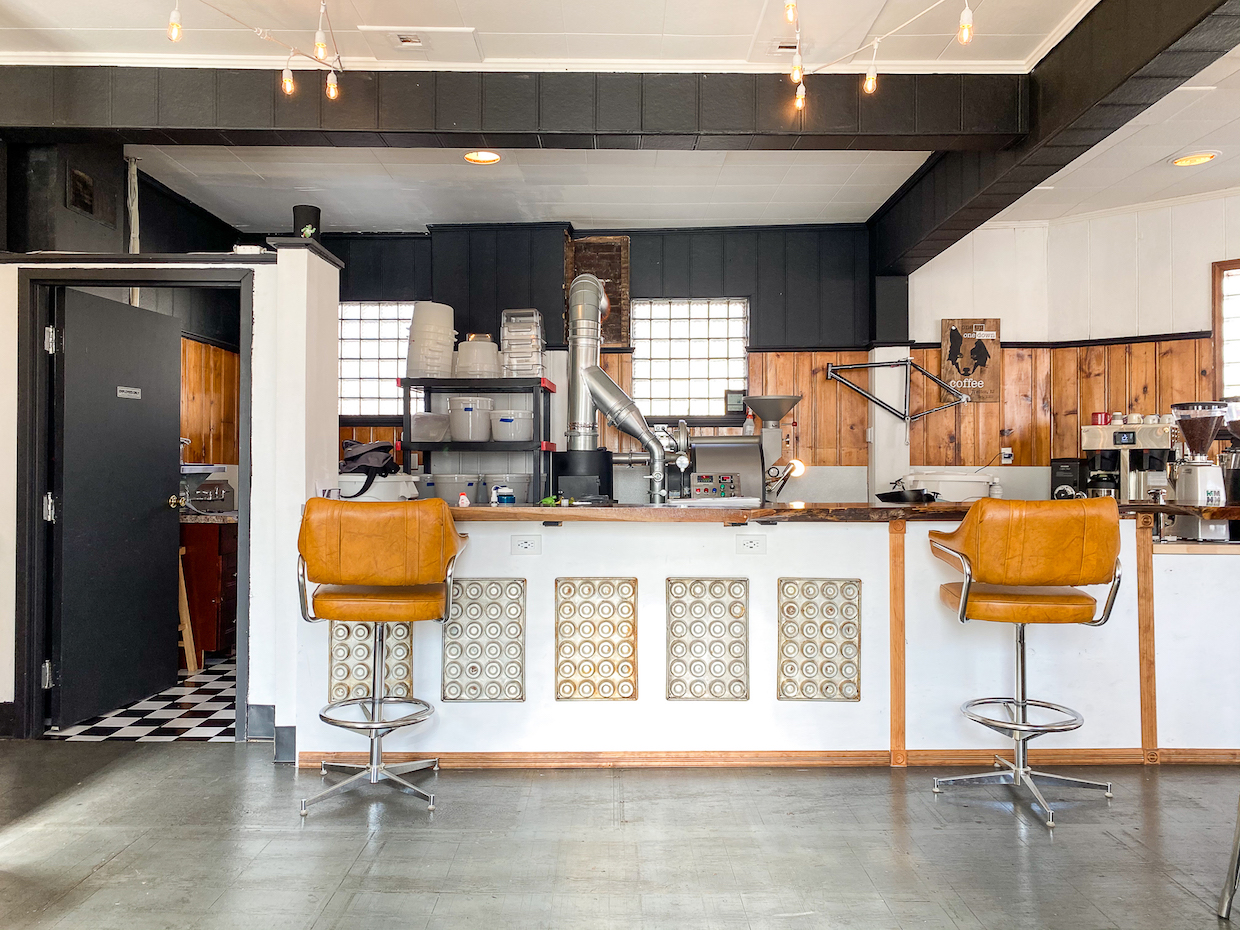 "The space had an unapologetic DIY aesthetic, [a] fervent community of like-minded patrons and a solid coffee reputation," Camiolo told Daily Coffee News. "It was, for all intents and purposes, a punk rock specialty coffee shop. There are few things I love more than punk rock, but that aesthetic was not my vision for a cafe."
With some professional training and production roasting experience under his belt, Camiolo launched One Up One Down in early 2016 as a boutique online subscription coffee club. It meshed well with another passion and frequent subject of Camiolo's photography work — cycling — as One Up One Down made its deliveries locally via bicycle.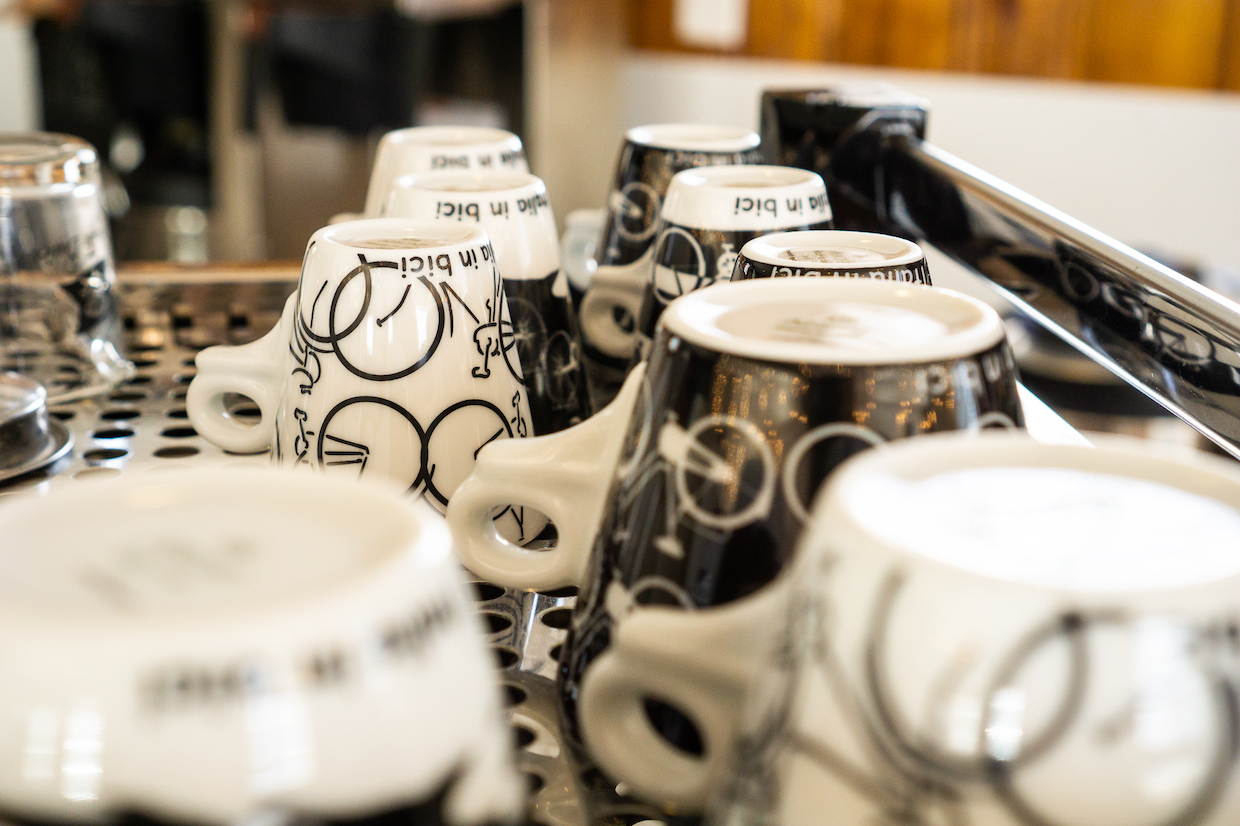 While the coffee business played second fiddle in its first couple years to Camiolo's travel-intensive cycling industry marketing career, it became his primary focus in October 2019, when buildout began on the 1,200-square-foot first brick-and-mortar shop.
"That first strip of paint that I peeled with ease revealing beautiful, warm and bright wood was like a siren song," Camiolo told DCN. "After being lured by the perfect peel, I committed us to the whole space. Of course the rest of the walls were not nearly as easy. For six months we peeled paint."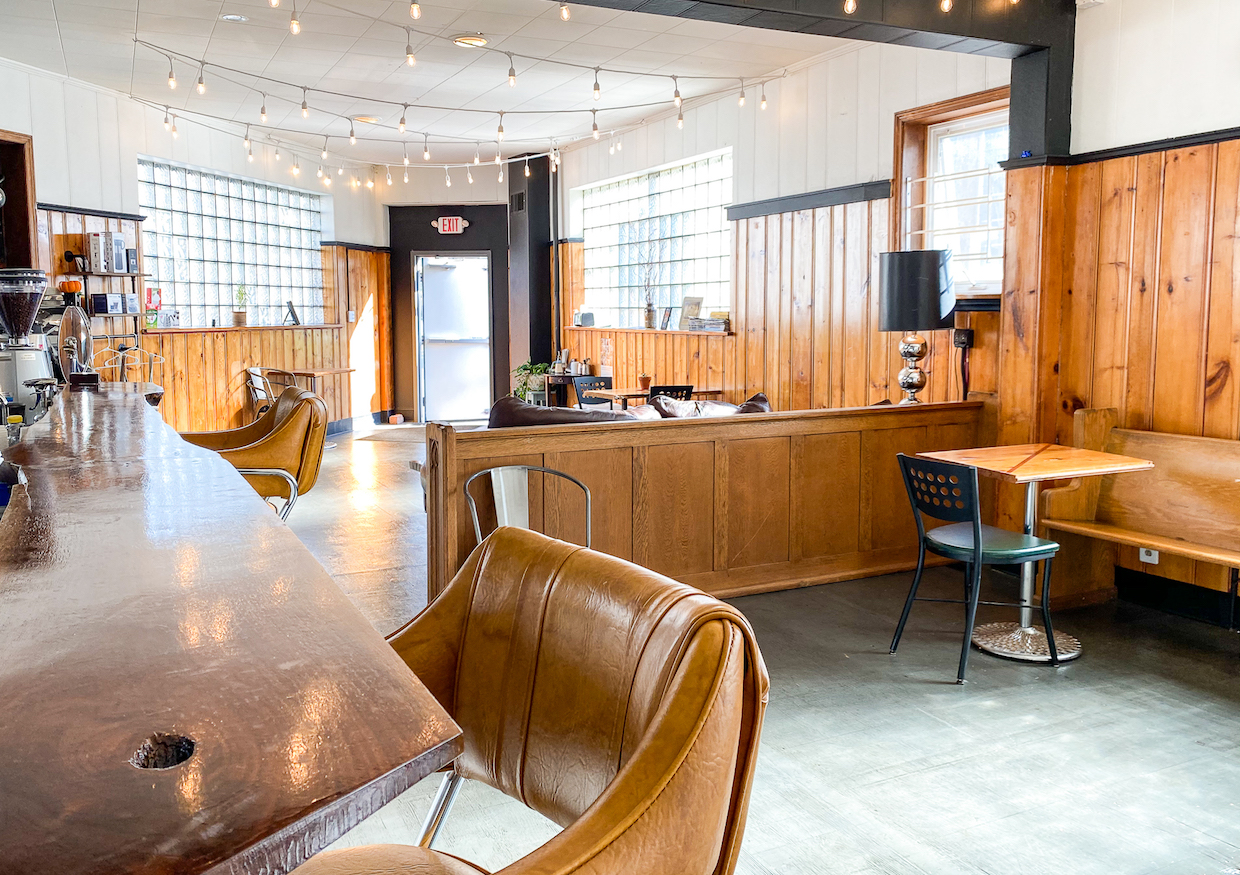 Interior surfaces are now lined in wholesome original pine paneling. The rounded shape of the La Marzocco GB5 machine atop the bar top composed of two pieces of local black walnut is echoed by the round refrigerated case tucked in below. Cafe tables are made from century-old floor planks salvaged from a cabin in the Poconos, and a coffee table at the front of the space features a slab of oak from a tree that was over 300 years old when it fell in a storm, according to Camiolo.
"The shop gets some really nice natural light and we wanted to take advantage of that," said Camiolo, "but I didn't want it to feel like a white, sterile operating room."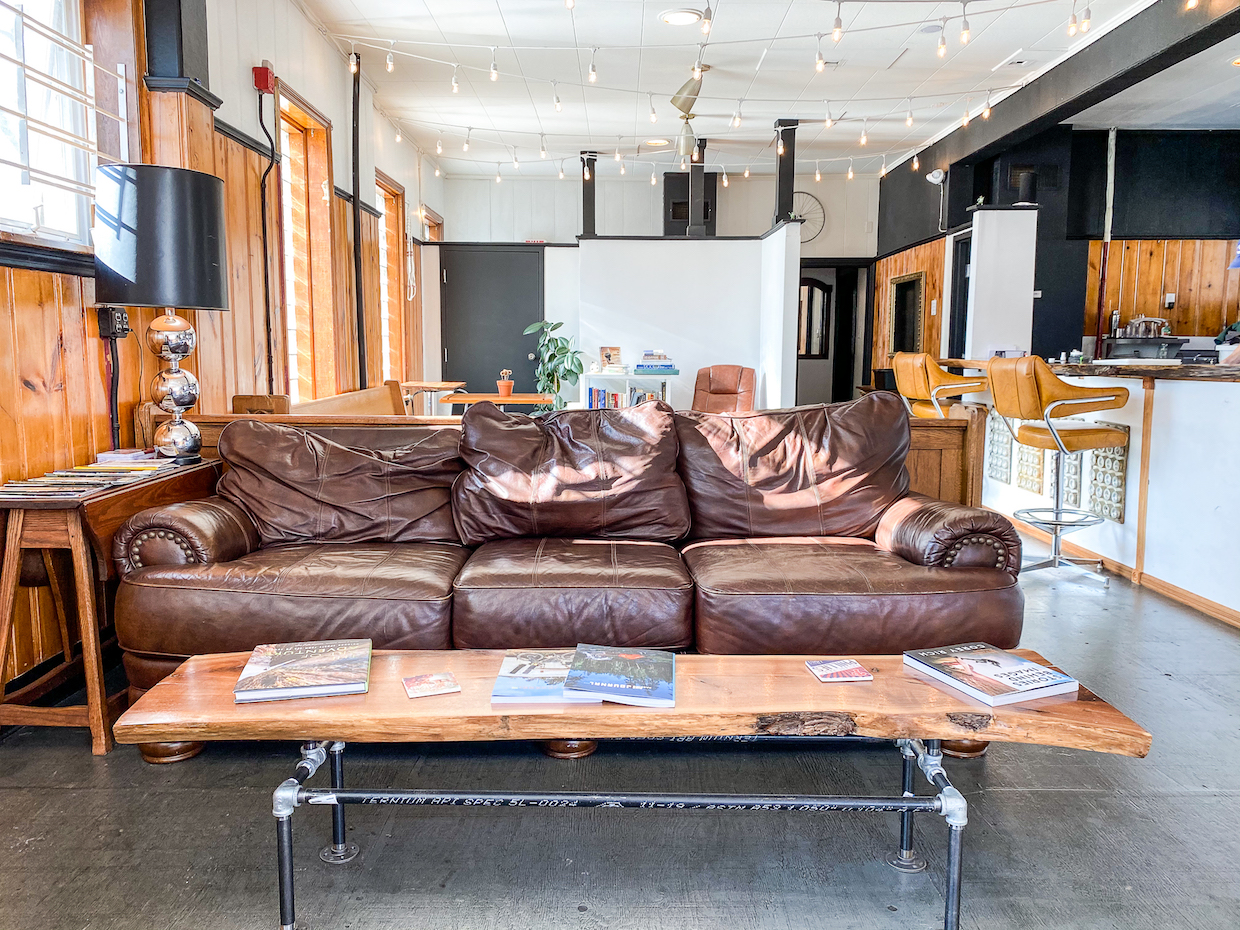 The COVID-19 pandemic naturally delayed the shop's opening, and Camiolo took that time to dig deeper into the roasting craft, evolving past the one-bean-at-a-time boutique model for a broader focus.
"The philosophy behind the brand has always been balance, and we continue to offer that through what most would consider medium-roasted coffees," said Camiolo. "For now we've pushed aside the idea of offering a 'dark roast,' but we attempt to satisfy those customers with coffees that inherently offer what customers might be looking for in a dark roast, like a fuller bodied, earthier or dark chocolate with muted acidity."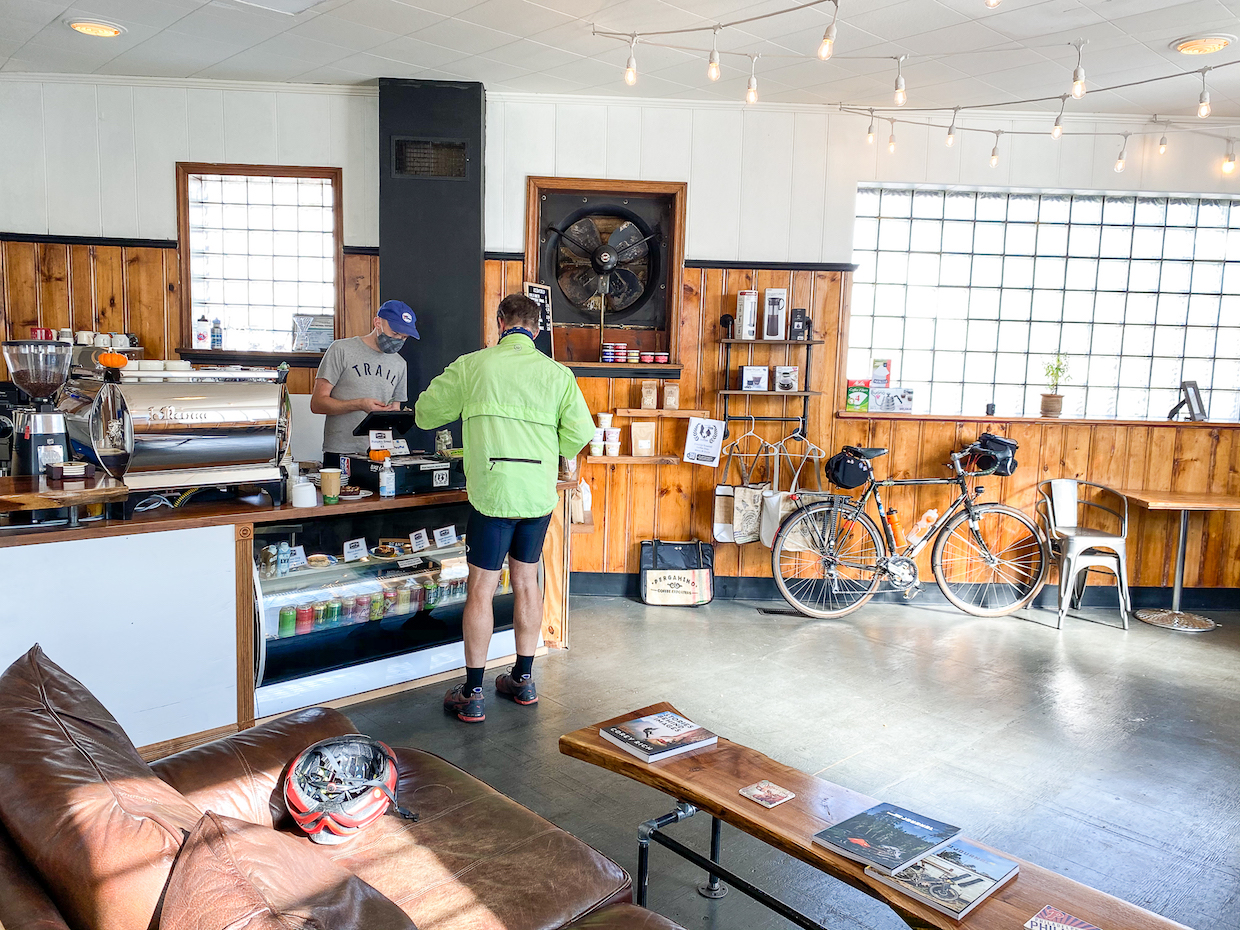 Apart from welcoming a greater share of Trenton through its doors, Camiolo also looks forward to reconnecting with the cycling community in the year to come through One Up One Down pop-ups at mountain bike festivals and races.
The One Up One Down Roastery & Caffe is now open at 748 Cass St. in Trenton.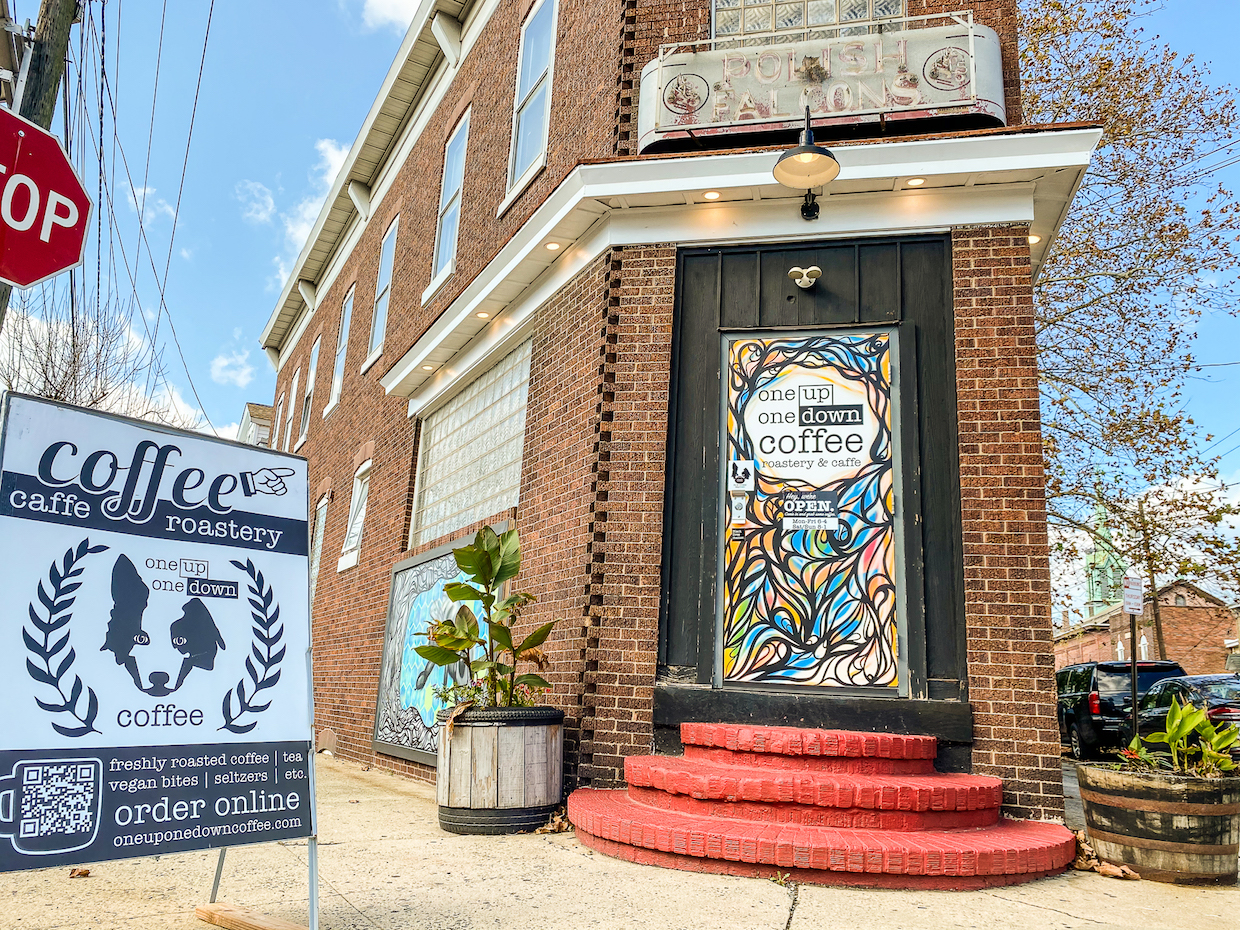 Howard Bryman
Howard Bryman is the associate editor of Daily Coffee News by Roast Magazine. He is based in Portland, Oregon.