A small California-based team of engineers and designers is launching a portable coffee and tea brewing system called Osma that is capable of quickly creating either hot- or cold-brewed beverages through an innovative liquid recirculation system.
The Osma is expected to begin shipping this month, following approximately two years of development and production, according to the Osma team.
The Osma brewer involves a proprietary pod system that includes compostable paper filter pods sourced from a manufacturer in Saratoga, California, although Osma Co-Founder, Co-Owner and CEO Joey Roth told Daily Coffee News that a reusable steel and silicone pod is also in development.
Within the roughly 1-2-minute brew cycle, water from the container at the top of the device is driven down and back up through the pod by a small electric pump that is powered by a rechargeable battery. The liquid flows either continuously or intermittently, according to recipes designed by the user in an associated smartphone app with a Bluetooth connection.
The flow strength provided by the pump, along with the resistance provided by the filter and by the coffee or tea, provides a slight build-up of pressure that increases the extraction efficiency, resulting in a brew returning to the top container that's similar to what an inverted Aeropress might yield, according to Roth.
"The difference is that once the coffee passes through the filter and back into the cup, the pump continues to cycle it repeatedly through the coffee until it reaches desired extraction," said Roth. "As the coffee blooms, the pod becomes more constrictive of the water flow, and pressure in the pod climbs gently. This pressure, in concert with the continual cycling of coffee through the pod, greatly speeds up the extraction of both water soluble and water insoluble flavor and aroma compounds. Intermittent immersion steps also contribute to our extraction."
The device does not heat or cool the brew. Temperature depends on the water added by the user, which can be anywhere from ice-cold to 210°F. A single charge of the portable brewer's rechargeable battery lasts for about 20 complete brew cycles, according to the company, and its biodegradable, Forest Stewardship Council (FSE) certified sugarcane fiber pods are available empty, for use with any coffee or tea of the user's choice.
Said Roth, "Empowering our users to experiment with and develop recipes for their own favorite coffees is a core tenet of this product."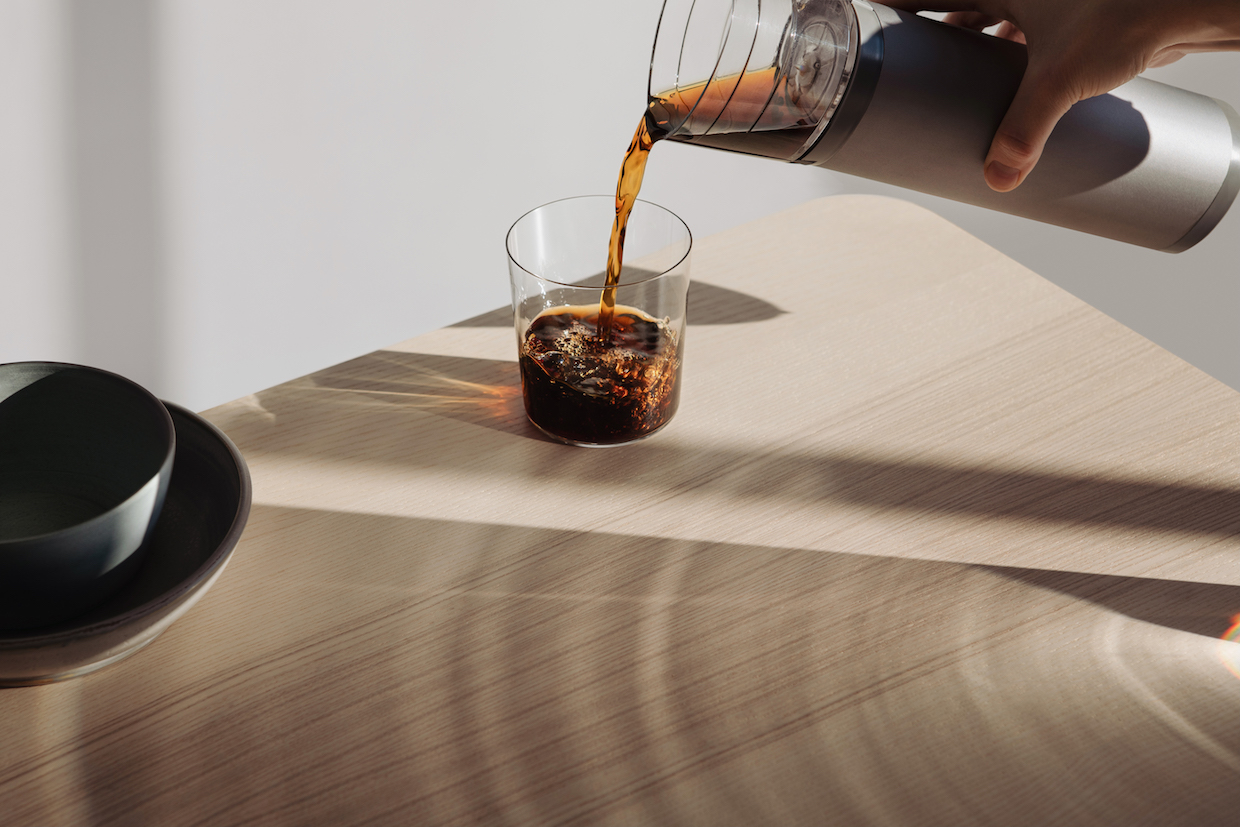 Sealed, brew-ready pods are also available loaded full of beans roasted and ground by San Jose-based Chromatic Coffee, whose co-founder and president Hiver van Geenhoven contributed to the R&D of the Osma.
"They're relentlessly creative and experimental as well," Roth said of the roasting company. "While we plan to build Osma into a platform, we see Chromatic not just as our first vendor, but as our partners in development and pod strategy. Hiver and his team of roasters are able to develop and release new, excellent coffees at an impressive pace, and we are building out operations so that new pods can be introduced just as rapidly. This is our focus for the foreseeable future."
Though the Osma is a coffee brewer first and foremost, the company has its sights on a variety of culinary and beverage applications for the device.
"Our patented brew engine, the core of our first product, is remarkably flexible and scalable," said Roth. "We've successfully brewed a variety of teas as well as herbal blends. We've even experimented with mulled wine and other alcohol-based infusions. We're just scratching the surface of what our technology can do, and we have a number of product concepts that build on its capabilities in our development pipeline."
The price for a brewer that ships with 12 pods filled with coffee roasted by Chromatic is $185, and the first production units will begin shipping to customers on Dec. 14. The reusable stainless steel and silicone filter pod is expected to launch later this winter.
Howard Bryman
Howard Bryman is the associate editor of Daily Coffee News by Roast Magazine. He is based in Portland, Oregon.