Sustainability-minded Cafe ZunZun has brought its new Loring S7 Nighthawk roaster online and will soon be greeting guests inside a  conscientiously designed building in Cypress, Texas, just outside Houston.
The result of a collaboration with design and construction firm Ecosteel, the shape of the building is intended to recall the zunzuncito — commonly referred to as the "bee hummingbird" — which is the smallest species of bird on earth, found only in Cuba.
The bird is a symbol of the company's support for the protection of migratory birds and bees, especially those endangered by deforestation and other problems caused by industrialized agriculture, according to Cafe ZunZun Co-Owners Joel Castellanos and Pascale Petronin.
"The designer/architect got inspired by the story of the ZunZun bird, and designed this unique V-shape roof representing the wings of a bird, with the roof gutter sticking out like a beak," Castellanos told Daily Coffee News. "When raining, water falls out like a fountain in the planter, symbolizing the pollination of flowers that ZunZun birds are known for."
Originally a home-based company operating under the Texas cottage food law, the company started with 1- and 2-pound Sonofresco roasters, focusing on organic beans for farmers markets and local deliveries. Demand for local delivery has remained strong through the COVID-19 pandemic, and now ZunZun's production wingspan, as it were, will stretch considerably further as it flutters up into the 7-kilo-capacity Nighthawk.
Said Castellanos, "We chose a Loring roaster because we like the outcome of air roasters, and selected it for its energy efficiency as much as roasting quality, in par with our eco-friendly approach."
The roughly 2,000-square-foot home base in Cypress includes an 800-square-foot area for the roastery and a 1,200-square-foot retail cafe constructed entirely in keeping with the brand's environmental ethos.
Said Castellanos. "Most of the building is made of recyclable material, [including] outdoor wall panels, wood cabinets, quartz countertops, etc., making it a non-invasive construction."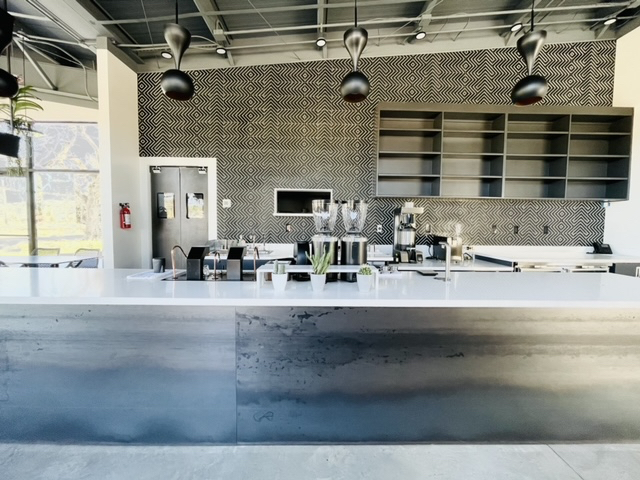 Under sleekly molded pendant lights in the clean, modern-industrial environment, a black 2-group Mavam espresso system is installed, flush with gleaming white quartz countertops. A Marco Mix water boiler system will assist with a variety of manual brewing methods. There's also a spacious outdoor patio.
Roasting for local deliveries and online retail is launching this month, with beans being packed in the company's newly redesigned packaging. The Cafe ZunZun coffee bar will take flight with curbside service and outdoor seating next month.
Cafe ZunZun is located at 12716 Telge Rd in Cypress, Texas.
Howard Bryman
Howard Bryman is the associate editor of Daily Coffee News by Roast Magazine. He is based in Portland, Oregon.