An unlikely specialty coffee complex has emerged in the small city of Gainesville, Texas. Combs' Coffee has converted an 8,500-square-foot Coca-Cola bottling plant into a fully solar powered coffee and cacao roastery, quality control and training facility, and green coffee repository.
Combs and partners are also now the owners of the entire 5-acre lot on which the building stands, including some 60,000 square feet of building space. Straight north of Dallas off I-35 near the Oklahoma border, the site also includes an original 19th-century power plant, ice house, creamery, flour mill and scale house.
The 1,500-square-foot Combs' Coffee shop is now open in what used to be the scale house, close but not attached to the roastery. With pallet wood used in the bathroom remodel, shiplap on the ceiling, custom reclaimed furniture by Stash Design and other details around the space, the sense of rustic preservation and creative reuse is pervasive.
"We kept all of the original walls, scales, etc, and focused on using local reclaimed wood, furniture and fixtures," Combs' Coffee Founder and Owner James Combs told Daily Coffee News. "We wanted a clean, modern look, while preserving the character of the building."
Eschewing traditional espresso service, a customized Voga Ground Control Cyclops brewing machine offers multiple brews for service at the bar or through a drive-through window.
"We're using this machine for high-TDS concentrated shots to mimic espresso, except we can batch brew 75 shots at a time in order to keep up with our drive-through," said Combs. "This machine also does our cold brew and batch brew."
An array of 117 solar panels on the roof of the roastery building is currently generating enough energy to power the entire building, including the training area and a forthcoming coffee school, as well as Combs' Coffee's all-electric 6-kilo Giesen and 1-kilo Diedrich coffee roasters, while also charging a 2020 Tesla Model 3 and a 2012 Mitsubishi I-MiEv electric car.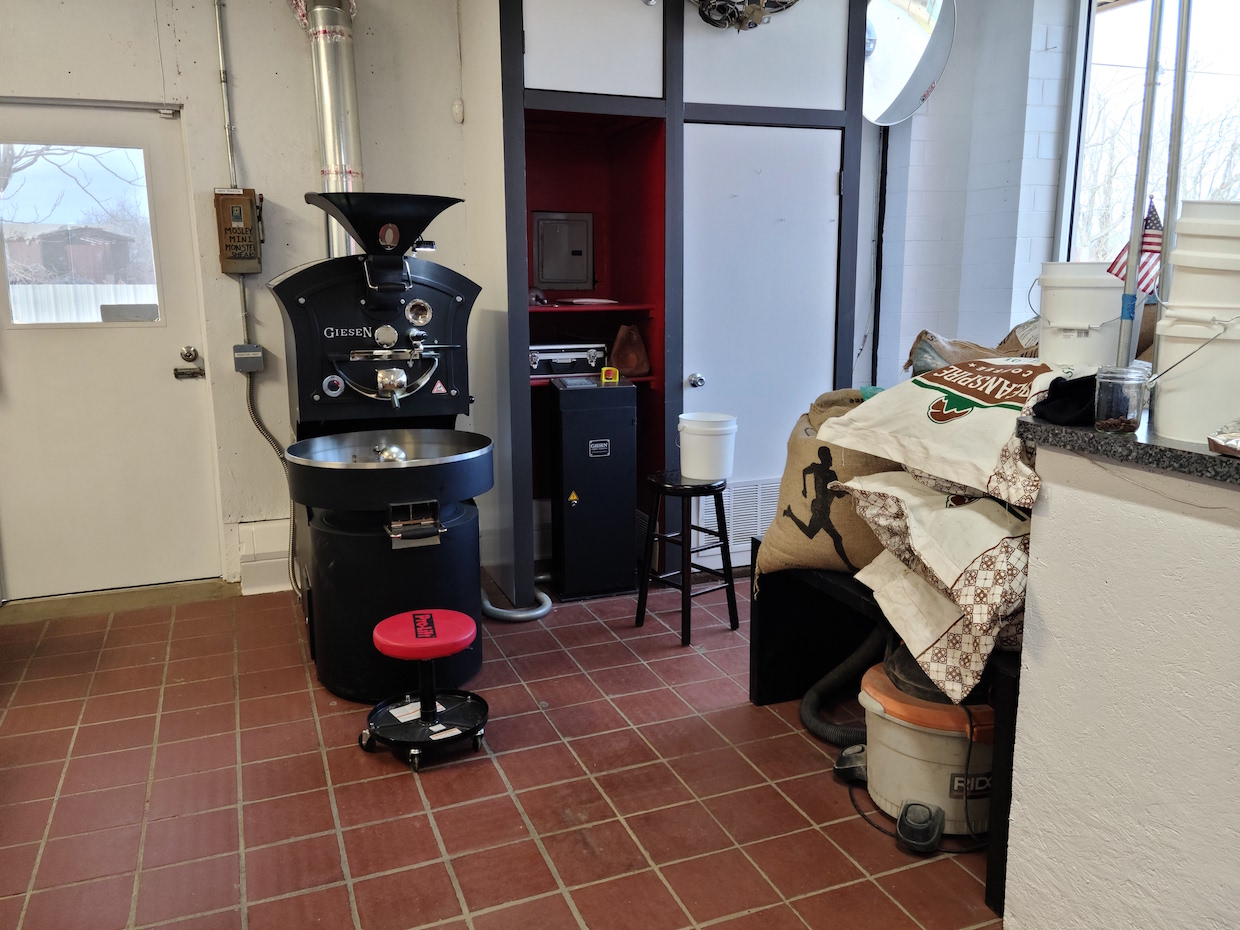 The solar-powered building is also home to the inventory of Combs' Coffee Origins, the green coffee arm of the business that's been selling boxes and bags to wholesale customers as well as home-roasters in amounts ranging from 1 to 50 pounds since 2013.
Meanwhile, renovations are transforming other parts of the sprawling complex for coffee purposes and beyond, each focusing on renovation and reuse.
According to Combs, current plans include a 6-story hotel with as many as 80 rooms and a rooftop bar, a public retail food hall and food truck pod, a local makers market, a car museum, a rock climbing gym, and a hydroponic growing operation.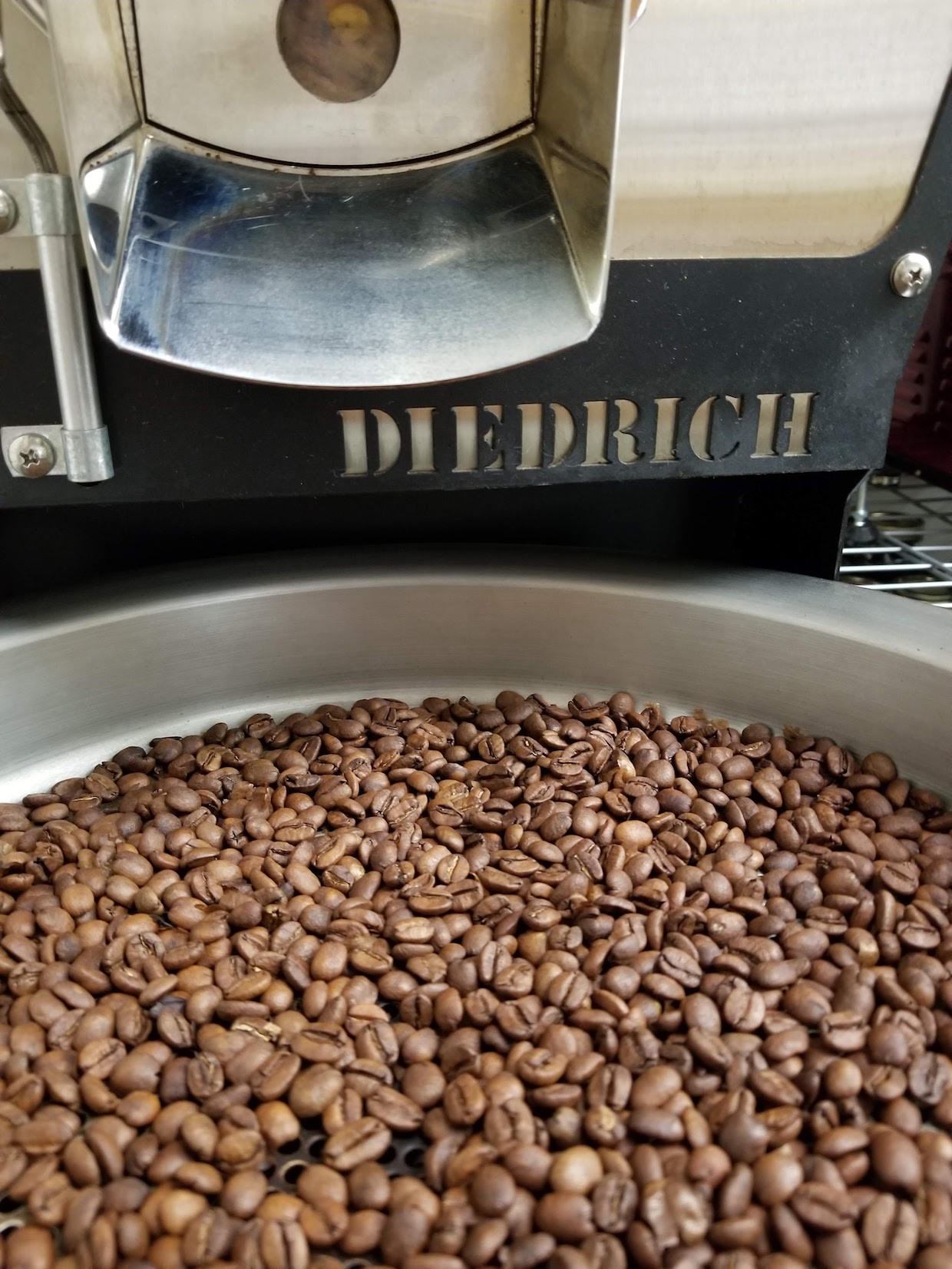 "All of the hotel rooms will have our fresh coffee, tea and solar roasted chocolate in each room," said Combs. "We even plan on growing our own coffee onsite via solar powered greenhouses and rainwater collection."
Combs said the financing for all of the current projects and expansions has come through loans and personal investments, while the original Combs' Coffee retail location in the Northwest Dallas suburb Corinth was "completely bootstrapped."
Powered by the sun since the dawn of its business, the company's first roasts occurred inside Combs' home in 2013. The business later moved its Corinth location, where 17 solar panels powered the coffee shop and a 1-kilo-capacity Gene Cafe CBR-1200 roaster. That location remains up and running even as the Gainesville facility expands.
"We are adding another 22 solar panels to our coffee shop in Gainesville, hopefully by next month," said Combs. "We are also seeking SCA lab accreditation, with hopes to offer SCA and CQI certification classes."
Combs, a licensed Q Grader and ACE Cup Of Excellence judge, said he hopes to run what might be the first Coffee Quality Institute Q Processing Level 2 course in the state of Texas at the Combs' Coffee training center.
The company is also launching a new online retail platform for green coffee, as well as online classes for coffee shop owners, roasters and baristas.
---
[Editor's note: This story has been updated. An earlier version incorrectly identified Combs Coffee Founder and owner James Combs as Jeff Combs.]
Howard Bryman
Howard Bryman is the associate editor of Daily Coffee News by Roast Magazine. He is based in Portland, Oregon.