A new coffee company called Portland Cà Phê opened its first brick-and-mortar shop in Portland, Oregon, this month, with a distinct focus on coffees from Vietnam.
Portland Cà Phê Owner and Head Roaster Kimberly Dam founded the company in July of last year, roasting on the shared equipment at Portland professional co-roasting facility Aspect Coffee Collective. There she focuses primarily on specialty-grade robusta and arabica beans grown in the Central Highlands of Vietnam.
"I personally have always been a proud Vietnamese American woman and take pride in my heritage," Dam told Daily Coffee News. "Portland is known for our bustling coffee scene; however, not many places were roasting and serving Vietnamese coffee beans. I wanted to change that narrative and showcase that Vietnamese coffee can be enjoyed however you prepare your coffee, and does not have to be dark and bitter."
So far sales have been through an online retail store as well a growing wholesale business that got its start with various Vietnamese eateries around town, including custom blends for vegan Vietnamese restaurant Mama Dút as well as for Dam's mother's restaurant, House of Bánh Mì. Though Vietnamese coffees are the stars of the show, Dam does incorporate outside influences for flavorful blends.
"I recently did a house roast for Việt Kiều cart Matta and that was a blend of both Vietnamese and El Salvador coffee," Dam told Daily Coffee News. "That was super fun to develop. At this time my focus is on Vietnamese coffee beans and hope to explore more into Southeast Asian coffee in the future."
The new 1,000-square-foot shop in Southeast Portland gives the Rose City a further taste of Vietnamese coffee culture through drinks such as cà phê sữa đá brewed in traditional Vietnamese phin brewers with coffees sourced through small importers such as Salem, Oregon-based Bon Mua, which was founded by the daughter of coffee farmers in Vietnam.
A standard offering of lattes, cappuccinos and more will also be prepared at the shop using a Fiorenzato F64 Evo espresso grinder and Elektra Kup espresso machine, with the optional addition of flavors including a house-made Southeast Asia-inspired ube syrup. A Mahlkönig grinder crunches the beans for drip batches with a Curtis brewing system.
A bright mural painted by artist Alex Chiu shows the shape of Vietnam in yellow, with informative depictions of its most populous cities. Other yellow elements also cheer the airy and straightforward shop — a color Dam said is indicative of her motherland Vietnam.
Said Dam, "My style in life has always been clean and minimal, so I strived for the same for my cafe."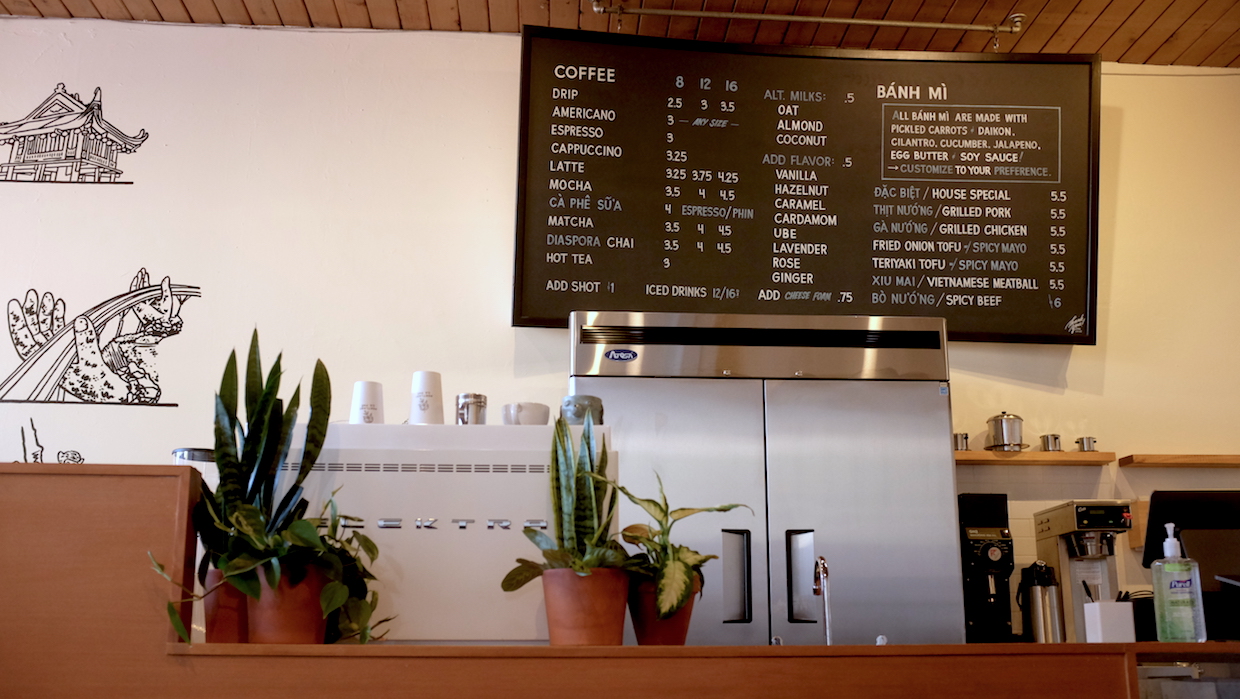 With a foundation of coffee knowledge built through years of working as a barista while in college, Dam started roasting as a hobby last year and was shown the ropes by her friend Mark Wilcox, co-founder and head roaster of dog-rescue-supportive Portland-based company Mutt's Coffee. She then underwent the three-day training program with Dirk Orthmeyer at Aspect and hit the ground running last summer.
Dam hopes she can now help pass the torch of roasting knowledge to others, particularly women of color seeking to learn the coffee business as she did. Portland Cà Phê is scheduled to have a grand opening on April 23.
Portland Cà Phê is located at 2815 SE Holgate Blvd in Portland.
Howard Bryman
Howard Bryman is the associate editor of Daily Coffee News by Roast Magazine. He is based in Portland, Oregon.