A specialty coffee awakening has continued in Wilmington, Delaware, with the opening of the first brick-and-mortar location of Sleeping Bird Coffee Co., a business originally hatched in a mobile coffee truck.
Sleeping Bird Co-Owner Zach DeLong told Daily Coffee News that while Wilmington has a growing number of quality-oriented specialty coffee shops, there's room for at least one more.
"I don't think we are trailblazers, but definitely part of the rising tide of cool shops that will hopefully keep popping up in our area," Delong said.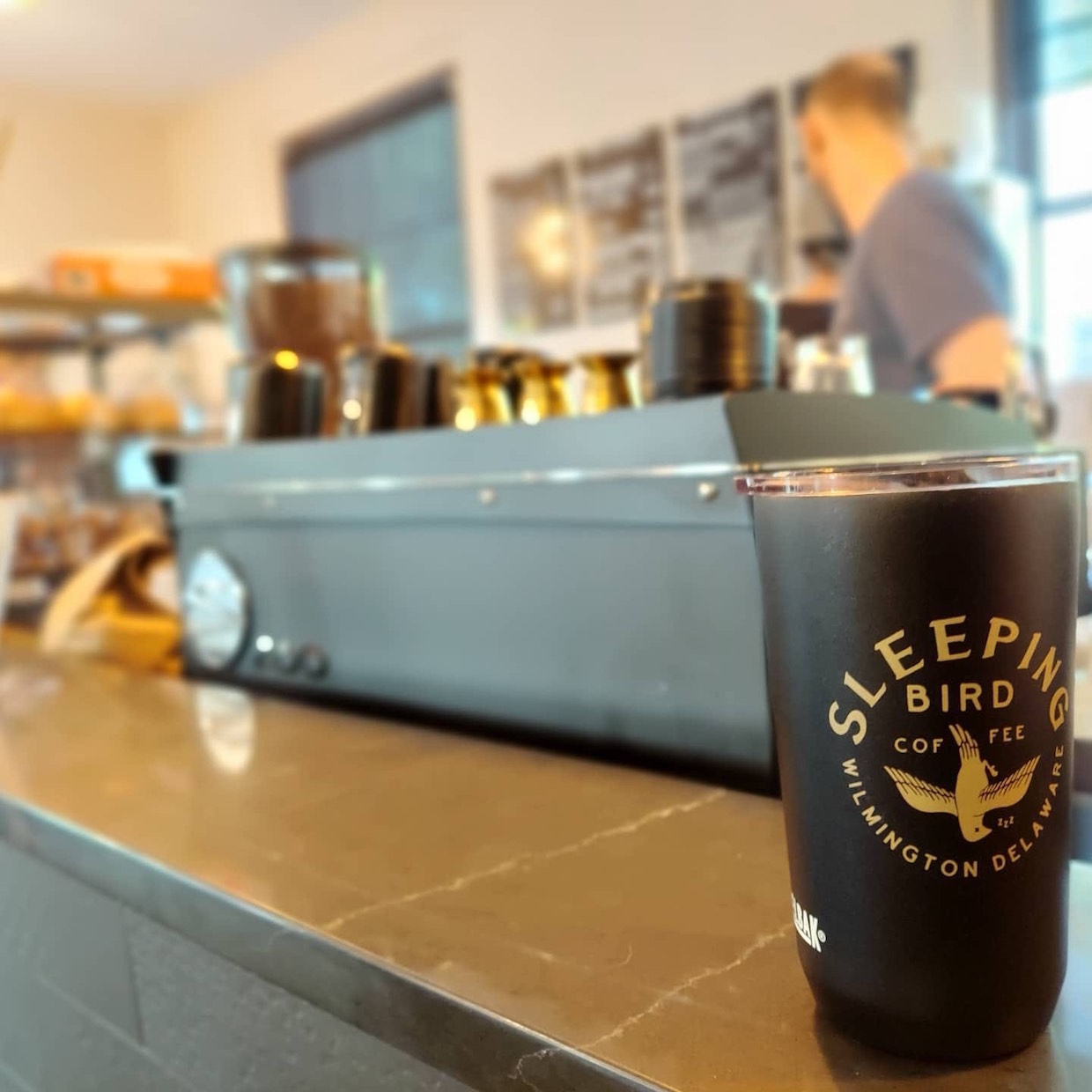 With bird-themed menu items, a golden bird pattern on a black wallpapered statement wall, and of course the avian snoozer at the center of the company's logo, fine feathered friends feature prominently throughout the space. Yet DeLong and co-owner Leigh Ann Tona also hope the motif is not too in-your-beak.
"When we spotted our wallpaper, we decided to base our design around that and make that the only real bird design other than our logo that you'd see in the shop," Tona told Daily Coffee News. "We knew we wanted a lot of black and gold without being too gaudy, and threw in some soft shades of pink to round out the look."
---
Related Reading
---
As neither Tona nor DeLong have backgrounds in design, they were essentially winging it, so to speak, yet they came out pleased with the cohesiveness and overall flow of the shop.
"I really just wanted people to think the space looked pretty," said Tona. "We definitely wanted a spot where customers feel comfortable hanging out with a laptop or a book and I think we have achieved that."
Sleeping Bird prepares drinks on a matte black 2-group Synesso S200 espresso machine atop the shop's black and charcoal quartz countertop. Beans for the shop are roasted by Philadelphia-based Rival Bros. Coffee — birds of a feather, it turns out, as both businesses started as mobile operations.
"Zach really liked that about them," said Tona. "They're a really great company and we really like their product. We have no intentions to roast our own at any point."
Nearly everything on the food menu — which includes biscuits, blondies, sandwiches, salads and a soft-serve —  is made on site from scratch. Eventually the shop plans to expand into evenings with a menu targeted for night owls, though that won't happen today.
"To be honest we can't see past tomorrow at the moment," said Tona. "I would love to add more soft-serve options as well for those later evenings, but our priority right now is training our staff, making sure our menu is perfect, and keeping our customers happy, because that's why we exist in the first place."
Sleeping Bird Coffee Co. is open now at 3111 Miller Road in Wilmington.
Howard Bryman
Howard Bryman is the associate editor of Daily Coffee News by Roast Magazine. He is based in Portland, Oregon.