Longtime specialty coffee professional Dismas Smith is emerging from years in the wings of other coffee companies to evolve his own brand, This Coffee Life.
Though it has been nearly two decades since Smith captured the spotlight as a barista competitor winning the 2002 North American Barista Championship, the Barista Guild co-founder never left the theater.
Smith's coffee life started in 1999 at Seattle's Zoka Coffee then involved several coffee companies throughout the Pacific Northwest, including a six-year stretch that involved numerous titles at Seattle-born Caffe Ladro.
Most recently, Smith has been roasting for Langley, Washington-based Mukilteo Coffee Roasters, while at the same time running a side hustle involving micro batches for friends, family and fans of the intermittently updated coffee culture media outlet known as This Coffee Life.
"I just never really did a whole lot with it. Every once in a while I would do something but it was kind of fits and starts," Smith recently told DCN. "Originally it was going to be like a website where we did videos and interviewed people and did different things, but I realized I'm not that good at doing videos and editing videos and stuff. So it kind of morphed into what I'm doing now."
---
Related Reading
---
The seeds for TCL were planted back in the Ladro days by Smith and coffee colleague Natural Israel, who is now the co-owner of the Seattle roaster, coffee shop and record story Empire Espresso. According to Smith, Israel launched a separate roasting brand called Passerine earlier this year and soon after approached Smith about taking it over.
"To make a long story short, I was like, 'Yes, I'd love to take it over,' and so we moved it from his garage to mine," said Smith. "I think it'll make it all stronger if we can do one brand, so my plan right now is to just merge Passerine into This Coffee Life."
In addition to some wholesale accounts, the deal also transferred a 3-kilo-capacity Mill City Roasters machine being used for TCL production.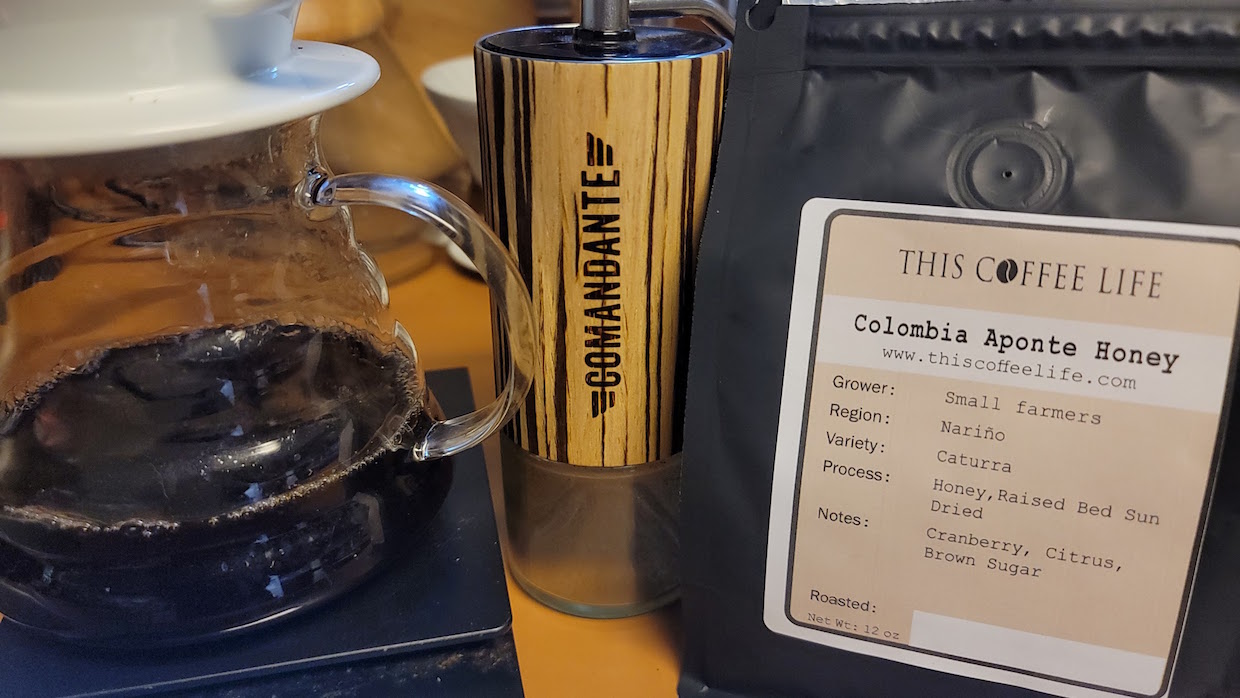 As Smith focuses on the new venture, the longtime coffee pro can also lean on previous accomplishments, including the formation of the SCAA Barista Guild of America (now known simply as The Barista Guild following the merger of the SCAA and SCAE to form the Specialty Coffee Association).
"Chris Davidson and I, we started the BGA when we were working at Zoka. We got the idea from when we went to a barista jam in Norway," said Smith. "That was the year before I won, and it was actually a couple weeks after 9/11. We just saw this community of coffee people out there, and we thought, 'we don't have anything like that here in the United States.' So we came back with this idea of creating a community of coffee people."
Originally Smith and Davidson envisioned a community of baristas in Seattle, although interest and enthusiasm surrounding the idea quickly spread, resulting in BGA parties and events in various cities through independent organizers and industry events.
"It was one of our goals to be able to travel anywhere in the country and get a good cup of coffee, because back then independent coffee shops were a crapshoot; they were just known for having couches that were comfortable and maybe decent pastries and the coffee could or couldn't be okay," Smith said of the group's origins. "Now, even most small cities have one or two coffee shops where they do a good job, they're trained, you can get good cups of coffee, and the whole barista movement has just taken off. It's been fun to think that I've had some small hand in that."
---
Tell us about your new coffee shop or roastery here.
Howard Bryman
Howard Bryman is the associate editor of Daily Coffee News by Roast Magazine. He is based in Portland, Oregon.