Through biological engineering, researchers at the state-owned VTT Technical Research Centre of Finland have transformed arabica coffee cells into something resembling a coffee drink.
Dr. Heiko Rischer, principal scientist and research team leader of plant biotechnology at VTT, told Daily Coffee News that for the recent proof-of-concept experiment, the team started with cells derived from a Coffea arabica specimen of unrecorded provenance to serve as a model.
At the research center, scientists established coffee cell cultures in a laboratory and transferred those to bioreactors that generated additional biomass — i.e. physical coffee material.
After an analysis of the biomass, scientists spread it on a tray and roasted it in an oven in order to brew cups of coffee for evaluation by VTT's trained sensory panel, who found that the lab-derived cuppa bore "similarity to ordinary coffee," though there was room for improvement.
"We are not experts at roasting, but on our own, we tried creating different roasts in the lab," Rischer told Daily Coffee News. "My favorites were the dark roast because they brought out the flavor more, but we are looking for experts in roasting to help us take it to the next level."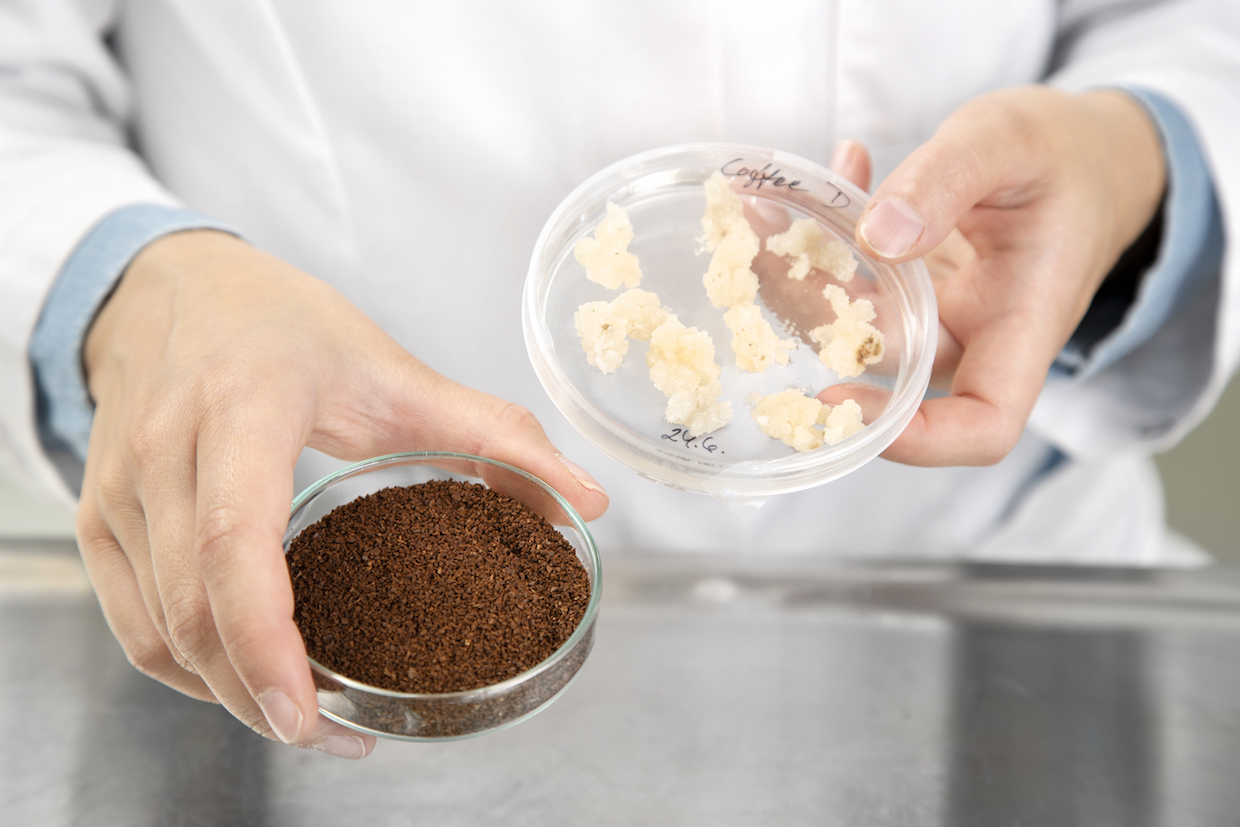 In an announcement of the breakthrough, VTT said that attaining all required regulatory approvals in the United States or Europe while transitioning the procedure from the lab to commercial mass production could potentially be done within four years.
"There is potential for large-scale production. Bioreactors for plant cell cultures of close to 100,000 liters are in operation," Rischer told DCN. "The new process is technically demanding but easier to standardize than the conventional route."
---
Related Reading
---
Rischer said such lab-derived coffee could ultimately serve as a raw material for roasted coffee-like products that might be a reasonable substitute for low-grade, flavored or even conventional coffee. However, specialty coffees with distinctive cup character affected by terroir, post-harvest processing and roasting are likely to remain at the hands of farmers.
"Mass production of conventionally produced coffee involving exploitation of local communities and negatively impacting the environment may not be necessary anymore," Rischer said. "Instead, demand for local specialties may be increasing — i.e. farmers could completely concentrate on quality and ask for fair prices in return. This is already an existing trend."
Howard Bryman
Howard Bryman is the associate editor of Daily Coffee News by Roast Magazine. He is based in Portland, Oregon.