For centuries, coffee has been grown between two somewhat arbitrary lines above and below the equator. The stretch between roughly the 23.43°S and 23.43°N parallels — also known as tropics of Capricorn and Cancer, respectively — is also often referred to as the "coffee belt."
Countries with large swaths of land within this boundary — Brazil, Colombia, Ethiopia and Vietnam, and dozens more — have historically dominated the production of coffee that then travels to points farther north or south for consumption.
Yet what happens when we consider the artificial nature of these boundaries? Is it possible to grow coffee outside of these latitudinal restraints?
The short answer is yes. With reasonable conditions, a coffee plant could grow inside a home anywhere in the world. In one extreme example of how coffee growth in controlled conditions is feasible, South Korea's Paldang Coffee Farm has maintained some 800 coffee plants for more than a decade within greenhouses at roughly the 37°N parallel.
Yet commercial coffee production continues to take place almost exclusively within the coffee belt, where consistently better conditions for temperature, light and rainfall promote proper development of fruitful coffee plants.
Thus, it may not be advisable to grow coffee in the potato fields of England. But what if we step outside these lines just a little bit? An increasing number of groups have been exploring this question — particularly with an eye on commercial cultivation — and some answers are to beginning to emerge.
Coffee Fields in the United States
Growing coffee in the U.S. is not new. Hawaii has been harvesting berries for more than a century at roughly the 19°N parallel within the coffee belt, finding broad commercial success along the way.
A more recent example of coffee cultivation has been taking place in California over the past decade, where the private group Frinj Coffee has been leading a network network of farmers and finding encouraging results regarding quantity.
This has taken place in the hills near Santa Barbara at roughly the 34°N parallel, where there is about 17.7 inches (450 millimeters) of annual rain and periods of low temperatures from November to April. Such conditions and associated costs are likely to challenge cultivation on a large scale.
One more interesting coffee cultivation destination has recently emerged from the continental United States, at a point that's even closer to the coffee belt at about the 28°N parallel: Florida.
Understanding the Needs of the Coffee Tree
Worldwide, the two main coffee species cultivated for commercial consumption are Coffea canephora (robusta) and Coffea arabica (arabica). With robusta preferring hot and wet climates and arabica favoring milder climates, arabica tends to be the focus when cultivation is considered outside the coffee belt — i.e. farther away from the equator.
Originating in the mountains and forests of Ethiopia, the arabica species is cultivated in dozens of countries. Over the years, hundreds of varieties of this plant have emerged through the hands of breeders, farmers or by nature itself.
Each variety has some unique characteristics such as size, productivity, resistance to drought, nutritional needs, resistance to pests and diseases, resistance to low temperatures, quality, and more. Some of the best-known varieties are Caturra, Bourbon, Gesha, etc.
Here I'd like to explore some basic components of arabica cultivation and how it might look in or alongside the citrus groves. Keep in mind, variability is to be expected here, especially given the unique conditions of the Sunshine State: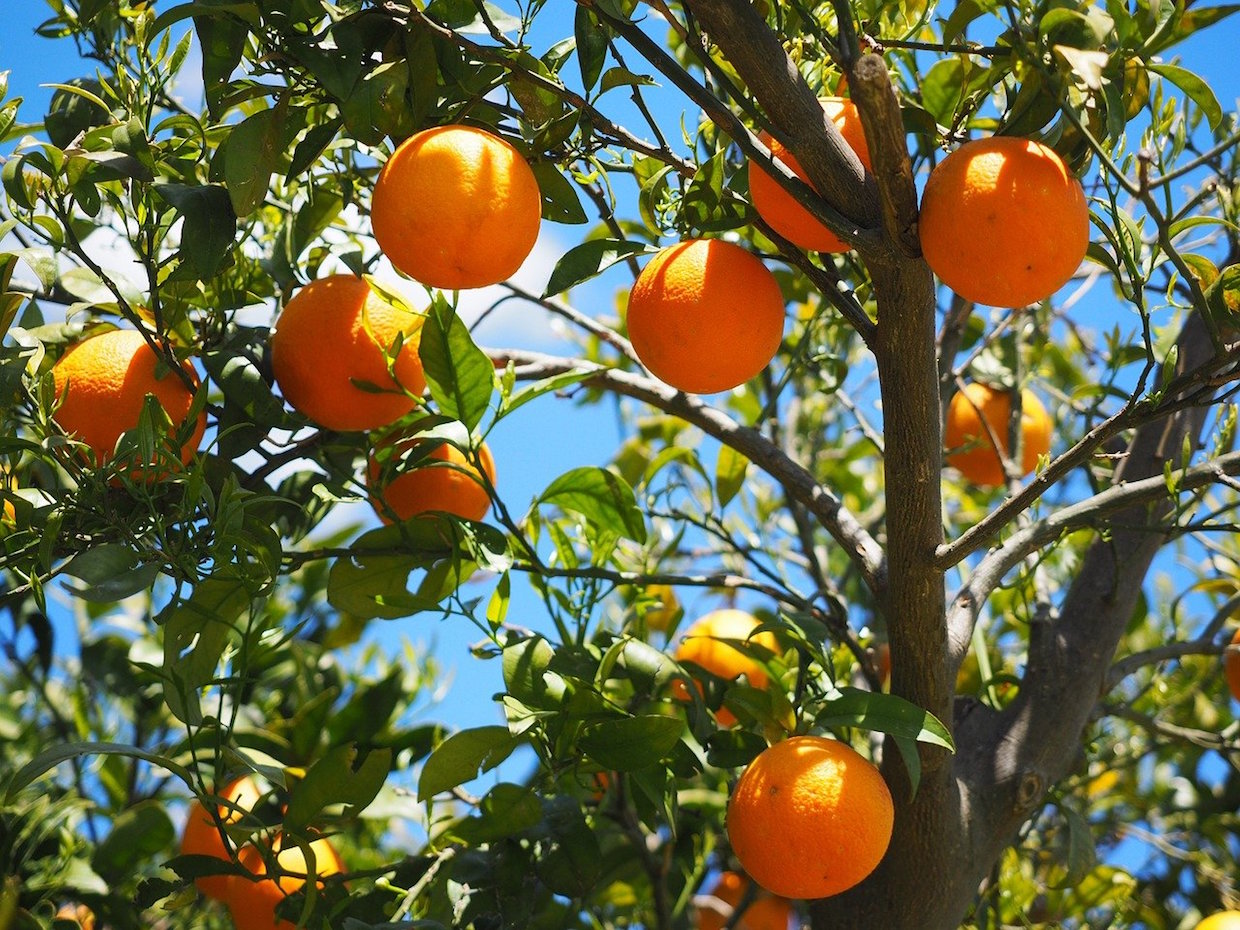 Sunlight: Arabica coffee grows well in shade conditions, although it likes to receive at least 6 hours of light per day, and up to 11-14 for maximum production. That would be feasible in most of Florida, where there is roughly 9 hours of sunshine in December and 15 hours in June. Technologies such as intercropping could filter light and assist farming if the sun is too intense.
Temperature: An adult coffee tree grows well at temperatures between 62.6°F (17°C) and 73.4°F (23°C); however, it can tolerate minimum temperatures of 50°F (10°C) and maximum of 93.2°F (34°C) without major damage to the plant. For short periods some varieties of arabica can tolerate 35.6°F (2°C) without major problems. In the central region of Florida where oranges are grown, the temperature range is between 48.2°F (9°C) and 91.4°F (33°C), which might be suitable for coffee growing. Microjet systems already used in Florida citrus could be adapted to provide temperature control for young coffee trees.
Rain: In places like Polk City, an important producer of citrus fruits, the rainfall average is above 47 inches (1200 millimeters), and distributed throughout the year. The coffee tree develops and produces well with annual rainfall between 1,200 millimeters and 1,800 millimeters, but with volumes of only 800 millimeters, good results can still be achieved. Irrigation could be a solution in the event of drought.
Altitude: Coffee is well known for being produced in high-altitude conditions, to which Florida cannot lay much claim. However, plant growth can succeed if other critical conditions are met, and flatter terrain could potentially facilitate the use of machinery to reduce labor costs.
Soil: This would be one of the biggest challenges, as the Florida citrus region is characterized by sandy soils, mostly Spodsols and Entisols of marine origin. These soils have good water drainage and low nutrient retention. To meet the needs of coffee plants in their different stages throughout the year — growth, flowering, granulation, maturation, etc. — new models for well-structured and fertilization and soil management systems might need to be devised.
Could the Coffee Taste Good?
This is one of the most complicated topics in modern coffee cultivation, since coffee quality is the result of a huge number of interrelated variables. Some field variations are fertilizers, management, genetics, temperature, rain, sunlight, etc. After that, variables affecting quality include post-harvest technologies such as drying method, drying speed, type of processing, type of fermentation.
The final stage in quality assessment will come through roasting and brewing, where all those previous factors will come to bear on the finished cup. We don't yet have an idea of what Florida coffee might "taste" like, but the prospect is intriguing.
Researchers at the University of Florida/IFAS Plant Science Research and Education Unit in Citra are already carrying out the first tests to study the feasibility of coffee cultivation in Florida's citrus-growing region. These may be the first steps towards making "Florida-grown coffee" a reality.
Jonas Ferraresso
Jonas Leme Ferraresso holds a degree in agronomy from São Paulo State University (UNESP). He has worked as a coffee farmer and as a Agronomist (Boa Esperança Coffee Farm), as a Roaster (Artesan Coffee Solutions), as a cupper and roaster (Amparo Rural Union), and as a consultant. He is based in Serra Negra, São Paulo, Brazil.