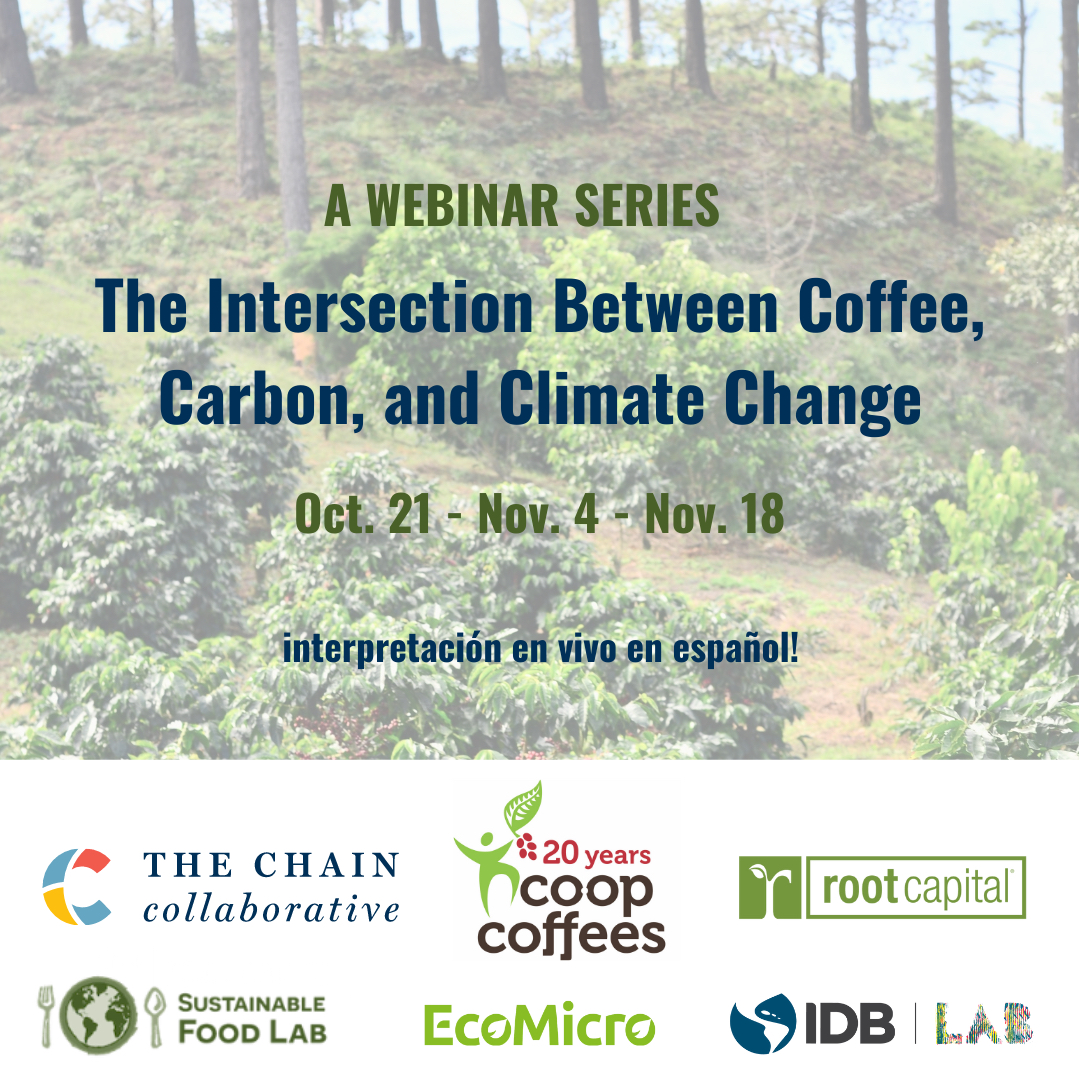 Green coffee importing cooperative Cooperative Coffees and nonprofit The Chain Collaborative are leading a three-part webinar series beginning this week that addresses coffee's greatest existential threat: climate change.
Specifically, the webinars will address carbon sequestration as a tool not just for farm-level climate resiliency, but for scalable, sustainable pathways throughout the coffee value chain.
Presented in English with a live Spanish interpretation, the webinars will focus on the science behind carbon-smart agriculture, tools already in place for carbon storage and measurement at the coffee farm level, and opportunities for other actors such as traders, roasters or NGOs to engage in carbon-neutral operations.
The webinar series is taking place alongside a three-year Cool Farm Tool project, funded by IDB Lab, being implemented by Cooperative Coffees, The Chain Collaborative, Root Capital, Sustainable Food Lab, and six organic coffee cooperatives in Honduras, Guatemala and Peru.
The organizations have been piloting the Cool Farm Tool, designed to enable farmers to track and understand the environmental impacts of their production practices, while determining the best practices for climate resiliency and crop health. Project leaders are now refining the coffee-specific Cool Farm Tool for broader implementation involving some 200 small-scale organic coffee farmers.
---
Related Reading
---
"Based on the initial feedback from the completed pilot round, the coffee-specific module — and its associated data points/questions — are being updated," The Chain Collaborative Founder and Executive Director Nora Burkey told DCN via email. "The goal is that the tool can most accurately reflect carbon capture on coffee farms — based on a life-cycle analysis — and provide the right recommendations for improved practices."
Burkey will be moderating the forthcoming webinar series alongside Monika Firl of Cooperative Coffees and Elizabeth Teague of Root Capital.
Confirmed speakers include farmer representatives from the COMSA cooperative in Honduras, Cooperative Coffees company member representatives Michael King (Bean North Roasting Company) and Anne Costello (Peace Coffee), Cinzia Fissore of Whittier College, Inka Sachse of Soil and More Impacts, and Juan Pablo Solis of Fairtrade International.
Webinars will take place at 11 a.m. Eastern on Oct. 21, Nov. 4 and Nov. 18. Here is the registration link (Zoom).