Southern California's Brazil-connected S P L A Coffee has emerged from a transformative pandemic period with a new brand name, Aquarela Coffee, a new roasting operation and a renewed focus on single-origin Brazilian specialty coffees.
Taking its name from the Portuguese word for "watercolor," Aquarela beams anew from the 350-square-foot storefront in downtown Los Angeles opened by Alex Eliscu Kipling in 2018, maintaining its cool, industrial São Paolo-inspired whites and grays on the inside while beckoning passersby with a vibrant pink, green and neon exterior.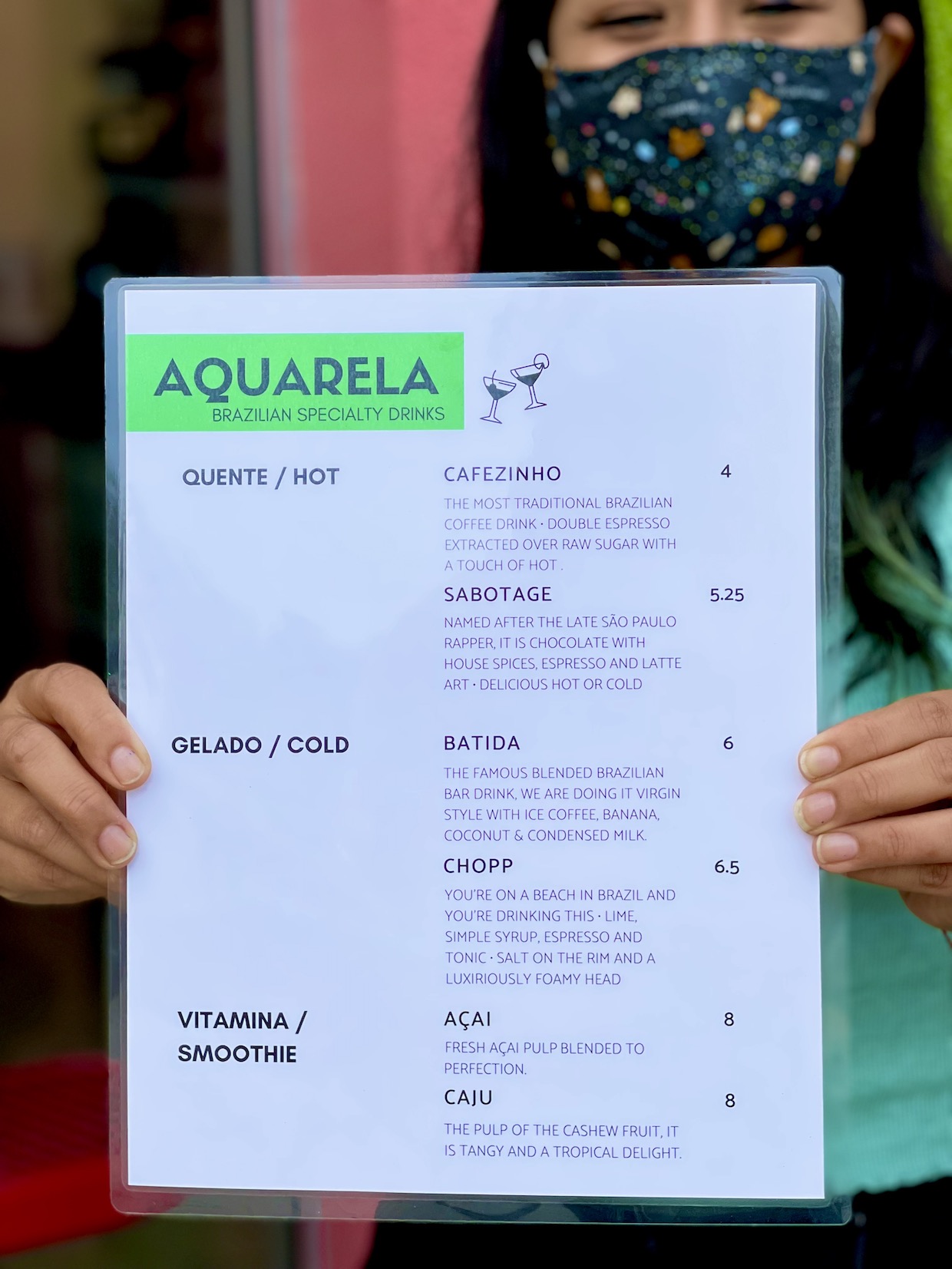 "Iconic Bossa Nova and Samba songs like 'Aquarela do Brasil' and 'Aquarela Brasileira' feature that word prominently in describing the diversity and natural bountifulness of Brazil," Aquarela Co-Owner Otávio Shih told Daily Coffee News. "We went with really bright and fun colors on the exterior, a nod to our roots in Brazil and the exotic coffees that we are bringing to the spotlight."
Unchanged is the company's pursuit of adventurous Brazil-grown coffees. Shih's hometown of Uberaba, in Minas Gerais, is located near a number of agricultural engineering and agronomy programs through which young farmers are opening new possibilities in coffee production.
"This agricultural know-how is reflected in how the younger generation of small coffee producers are pushing the limits of specialty coffee production with innovative, as well as sustainable, methods and processes," Shih said. "We feel it would be a shame for these brilliant producers not to get their day in the sun here in the American market."
Through its direct, ongoing relationships with Brazilian producers, Aquarela sources coffees grown at altitudes of 950 to 1,200 meters above sea level, while screening them for moisture content before sample-roasting them weekly at the L.A. shop on a Korean half-pound Boca Boca roaster.
---
Related Reading
---
Production roasting is split between two San Franciscan roasters installed at separate sites. A 2.5-kilo-capacity machine handles nano- and small microlot selections, while a 10-kilo San Franciscan roaster is used for bigger batches.
"We develop roast profiles mostly based on coffee varietal and processing method," said Shih, noting that the company leans more towards fruit-forward coffees. "We profile our roasts to accentuate these cup characteristics, and it gets even trickier with the anaerobically fermented coffees: With shorter roast development times and pushing more heat during the Maillard Reaction, we bring out some of those sweet and boozy notes while retaining the unique enzymatic profiles."
New retail packaging reflects the brightness of the storefront as well as the coffees inside. Black borders indicate a "sweet and balanced" category; pink is for "exotic and aromatic;" and white is reserved for an anaerobic-processed coffee series. Background colors are inspired by each coffee's specific flavor notes, such as the pink-peach label on the Jose Ricardo Cunha anaerobic-process coffee that is described as having notes of peach cocktail.
Shih said the company aims to increase the volume of coffee it imports for for wholesale roasting, while also scouting locations for a second retail cafe in Los Angeles.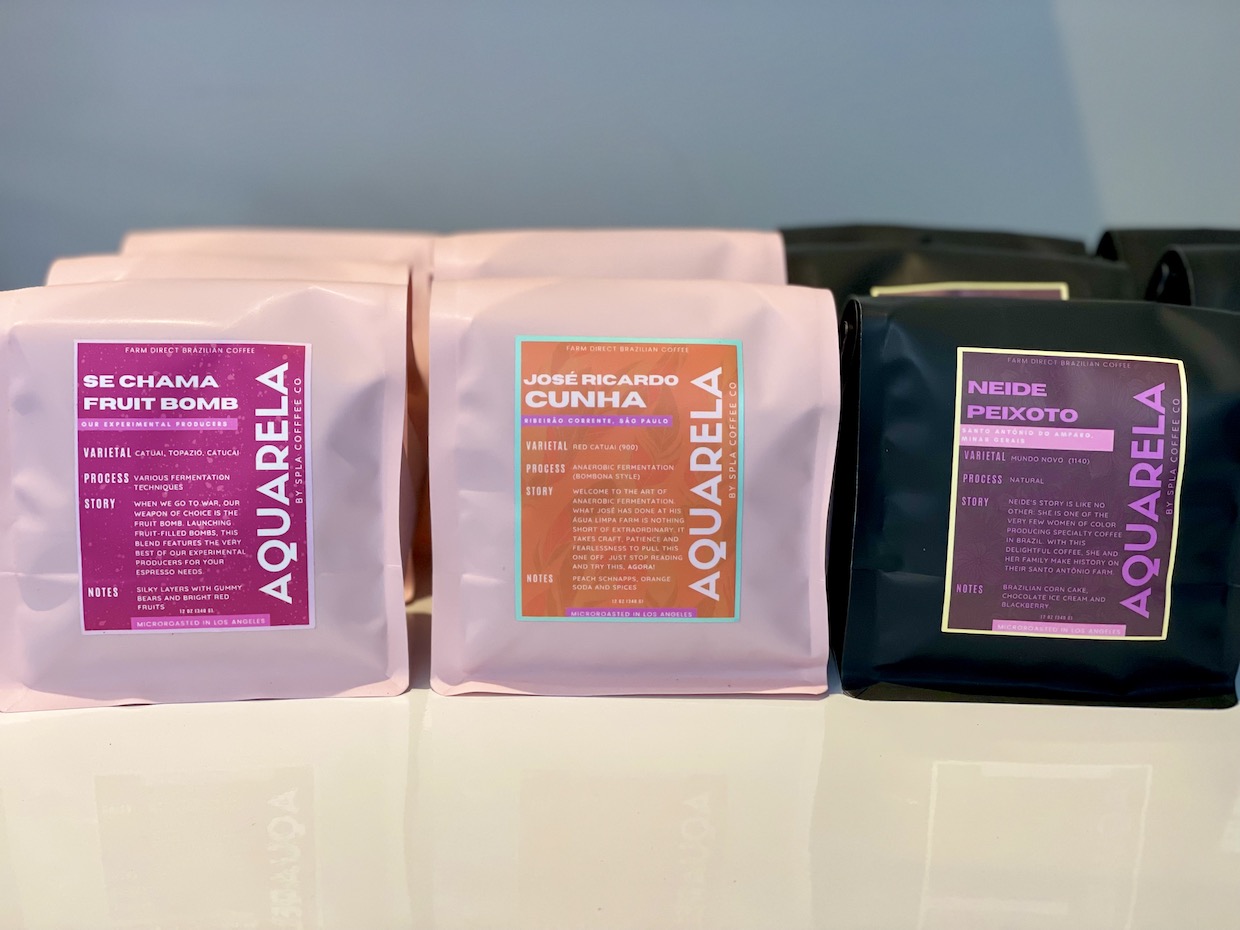 "As we speak, bags of some of the best anaerobic coffees Alex sampled in his latest Brazil trip are being air freighted over, and a large shipment of this year's harvest from our partner-producers are on their way to port in Santos, Brazil," said Shih. "We are excited to have our retail and wholesale customers try these exotic lots, as we keep pushing to educate people in L.A. and beyond on how good Brazilian specialty coffees can be.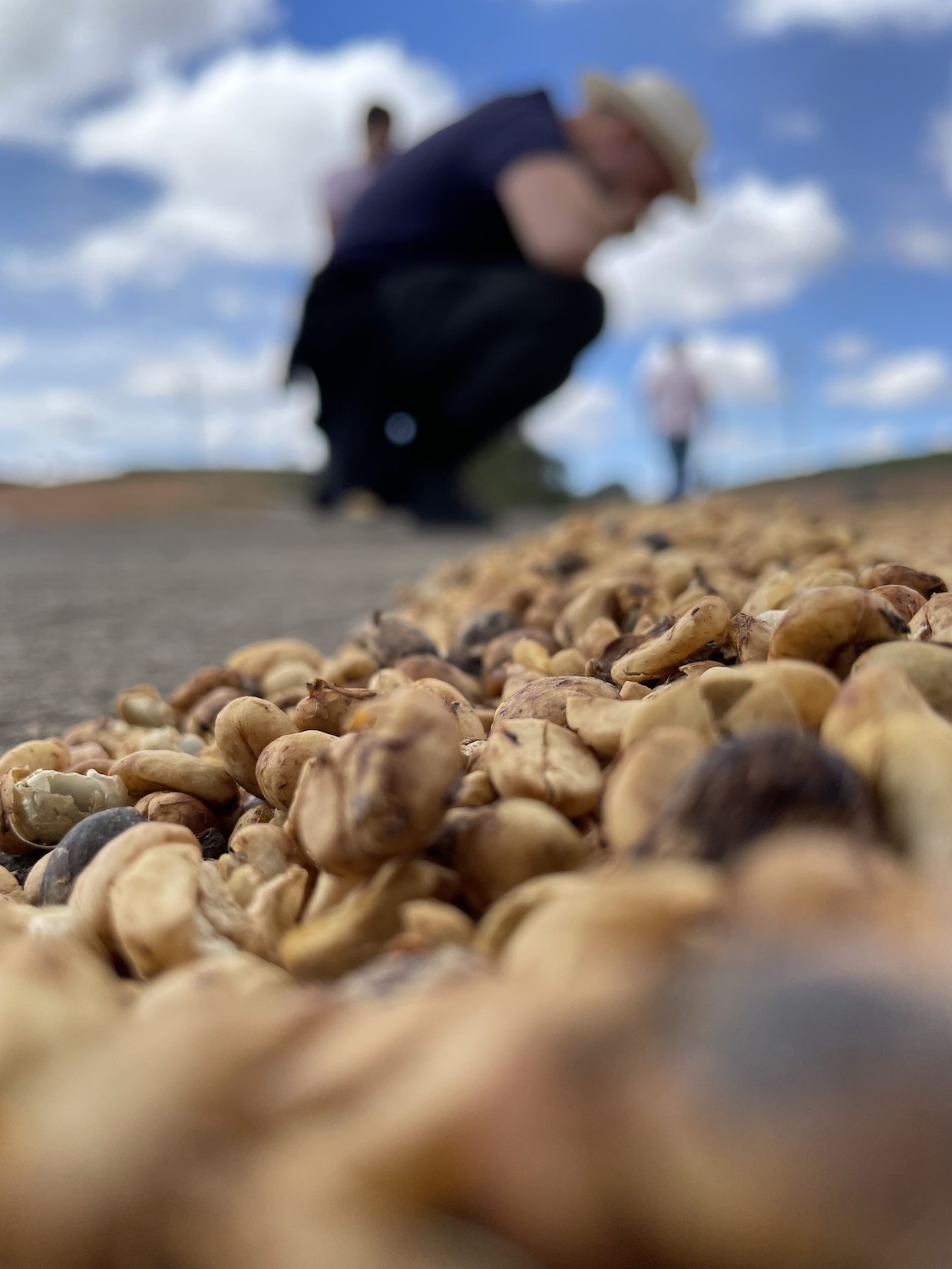 ---
Aquarela Coffee is now open at 714 N Figueroa St. in Los Angeles. Tell us about your new coffee shop or roastery here.
Howard Bryman
Howard Bryman is the associate editor of Daily Coffee News by Roast Magazine. He is based in Portland, Oregon.